Landscaping can turn a regular yard into a beautiful, functional outdoor living space. Not only will it make your property more enjoyable, it can boost curb appeal and increase resale value.
When it comes to landscape design, you have plenty of options. You can install retaining walls, planters and garden beds. Create and divide spaces with paverstone patios and walkways. Homeowners will enjoy spending time in their new landscape and the way their property looks each time they return home.
Always start with a landscape design plan.
Like any large-scale project, you'll have better results with a carefully plotted design plan. Enlisting the help of a professional landscape designer is critical if you're planning a backyard overhaul. Without a grand design for the entire property, your landscape can end up looking disjointed, lacking flow and function.
A landscape designer will meet with you to review your space and listen to your dreams for the yard. They'll consider all the things you need for your customized landscape. You might want a fireplace area for weekend evenings around the campfire. Or perhaps you're a gardener and you want to fill your space with raised flower beds. They'll take your must-haves and add other features, so it all comes together.
DIY landscaping or hire a pro?
DIY landscaping can be done but you shouldn't start any project without a well-laid plan. The most common mistake homeowners make is taking the piece-meal approach to landscaping. They'll work on one area of the yard at a time, without knowing how it will all flow together when it's done. Bad DIY landscaping projects can have a negative affect on your home's resale. Make sure you're confident in your skills and time commitment before attempting to DIY.
If you want to tackle this job yourself, still have a design drafted by a professional landscape designer. They can help you create the plan for the yard and even break down all the details for you. You'll know exactly what materials you need, what features you need to install and how everything will look at the end. You might decide to do some of the work yourself and hire a landscaper to take care of the more complex installations. This plan will help you stay organized, stay on budget and have a realistic idea about the project before you start.
Still can't decide? Read this article: "Should I hire a pro or do my own landscape work?"
12 Great Backyard Landscaping Ideas
You know you want to overhaul your yard, but you're not sure where to start. We've provided some ideas and inspiration to help you make the most of your property this summer. The most popular landscape installations are intended to create functional outdoor living spaces you and your loved ones will enjoy together.
1. Multiple outdoor living areas.
Creating an outdoor living area will improve the function of your property and give you a space to enjoy. Outdoor living spaces are also very popular with buyers and are a great selling feature if you decide to list your home for sale.
Homeowners that have the space are choosing to install more than one outdoor living space. This might mean building a higher deck addition off the house for dining, with a lower paverstone patio meant for lounging or conversing. Sometimes an additional seating area will be on the other end of the yard, beside a flower garden or water feature. Landscapers can define these areas with retaining walls, walkways, plant beds and even structures like gazebos or pergolas.
2. A campfire area.
Campfires have been trending for as long as we've known how to make fire! Still, building an outdoor fire pit area continues to be a major trend in landscape design. This feature provides a comfortable space for relaxing outdoors earlier in the spring or later in the fall than other outdoor living spaces. Many firepits are installed on a patio, or in a space that has been defined by retaining walls or other hardscape features. You can choose a classic fire pit, or a gas burning outdoor fireplace.
3. Waterfalls, streams and ponds.
Water features are a popular landscape installation this year. If you are spending time outdoors, you'll feel relaxed and rejuvenated listening to the gentle trickling of water. When it comes to water features, you have a wide range of options and price points. For smaller yards, a pond-less waterfall or simple fountain will work. For larger properties, homeowners are installing full ponds complete with koi fish and small waterfalls or streams. If you want a water feature, get it installed by a professional. Improper installation can give you issues down the road.
4. Creating ambiance with landscape lighting.
Homeowners want to enhance their landscape design in the evening with thoughtful lighting. Main living spaces, like the patio or deck, might have soft ambient lighting so they can be used at night. Landscapers are also installing landscape lighting to highlight certain features of a landscape design, like along a path, near a water feature or certain plant beds.
Landscape lighting can also provide security for your property. Having motion sensor lights near your home, or at the entrance of your yard can help deter intruders. It can also improve safe illumination for you and your family as you approach your home or navigate your yard at night.
Solar powered lights are a popular choice. Small solar panels absorb the sun's energy during the day, and the lights come on automatically when it gets dark. These lights are usually not bright enough to serve as task lighting, but can create whimsical ambiance for your walkways, fences and other landscape features when the sun goes down.
5. Xeriscaping for a low-maintenance yard.
Xeriscaping is landscaping that reduces or eliminates the need of supplemental watering from sprinklers or an irrigation system. For this type of landscape, homeowners choose drought-resistant plants and shrubs that require very little water.
Instead of grass, xeriscapes would have more areas filled with mulch or sometimes gravel. You can use organic mulch to cover the surface of the soil around plants and to create pathways throughout your yard. Mulch allows both oxygen and water to pass through to the plant roots, while providing a layer of insulation. That layer reduces the evaporation of water, so more water gets absorbed by the plants. It also reduces weed growth, reduces erosion and moderates the temperature of the soil.
More homeowners are interested in energy efficiency and consuming less. Xeriscapes can reduce water use by 60% or more compared to conventional landscapes. They are also very low maintenance, since you won't have to worry about watering or maintaining that much lawn, if any. For the same reason, you'll save money on lawn maintenance. Xeriscapes use less fertilizer and equipment to maintain, saving you both time and money.
6. Installing a rain collection system.
Following the same lines as xeriscaping, a popular sustainable landscaping trend is rainwater collection. The simplest way to harvest rainwater is with a rain barrel, but there are more advanced collection systems that can be integrated into an irrigation system. Some can even harvest water and feed it into your household plumbing system.
Because the rain barrel method is the easiest and the cheapest, it's also the most popular. Installing a rain barrel will catch rainwater so it can be used for watering your lawn, trees and other plants in your landscape.
7. Switching to artificial grass.
Want a green lawn all year long without any maintenance? So do many homeowners! Artificial turf is becoming increasingly popular in landscape design. Manufacturing and installing of artificial turf have come a long way over the years. It has texture, multiple shades, blade lengths and thicknesses and looks and feels just like the real thing.
You won't have to worry about watering, cutting, fertilizing or weed control. To maintain an artificial lawn, simply blow out debris with a leave blower periodically. It's the easiest way to get a beautiful, lush, green lawn but it's certainly not the cheapest. Artificial turf is pricey, but a good option if you need a low maintenance landscape.
8. Plant native plants.
Plants that are native to your climate zone will thrive. Plus, restoring a native plant habitat in urban spaces can help preserve local biodiversity. This is something that is becoming more important to many people. Your own landscape can contribute to a healthy, living ecosystem for birds, bees and other critters that are critical to healthy biodiversity.
Homeowners and landscapers will benefit birds and bugs by choosing native plants for their landscaping project. If you want plants that do well, instead of exotic plants that struggle to stay alive, and you like the idea of more birds in the yard – choose native plants. Search for native plants for your region.
9. Arbors and pergolas.
People often get arbors and pergolas confused, but both are popular design trends. These structures can help define entrances, walkways or living spaces and create dramatic focal points in landscape design.
An arbor is a structure in a landscape that signifies and entrance to a separate area or a pathway. Arbors are usually free-standing, arch-like and designed to support climbing vines and other plants.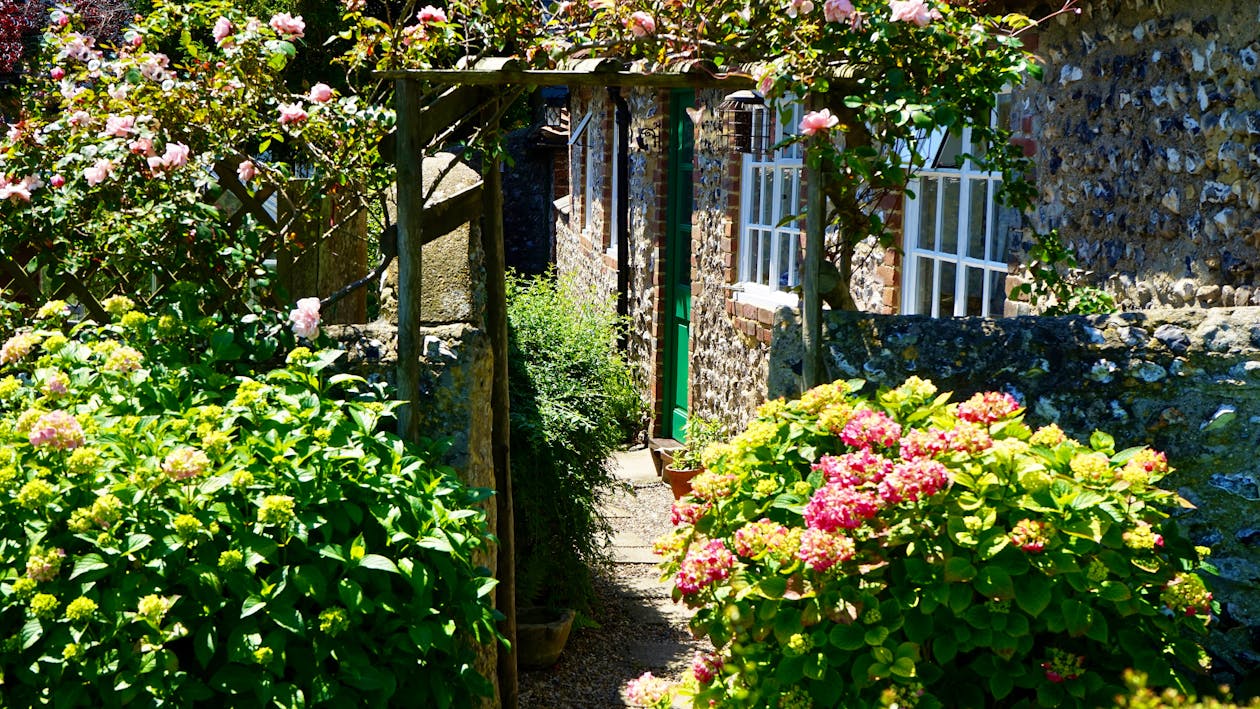 Pergolas are often built over a deck or patio to create shade over a sitting area. They are built like arbors, using a simple post and beam design. Sometimes pergolas are attached to the house but can be a separate structure in any part of the yard. The top of the pergola can be open beams, covered with shade lattice or have a full roof covering it. Many pergolas are built to support climbing vines and plants.
10. Outdoor kitchens.
The backyard chef has taken things to a whole new level. Outdoor kitchens are popular but are much more than just a backyard barbeque. Imagine an attractive and fully functional kitchen, built seamlessly in a beautifully landscaped yard. At home chefs are personalizing these spaces, installing things like pizza ovens, multiple grills and smokers to make a space perfect for culinary creations in the great outdoors.
Just like indoor kitchens, outdoor kitchens can be a hub for entertaining and socializing. Serve guests cocktails at an outdoor bar while preparing dinner on a custom grilling system. The space can be shaded by a pergola, completely covered or not, whatever you choose.
11. Planting a kitchen garden.
While sustainability becomes more important to society, it also becomes more important in landscape design. Homeowners want to do more than just compost kitchen scraps and so, they're planting vegetable gardens to supplement their grocery list.
Outdoor kitchen gardens can provide you and your family with fresh vegetables, herbs and berries all summer long. You'll love the fresh food coming out of the yard, but you'll also enjoy the act of growing it. Gardening is a great way to connect with nature. It helps us to relax, reduces stress and is good for kids too. If you're not sure about what vegetables to grow, as your landscape company what grows best for your climate zone.
12. Enhancing with potted plants.
When you walk through a garden centre, a huge part of the display is made up of beautiful garden pots. Potted plants have always been popular in landscape design and nothing has changed.
Potted plants can be a life saver for homeowners with limited space. Putting a few beautiful flowerpots on your condo porch or apartment balcony can add a splash of colour to even the smallest outdoor space. Regardless of the property, potted plants are also used to decorate sitting areas, line pathways and improve curb appeal. They're also portable, so you can change up plants in certain areas of your landscape without having to replant something new.
What's the value of landscaping?
Landscaping can increase the value of your home. While you won't recoup 100% of the cost, certain landscape installations can yield higher resale value if you want to sell your home. Real estate trends show that home buyers are most interested in landscape features that can add to lifestyle, more than just aesthetics. They want to purchase a home that have functional, comfortable and convenient features. Buyers are also looking for landscapes that don't require expensive upkeep.
If you're selling your home, curb appeal matters. Beautiful landscaping can help you achieve good curb appeal. That will attract buyers and command a higher price for your property. One of the most cost-effective ways you can improve curb appeal is with lawn care. Maintaining your lawn, weeding your garden and trimming your trees and shrubs will give your home the polished look that buyers are most attracted to. You can see well over 100% of your investment paid back at resale by investing in regular lawn care.
Creating outdoor living spaces can also increase resale value. Patios and deck additions have a good return on investment. A simple wood deck addition can recover almost 76% of it's cost at resale, according to this cost vs. value report.
You should also consider the value of your improved lifestyle and personal enjoyment of your new landscape. Spend money on landscaping and enjoy using it. If you decide to sell in the future, you'll make a little extra money as an added bonus.
Find a RenovationFind Certified landscaping company in your city!
RenovationFind Certified is a symbol of integrity held by only the most trustworthy companies in home improvement, service, maintenance.