Finishing your undeveloped basement will give you extra living space. In fact, you can nearly double your functional living space and even add an additional bathroom and ample storage space too. It is a big job, but with detailed planning and the right renovation company on your team, it can have both practical and monetary returns. Without those things, you can find yourself with a lot of headaches and unforeseen expenses.
Mode Contracting in Edmonton specializes in basement renovations. They share some mistakes to avoid when tackling a basement development project:
Not checking for moisture issues.
Your basement doesn't have to look noticeably wet to have a moisture problem. It could have an issue that only appears when there's heavy rainfall, or when the snow melts each spring. Just because it looks dry at first glance, doesn't mean it might not have a problem down the road. And, even the smallest amount of water can do a lot of damage if it is behind the walls. A basement development is a major investment, so make sure you protect it by having a professional inspect for any potential issues before the walls go up. Read how to identify moisture problem spots.
Not waterproofing throughout the development.
If any space in your home is going to flood, it's likely going to be the basement. Before you put up drywall and other finishes, make sure you're installing a waterproofing system. This will include vapor barriers, a sump-pump, and proper drainage. This is something Mode Contracting can take care of for you.
Not considering both natural and artificial light.
If you can, put more windows in your living areas downstairs. All bedrooms need to have an egress window to pass building code. If you're putting in a family room or living room, consider installing a nice bigger window there too. Even if it's slightly underground, a new window with a large window well will still allow natural light to come in. The more natural light, the better.
You should also greatly consider the type of artificial lighting you are installing downstairs. You don't want aggressive lighting downstairs, but you also don't want to be sitting in the dark. Pot lights, with a dimmer, make a great choice for ambient lighting. Then you can add accent and task lighting with table lamps and other fixtures to cozy-up the space. If you have bad lighting downstairs, it will impact the whole ambiance as well as how you feel when you're down there.
Adding a wet bar that will never be used.
Adding a wet bar is a popular choice for basement renovations, but it also brings up the cost of the renovation. Electrical and plumbing must be installed, along with the kitchenette area itself and all it's finishings. Consider how often you are actually going to entertain downstairs. How often are you even going to use it yourself? Chances are, it won't get used very often. Instead, put that money towards other entertainment areas. As an alternative, you can have a bar cart you can wheel out on special occasions.
Basement Renovations in Edmonton
Mode Contracting Inc. is a full-service renovation company in Edmonton that specializes in new basement developments, kitchen renovations, and bathroom renovations. If you're considering updating any part of your house, give them a call. They'll provide valuable insight and exceptional service, and you can rest easy knowing the job will be done right!
Contact Mode Contracting Inc. today!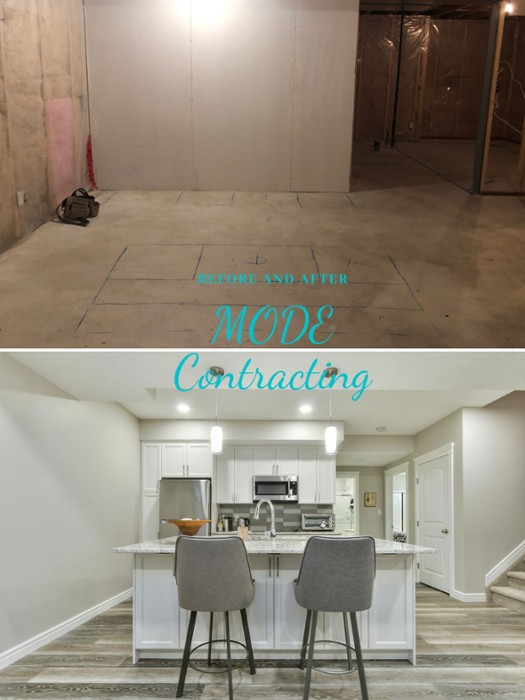 RenovationFind Certified is a symbol of integrity held by only the most trustworthy companies in home improvement, service, maintenance.  It increases consumer confidence in your business, giving you an edge over your competition while validating you as the best.
More than an online directory, we are Western Canada's fastest growing marketing platform for promoting and connecting the best trades, service, and home improvement companies to homeowners.