For some who have never built a custom home, starting from scratch, designing and building a custom home seems like a daunting task. Many don't know where to start. Unfortunately, many myths and misconceptions about designing and building a custom home can create many unwarranted concerns. It's essential to know the facts before you get started down the path of new home construction.
Landen Design Build in Calgary is a One-Stop Building Solution for affordable design and custom home or renovation construction. An experienced custom home builder and renovation expert with more than 40 years of design-build expertise! They custom design and create unique and outstanding new homes and renovation projects in and around Calgary. They also specialize in custom acreage homes.
Landen is a full design-build service with a complete in-house architectural drafting and planning service. This service also includes a no-charge preliminary planning service, offering up to 30 man-hours of real CAD drafting services with no strings attached. You can learn more in the explainer video at landendevelopment.com. Landen also provides state-of-the-art full 3-D rendering and 3-D virtual tour design services. Furthermore, this is all included as a no extra charge design service.
Here are some common myths about building a custom home and why you should trust the professionals like Landen Design Build:
Myth 1: You have to be a design expert yourself
Building a custom home doesn't necessarily mean you need to develop your own floor plan and design yourself. When it comes down to designing and building a custom home, you can have as much or as little input as you want. But, of course, it helps to know what features you want.
A skilled professional can walk you through this process and help iron out all the design details relatively pain-free. In addition, a good custom "Design-Build" home builder will help ensure that you get everything you're looking for. And, in many cases, for much less cost than if you engaged a separate architect/designer and then shopped around for a builder to build off the architect's plans.
Myth 2: You're going to go over budget
One of the biggest concerns of building a custom home is the cost. However, you can build a custom home within your desired budget. Just let your home designer know your realistic budget upfront before and when design work is done. This is where a Design-build firm shines. They know what a design will cost versus a home designer or architect who has never held a hammer before. A quality custom builder that works on a fixed management fee will help you stay on budget. This is because they don't have any motivation to upgrade you. No matter what the actual building cost is, the "builder's fixed management fee" stays the same!
Furthermore, builders who work off of a fixed management fee have no reason to trick you into additional expenses. Additionally, they won't try to oversell you on features you can't afford. Of course, you can run into unforeseen costs with any project. However, an experienced builder should be able to anticipate those issues. You should note that any good builder will budget for a contingency buffer of 15% or more to help cover those unforeseen costs. Here are tips for staying on budget when building a home.
Myth 3: Custom homes take too long to build
Many factors impact the timeline for building a custom home. Custom or not, no builder can control obstacles like bad weather, labour shortages, and supply chain issues. Unfortunately, these problems can affect the timeframe and the cost to build. Most customs can be built within an 8-12 month window, depending on the complexity of the design. On the other hand, "track-built homes" can take as little as 5-8 months to build. However, track-built homes will NOT offer you the same custom features to meet your individual lifestyle needs!
When you hear stories about homes that take way too long to build, it is usually an issue with an inexperienced builder. Or, it could be a contractor that doesn't have a long working relationship with their trades and suppliers. As a reputable and experienced builder, Landen Design Build has been working for over 25 years (and in some cases well over 35 years) with their trusted trades and suppliers. This means you will get front-of-the-line treatment. This is better than a builder with minimal history with other trades and who needs to "shop around".
An added bonus to using a builder with long trade relationships is a proven track record of quality workmanship. You won't get that from a builder who hires trades they've never worked with before! In many cases, there is a good reason why a trade is available to the inexperienced builder because no good builder wants to hire them!
Myth 4: Building a custom home is complicated
Building a custom home does come with a lot of choices and selections. Additionally, it will have many moving parts to the overall process. But, this can still be an enjoyable experience with the right design-build help. You can choose the desired details to achieve your dream home but will need an experienced custom home builder to navigate and deal with the complexities of custom building.
A track home builder who has built the same model home repeatedly knows right down to the door stop what the job will cost and how long it will take to build. However, a custom building is just that, a custom one of a kind, never been built before, home design. A good design-build builder will handle all project management, permits, scheduling, and detailed planning. A custom home builder may make it look like a piece of cake so that you can enjoy the building process.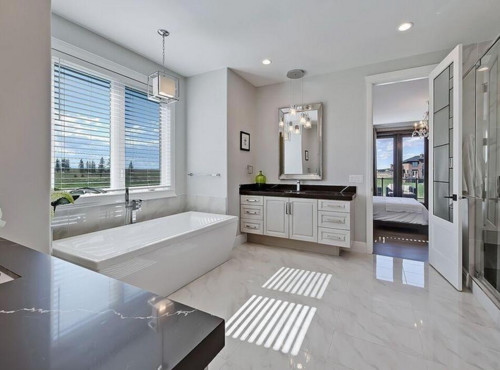 Myth 5: Builders communicate poorly
No one can speak for all builders, but Landen Design Build prides itself on transparent communication. They are always accessible to clients. A good builder should constantly check in with you throughout the process. Whether just to update you on progress or confirm your selections and building details. Furthermore, you should always have access to your builder if you have issues, concerns or questions.
Custom Home Builders in Calgary
Landen Design Build is your one-stop design-build solution for custom homes and renovations in Calgary and surrounding areas. This award-winning builder comprises several registered and focused divisions to ensure every stage of your project is done correctly and runs smoothly. If you've been thinking about embarking on a significant building or renovation project, you'll want to check out the experts at Landen Design Build, and get them on your team.
Contact Landen Design Build in Calgary for a consultation.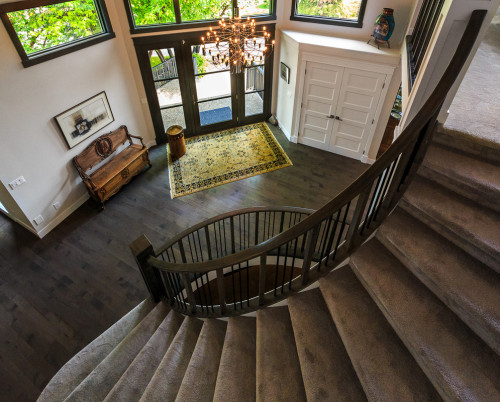 RenovationFind Certified symbolizes integrity held by only the most trustworthy companies in home improvement, service, and maintenance. It increases consumer confidence in your business, giving you an edge over your competition while validating you as the best.
More than an online directory, we are Western Canada's fastest-growing marketing platform for promoting and connecting the best trades, services, and home improvement companies to homeowners.