Protecting your family and your home is an important priority. Investing in a monitored residential alarm system ensures your home is monitored at all times and that emergency services will be dispatched if needed. Your home security system will give you protection, security and peace of mind knowing your home is safe.
Here are 5 reasons why you should invest in a monitored home alarm system.
Prevent break-ins.
Protecting your family, home and possessions is one of the first things people think about when considering a home security system. A burglary could result in lost jewellery, vehicles, electronics, or worse, the loss of a treasured family heirloom. A home alarm and monitoring system not only deters criminals from even attempting a break-in, the alarm itself could scare them off and notify the authorities immediately.
In some cases, a burglar might target a home knowingly or unknowingly when the residents are inside. Thinking the home is empty and finding people inside might cause shock and could result in aggressive behavior, not to mention a terrifying experience for your family. A security system will sound an alarm, notifying you that there is an intruder so you can get to safe location inside the home while you wait for the authorities to arrive. In most cases, the criminal will flee at the sound of an alarm.
Allows you to monitor your home no matter where you are.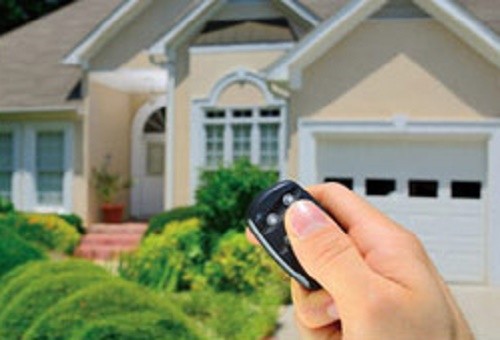 Calgary home security companies offer consultation services on all aspects of home security and might focus on home camera systems. Positioning cameras around the outside and inside of you home will allow you to monitor your property from your television or remotely from any computer. This home surveillance system allows you to see who is at the front door when the doorbell rings expectantly or keep an eye on trades people or a cleaning company that might be working in your home while you're at work. We all have plenty of things to worry about and your home surveillance system will allow you to carry on with your day without worrying about your home too.
Protect your family from emergencies like fire or gas leaks.
Home security systems can provide additional protection and an early warning system for disasters like fire or gas leaks. Your alarm system can receive notifications if your smoke or carbon monoxide alarms go off. Not only will this give you warning to take preventative and/or safety measures, it will also notify emergency services for you. This could play a major role in your family's safety and preventing major damage to your home.
Lower your homeowner's insurance.
In many cases, your homeowner insurance premiums will be reduced when installing a home alarm and monitoring system. Your insurance is designed to cover your home and its possessions from losses and damages including theft and fire. Since your risk of loss and damage is reduced with a home security system, a discount given to those with a system installed. The discount may vary depending on your home, the type and features of the security system you have. It's best to contact your insurance provider for more information.
Give yourself peace of mind.
All of these reasons to invest in a home alarm and monitoring system will give you peace of mind, knowing your family and home is protected. You'll know that your system will deter criminals, warn you of potential hazards, that you can keep an eye on it wherever you are and that emergency services will be dispatched if something goes wrong.
Invest in that peace of mind today. Contact one of Calgary's best home security companies!