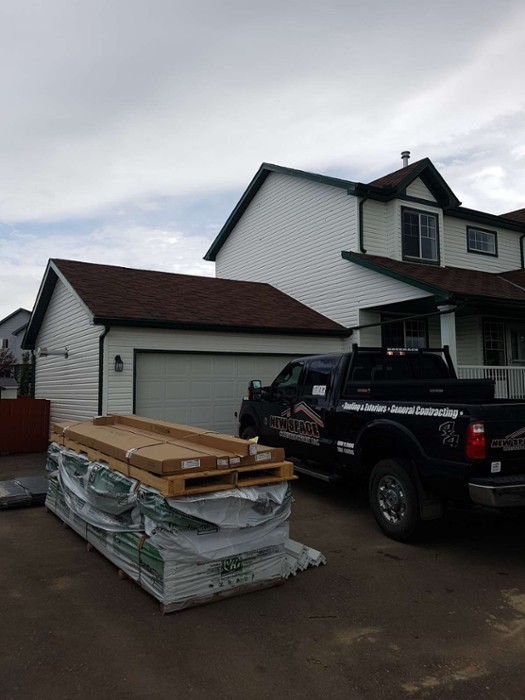 Is your home starting to look a little dated or worn out? Exterior renovations do more than just boost curb appeal, although that is very important. Keeping your home well-maintained and up to date will improve energy efficiency, prevent major issues and costly repairs down the road, protect your home from the harsh elements, and increase property value.
New Space Construction Ltd. in Calgary is an exterior renovation company. They share 5 tell-tale signs it's time for an exterior renovation:
1. Your shingles are curling and peeling.
When asphalt shingles have outlived their lifespan, they start to curl, peel and even come away from the roof. If you notice this happening on your roof, it is time for a replacement. Waiting too long for a roof replacement could compromise your home. Any moisture or water that gets in could cause more extensive and expensive damage.
2. Damaged gutters. 
Your gutters, or eavestroughs, play a major roll in your home's drainage system. If your gutters are coming apart from your home or your downspouts are in disrepair, that means the water from snow and rain won't be able to run away from your home. Water that pools around the base of your house could penetrate your foundation, get into window wells, and cause moisture or flooding in your basement.
3. Damages and worn-out siding. 
The siding's ability to protect your home from the weather is critical to keeping your home protected from water damage and performing at peak efficiency. Your home will be protected, and you'll increase energy efficiency and curb appeal with a siding replacement.
 Remodelling Magazine'sAccording to the latest cost vs. value report, a vinyl siding replacement can recoup 74.7% of it's cost at resale. A fibre cement siding replacement, commonly known as James Hardie Board siding, has a 77.6% return on investment. Not only will you better protect your home and improve aesthetics, you'll see your property value increase.
4. Your windows and doors are old and drafty.
If you have a noticeable draft coming in from your windows and doors, or can visibly see warping and damage, then you are probably losing a lot of energy. In fact, windows are the number one culprit for heat loss in the winter. Upgrade your old, damaged windows with new energy-efficient vinyl windows and start saving on your monthly utility bills.
5. Your home is looking really dated.
Has everyone else in the neighbourhood upgraded their exterior? If you look at your home among the row of houses on your block and feel like you've gone through a time warp, then it's time for an exterior renovation! Not only will keeping your home looking current increase your curb appeal and resale value, but it will also increase your personal enjoyment of your home.
Exterior Renovations in Calgary
New Space Construction Ltd. provides year-round roofing, exterior and interior renovations services to Southwestern Alberta. Their service areas include Calgary, Chestermere, Okotoks, Airdrie, Strathmore, Langdon, Indus, and surrounding areas. New Space Construction is committed to delivering the highest possible level of skill, service, and professionalism.
Need an exterior renovation? Contact New Space Construction today!
RenovationFind Certified is a symbol of integrity held by only the most trustworthy companies in home improvement, service, maintenance.  It increases consumer confidence in your business, giving you an edge over your competition while validating you as the best.
More than an online directory, we are Western Canada's fastest growing marketing platform for promoting and connecting the best trades, service, and home improvement companies to homeowners.