Summer is on it's way! Have you serviced your air conditioner? The last thing you want to discover is that your air conditioner isn't working properly when the sun is heating up your home. Just like any mechanical system, your air conditioner requires regular inspections and maintenance to ensure it's running properly and most efficiently.
Arpi's Industries Ltd. in Calgary shares some tips that will keep your air conditioner running efficiently all summer long.
Tip 1. Clear away leaves and debris
Over the fall, winter and early spring, when your A/C unit isn't running, debris can gather around the unit and obstruct airflow to your cooling system. This will force your air conditioner to work much harder than it should, decreasing efficiency and driving up your energy bill. Clear away any leaves, grass or weeds that might be gathering around the unit to prevent this.
Tip 2. Replace filters
Just like a furnace, you should be changing your air conditioner's filter regularly. A dirty filter will restrict airflow and decrease your A/C's efficiency. If you smoke, have pets, have a drafty home or experience fluctuating temperatures, you should change your filter more frequently. Forcing your unit to work so hard could cause other costlier issues in the future. Take the time this spring to replace your old filter with a brand new one.
Tip 3. Check the drain line
When your air conditioner is running, it starts to create some excess moisture that is drained from your home via a drain line. While your unit is running, look for a small amount of water draining from the line. There shouldn't be too much water, but if you see none at all it probably means you have a clog. This will have to be fixed. Learn how to service an air conditioner.
Tip 4. Schedule your annual inspection and tune up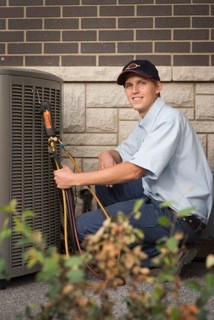 The best thing you can do to ensure your cooling system is working safely, properly and at peak efficiency levels is have a professional HVAC technician from Arpi's Industries give your air conditioner an inspection and tune up. An air conditioner is made up of many different components that all work together to help cool your home. If one of these components fail, the entire system will fail. Having your cooling system serviced regularly by a professional will ensure you encounter fewer problems and help prevent costly repairs. You should have your air conditioner serviced annually or according to manufacturer's recommendations.
Tip 5. Consider an air conditioner replacement
Do you have an older air conditioner that continues to break down and is not energy efficient? You might save money by having it replaced. Have you noticed your home is still too hot in the summer when the AC is running hard? That means it's consuming expensive energy and still not doing its job. At some point, that old unit isn't worth the cost of repairs and should be replaced with an energy efficient model.
HVAC Companies in Calgary
Arpi's Industries Ltd. is a mechanical contracting company providing homeowners and renovators with service and installation of energy efficient furnaces, air conditioners, hot water tanks (and tankless), duct cleaning, ductwork and indoor air quality. They provide cost certainty, value, and a no-nonsense approach for your requirements in regards to plumbing, heating and cooling. Arpi's also offers in-house design and drafting of the plumbing, heating and cooling systems installed in your home from licensed and technically superior staff.
Need some AC service this spring? Contact Arpi's!

RenovationFind Certified is a symbol of integrity held by only the most trustworthy companies in home improvement, service, maintenance.  It increases consumer confidence in your business, giving you an edge over your competition while validating you as the best.
More than an online directory, we are Western Canada's fastest growing marketing platform for promoting and connecting the best trades, service, and home improvement companies to homeowners.