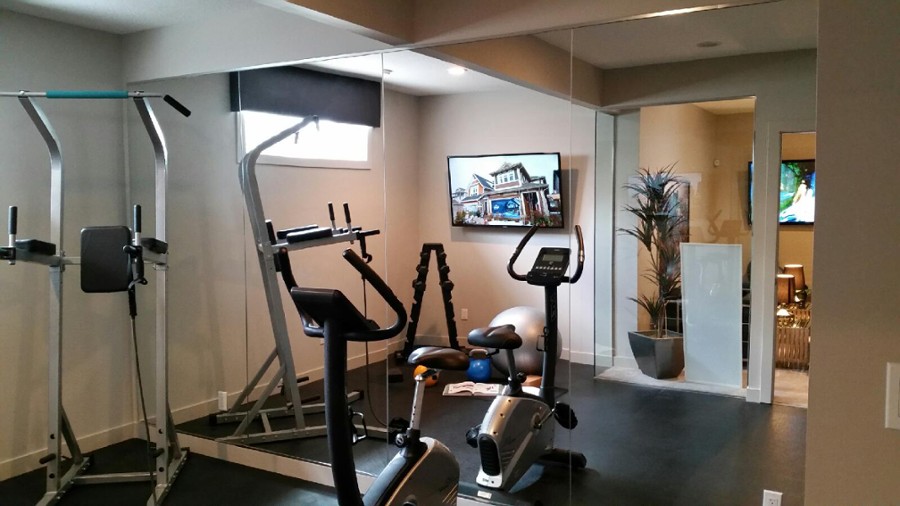 Photo Credit: Ronco Doors & Distribution
Using glass in your renovations will create the sense of openness in your home.  It can eliminate feelings of claustrophobia and let natural light flow freely throughout the room or house.  From installing glass railings and shelves to unique table tops, mirrors, tempered display glass or custom glass in your bathroom; including a little glass in your remodel will enhance the look and feel of your home.
Glass and mirrors cut to size:  Do you have an irregular shaped piece of art you would like to frame? Or a broken picture frame you would like to fix?  Mirror and glass companies in Edmonton can cut you a piece of glass in any shape and size.  If you have a creative idea for a bathroom mirror but can't find it at a store, you can have one designed and cut exactly how you want it. Learn how to cut glass.
Glass railings:  Have totally unobstructed views from your deck or balcony with glass aluminum railings.  If you prefer some privacy, but don't want to block out the natural light, consider a privacy glass railing.
Table tops and shelving:  Design your own unique dining table, coffee table or end tables with custom glass.  They can also repair damaged glass tables.  Glass shelving offers spaces for your home décor or collectors displays that are bright, light and elegant!  You can choose the size, shape and thickness.
Decorative custom glass:  Using glass to enhance commercial spaces, restaurants, offices and the home is becoming more and more popular.  You can play around with different thicknesses, colours and patterns to create the perfect architectural design feature.
Glass for classic cars:  If you're restoring a classic car from the 1940s, you might have a hard time tracking down the right windshield and windows!  A mirror and glass company can re-create the glass you need to finish your car restoration project.

Glass showers and bathtub doors:  Having glass in your bathroom gives it sense of luxury and will create the perfect bathroom for relaxing and rejuvenating.  It can also help to create the look of a more spacious room, especially for smaller bathrooms.
Get started on your glass project and contact a mirror and glass company in Edmonton!