Remodeling the bathroom can give you a more functional and aesthetically pleasing space. Whether you need to upgrade your dated bathroom, renovate the bathroom to make it more functional for your growing family or would like to create your own personal oasis for relaxation, hiring professional bathroom renovators like Edmonton Bath Products will help create the bathroom of your dreams. They share some tips for renovating the bathroom:
Make a plan and set a budget.
Like any renovation project, you should always have a plan in place before you start. You can consult with the designers at Edmonton Bath Products to find inspiration and put together a design plan for your bathroom renovation or do some research on your own. Part of planning is budgeting. That means you should price out and choose all of the fixtures, faucets and other features you'll need for your bathroom renovation including countertops, cabinets, plumbing work, tile, flooring and major fixtures. You should also get estimates from contractors if you plan on having them do the work for you.
Tip: When you work with Edmonton Bath Products, they will coordinate your entire project for you. They will help create a plan, budget, schedule and have their skilled craftsman complete your bathroom renovation. 
Hire a plumber.
If you are planning on installing new plumbing or moving any plumbing, you should always hire a certified plumber to do the job for you. This will ensure that everything is done properly, to code and that you won't have to pay for repairs for faulty DIY work down the road.
Tip: If you're on a tight budget, keep your original plumbing and just change the fixtures. Installing new plumbing or moving plumbing is more expensive.
Consider a tub-to-shower conversion.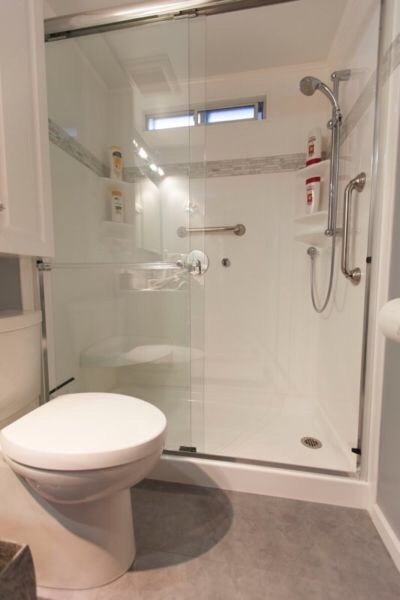 Beautifully tiled, stand up showers are a popular trend with bathroom renovations. Many homeowners are choosing to convert their old bathtub and shower space into a walk-in shower, complete with a rain forest shower head, shower seat and other great features. Not only does this conversion look great, it also makes showering easier for anyone with mobility issues.
Tip: Maintain your home's value by ensuring there is at least one bathroom with a bathtub in the home. This will make your property more valuable to future buyers who have young children.
Save energy with low flow a low flow toilet and faucet.
If you're planning on replacing your faucet, shower head and toilet, consider purchasing energy efficient faucets and fixtures. Energy efficient products are becoming the norm for bathroom renovations. That means the prices have come down and the technology has improved. You can use a fraction of the water in the bathroom without giving up water pressure and save every month on your utility bills.
Tip: Edmonton Bath Products carries a variety of energy efficient bathroom products including low flow faucets, toilets and shower heads. 
Bathroom Renovations in Edmonton
So you have decided to build your home or it is time to bring a new look to your existing bathroom…no need to shop any further. Edmonton Bath Products offers everything from custom vanity tops, bathtubs, shower bases and shower walls that are all locally manufactured to fit your bathroom. Allow them to coordinate your complete bathroom renovations. They have skilled and qualified craftsmen to help with all of your bathroom renovation needs.
Get started today! Go visit Edmonton Bath Products.
RenovationFind Certified is a symbol of integrity held by only the most trustworthy companies in home improvement, service, maintenance.  It increases consumer confidence in your business, giving you an edge over your competition while validating you as the best.
More than an online directory, we are Western Canada's fastest growing marketing platform for promoting and connecting the best trades, service, and home improvement companies to homeowners.
Click To Find >>>>>  Bathroom Renovations in Edmonton.