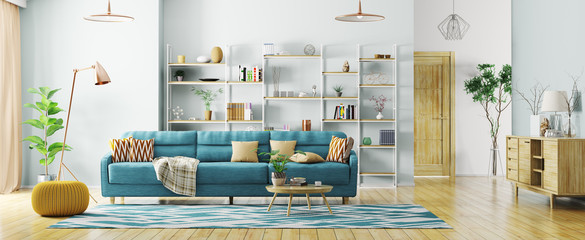 It's important to make a plan before painting the interior of your home. Paint colours change the feel of the space, so it's good to decide which colour scheme you want to use to make your home feel like home. From SCD Painting in Vancouver, here are some different colour schemes to consider painting in your home.
For a modern look, stay neutral
Not everyone likes bright, bold colours, and that's okay! Keeping it simple can be effective, and gives you the ability to keep things clean. It also gives you less of a hard time with matching furniture or other décor. To keep it modern, focus on colours such as whites, greys, and browns. White may be one of the scarier colours to paint with since it can be brighter than other colours and easier to get dirty. However, when paired with different accents in furniture or wall-hangings, the white will seem less daunting, making the space look contemporary and fresh.
Blue can bring a feeling of peace
Blue is a calming tone, and can be easily matched with other colours. Pairing blue with a white or light brown can make a room feel more relaxing. It's a good choice for a bedroom in particular when you're looking to unwind. This can also be done with some shades of green, such as mint or seafoam.
Bringing in the sun with yellow and orange
Colours like yellow and orange may seem scary to paint with since they are bolder colours. However, a bit of bold doesn't have to be a bad thing. The sun hitting these colours make the space feel brighter and fun, making the room feel more high-energy. It can be all walls, or just one to be safe (but still fun), but nonetheless livening up the room. High energy colours are a great choice for the kitchen or dining room, where socializing usually happens. It might not be the best idea for the bedroom, where you want to feel calm and relaxed.
The deeper colours
If you have wooden floors or wooden accents in your home, good colours to paint with are dark browns, army green, navy blue, or any colour with a layer of depth to it. It highlights the furniture in your home and makes the wood stand out as its own feature. However, too many deep colours can make a space feel smaller and dark, so use these colours with discretion and pair with light furniture and accents.
Painters in Vancouver
Established in 2008, SCD Painting is a locally-owned business that strives to give you the best customer experience possible. They specialize in many services, including but not limited to interior and exterior painting, brush and spray applications, wallpaper removal, drywall, staining, and much more. You can count on their experienced staff to give you the quality paint job you're looking for.
Check out SCD Painting today!
RenovationFind Certified is a symbol of integrity held by only the most trustworthy companies in home improvement, service, maintenance.  It increases consumer confidence in your business, giving you an edge over your competition while validating you as the best.
More than an online directory, we are Western Canada's fastest-growing marketing platform for promoting and connecting the best trades, service, and home improvement companies to homeowners.