Tile is a great flooring option. Not only is it durable, practical and easy to maintain, it is also aesthetically pleasing and will add value to your home. Here are some tips on how to choose the right tile and the right tile installer.
Choosing Tile
There are many things to consider when choosing tile including the type of tile, size, color and texture. Whether you are planning to tile an entire room or just a wall, don't skip any of these points.
Material
The most common tile choices are ceramic, porcelain and natural stone. Ceramic and porcelain will let you play with different colors. Ceramic is the most economical choice if you want to keep costs down and it is pretty easy to install. Porcelain tiles are used in bathrooms as they are highly water-resistant.
There are different types of natural stone tiles as well.   You can choose between marble, granite, sandstone and travertine. Natural stones have cool natural textures and will give your home a timeless, classic style. They are also extremely durable and can last for a very long time.
Size
Some tile retailers and installers use the metric system while others might still be on Imperial. Be careful while measuring your space and measure in both centimeters and inches to be on the safe side. Use smaller tiles for small rooms and vice-versa, otherwise the tile design might look out of place. Get a sample from the store and check how it looks on the floor next to your wall and baseboards.
Color and Texture
Choose a that matches or accents the colour theme of the room. Light colors will help you open up a small, closed space. Use dark colors to make a wide space look cozier. Take care to pick the right texture. Smooth, shiny ceramic is very slippery and not suited for bathrooms. You can get tiles that have textured patterns to make them safer for you and your family.
Grout
Get a grout in the same color as your tiles to get a cohesive look. If you want to make your tiles stand out, get a grout in a contrasting color for a dramatic look.
How to Choose the Right Tile Installer
Spend some time picking out the best tile installers in Edmonton because you need to ensure that you don't get stuck with shoddy tiling and bad customer service.
Get recommendations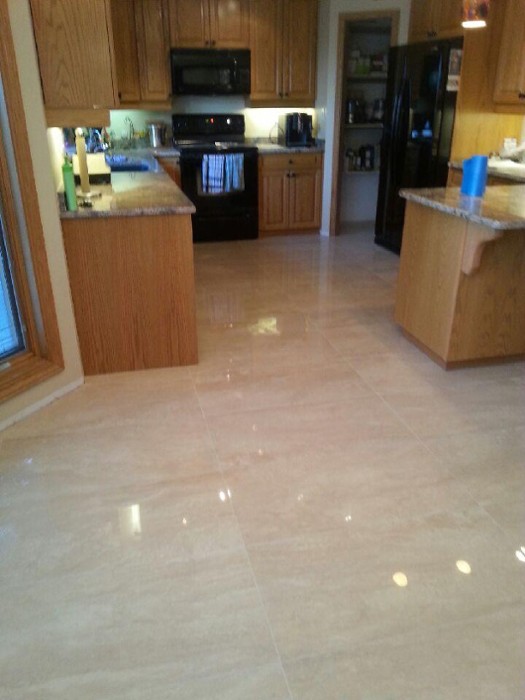 If anyone among your family and friends has had an installation done, ask them who the installers were and how their service was. After you've shortlisted a few contractors, you can see if they're listed any accredited directories like RenovationFind.com. It is also a good idea to ask them for references from homeowners who have recently used their services. A reputable tile company will have no problem providing references.
Get quotes
Shortlist at least 3 installers, and get quotes from each of them.  Look for the highest quality of work at competitive prices, references and recommendations and make your selection!
Check for insurance
Do not hire a tile installer who is not fully insured. If an accident occurs, or the job is done wrong, an insured contractor will be able to rectify the damages. Also, make sure they have WCB coverage to protect yourself if there is an injury onsite during the job.
Check for good service
Don't just settle for good service, go for the best. Hire a tile installer who is guaranteed to complete the job right, who will respect your home and give a good customer experience.
Diesel Tile and Stone in Edmonton, makes sure that every project is completed from start to finish, and all the steps are done perfectly. They make customer service a high priority – they ensure you'll have a problem-free experience with them. Go for a service like that.
Diesel Tile and Stone is dedicated to excellent quality and customer satisfaction. They've passed RenovationFind's rigorous screening process for quality and performance, so you'll be in good hands with them.