A bathroom renovation will improve the look and function of your bathroom while adding value to your home. They range in cost, depending on the size of the bathroom, scope of work and the materials you choose. For a detailed and accurate quote, contact Edmonton Bath Products. For some general information, they've provided some cost-estimates for a bathroom renovation.
Average cost of a bathroom renovation.
According to HomeAdvisors statistics for 2019, the average cost of a bathroom remodel is $10,288. Updating just the essentials could cost as little as $3,500 to $7,000. A major bathroom remodel on a large main or master bath could be $13,000 or much higher depending on the plumbing required and quality of finishing products used.
Bathroom renovation cost break down.
To give you an idea, here are the average cost estimate for specific components of your bathroom renovations in Edmonton. Keep in mind the cost could be less, or much more, depending on the size and scope of each individual renovation. You should always get an accurate and detailed estimate from a bathroom renovation company before you start.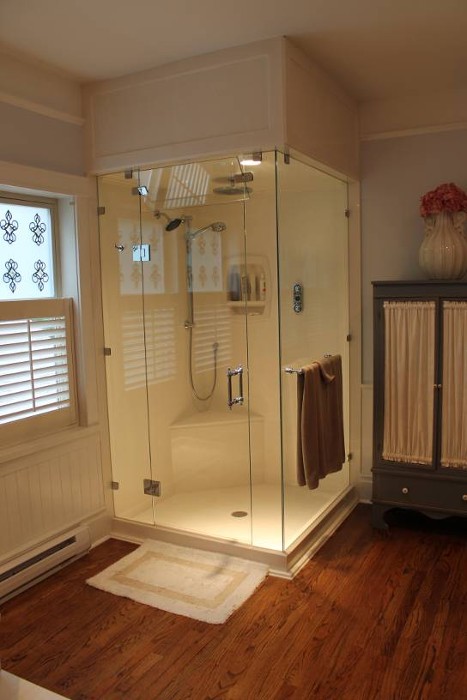 New bathtub installed: $2,600 to $4,1000.
New cabinets installed: $4,700 to $7,000
New countertops installed: $2,800 to $4,1000
New flooring installed: $2,500 to $3,6000
New light fixtures installed: $1,100 to $1,700
New sink installed: $1,400 to $2,300
New toilet installed: $550 to $1,000
New shower installed: $3,000 to $4,800
Some homeowners decide to pick and choose key features from the list above, instead of including everything mentioned. You can also choose to purchase some of the fixtures or faucets yourself and have them installed by the contractor.
Example cost of a small bathroom renovation.
Let's take the example of a small, two-piece ensuite bathroom renovation to give you an idea of the cost. In this example, the homeowner needed a new vanity cabinet and countertop including the sink and splash. The homeowner already purchased a new toilet, faucet and light fixture, but needed them to be installed.
– Small vanity cabinet installed: $1,131
– Small vanity top installed, including sink and splash: $716
– Faucet, light fixture and toilet (supplied) installed: $350.00
– TOTAL: $2197 +GST
Bathroom Renovations in Edmonton
If you need your bathroom renovated, Edmonton Bath Products can do it all. Their services include full bathroom renovations, standard bathtub replacement, bathtub to shower conversions, accessible renovations, shower doors and renovations for new construction. Not only do they provide installation, they manufacture many of the products they offer including:
– Cast Marble, Crystalline, Cast Granite a Tyvarian Wall Panels
– Bathtubs
– Standard Shower Bases
– Fabricated Custom Shower Bases
– Vantity Tops
If you need a full bathroom renovation, or some products for your DIY project, contact Edmonton Bath Products!
RenovationFind Certified is a symbol of integrity held by only the most trustworthy companies in home improvement, service, maintenance.  It increases consumer confidence in your business, giving you an edge over your competition while validating you as the best.
More than an online directory, we are Western Canada's fastest growing marketing platform for promoting and connecting the best trades, service, and home improvement companies to homeowners.