Investing in a home security system will ensure your home and family are protected, as well as provide the priceless peace of mind that comes with the knowledge that your home is secure. Home security technology has come a long way over the years. Not only will a monitored alarm system help prevent break-ins and deter criminals, it will allow you to view activity in your home from anywhere in the world, act as an early warning system for environmental emergencies, and can even be integrated into a comprehensive home automation system.
With so much technology to choose from, deciding on the right home security system for your needs and budget could be a challenge. Telsco Security Systems, a home security company in Edmonton gives some helpful information on some of the options out there for home security and residential monitoring so you can built a home security package that best suits you and your family.
Custom Home Security Packages
Instead of just installing outdoor security cameras and an alarm system, you can now have a home security system built specifically for you from the ground up. Whether your home is fully developed, under construction or recently renovated, TELSCO's home security systems come in basic packages with the options to add devices and functions based on what is best for your home. Here are some of the devices and features you can build into your home security package:
Mobile Monitoring: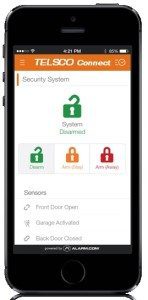 Access your security system from anywhere in the world with a smart phone or any web enabled device at any time. You can use your mobile device to arm, disarm, change a user code, track activity, monitor environmental alarms and much more. Using the TELSCO Connect app is the easiest way to control and monitor your security system from your phone.
Damage Prevention & Life Safety:
Your home security system can provide even more protection for your home and family by alerting you if your smoke or carbon monoxide alarm goes off, there is a loss of heat, freezing, a water leak, furnace failure and much more. Not only will this early warning allow you to take safety measures, it will also notify local emergency services in the case of an emergency like a fire.
Home Automation & Z-Wave Home Control:
Z-Wave is a wireless communications protocol designed for home automation that acts as a controller for specific devices selected by you. Z-Wave is an affordable home automation option as it does not require special wiring or complicated programming and it can be integrated into an existing system. You can control things like light switches, thermostats, blinds and locks. That means you won't have to fumble in the dark trying to disarm your home security system. You can also have it secure your alarm system when you leave the house, set your thermostat to cool while no one is home and have it disarm the system and turn the heat back up when you arrive back home.
Video Doorbell:
With innovative mobile technology, you can now see who is ringing your doorbell, and even answer the door, from anywhere in the world on your smart phone or mobile device. The video doorbell integrates an HD camera, motion sensor and digital microphone which means you'll never have to wonder or worry who is, or who was, at the door.  You can also integrate this with your home automation so you can unlock the door using the TELSCO Connect app, view a live feed of the front door at any time or have recorded audio play automatically when the doorbell is pressed or motion is detected.
Medical Alert Devices:
A medical alert pendant, worn as a bracelet or necklace, allows people in a fragile or vulnerable state live full, independent lives. You can combine these monitored devices with your TELSCO security system. In the case of an emergency, they can be connected to help with the bush of a button giving them and their loved ones, security and peace of mind.
Edmonton Home Security Company
TELSCO Security Systems is Edmonton's largest full service home security & commercial security company. They recognize that the security needs of every home and business owner are unique. Whether the solution you require is small, large or somewhere in the middle, their security consultants will assist you in designing a customized security system that best complements your home or business. As a local provider, they are able to offer personalized service and high quality home security solutions that will protect your family, home or business.