If you're building a custom home and want to add originality, custom pieces are a great option. Your home will stand out from the rest, and give your home that much-needed sense of character. From the custom home builders at Tyben Construction in Edmonton, here are some projects to consider to make the new house your building a home that is unique to you.
Get your dream shower
Have you always wanted a luxury walk-in shower? When designing your own home, you can get that rainfall shower head you've always wanted. With a custom shower, you can decide on the size, materials used, and what extra features to include. These extra features could be things like benches, bars, additional showerheads, and anything else you may need. Not only will a custom shower improve the look and function of your bathroom, but it will add to the value of your home.
Swap out a regular door for a barn door
Adding a barn door into your home makes an ordinary door suddenly turn into its own feature. Big or small, these can replace anything from a pantry door to a bedroom door, or even a door dividing two spaces. A cool bonus with barn doors is getting the custom-made. You are able to choose the wood and fixtures, having it made exactly as you like. Barn doors will stand out in your home, and give a rustic look to any space. This is only one of many unique features to add to your home.
Need storage? No problem!
Adding additional storage in your home may not seem like the most exciting project in the world. However, with so many creative solutions out there, you can not only get a function piece but a stylish one too. Shelving can be added in different positions and patterns for a unique look. For storing more, built-in cabinets can be designed to fit your needs. This could be something simple like displays surrounding a television, or bigger like a cabinet. It can be built to have some open and some closed to display what you want to be shown and hide what you don't. It can be made from any material, so it can either stand-alone or match the current style of your home.
Taking a step outdoors: the deck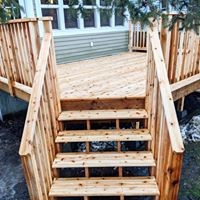 A deck is a great additional space for any home. There are some ways to make it your own and make it a space that guests will love to be. Adding fencing around the sides adds privacy, and gives you the opportunity to decorate further. Built-in planters along stairs or fencing give you the chance to add more colour to your deck to cut through all the wood. Adding a built-in bar is great for entertaining guests, and can be individualized to fit your taste. Decks are a blank slate, and there are endless possibilities for custom features to be added.
Custom Home Builders in Edmonton
Tyben Construction is your one-stop-shop. Agricultural, industrial, commercial, and residential. They can manage your entire job from start to finish, including obtaining permits and hiring subcontractors. Their team is highly qualified and motivated to help you achieve your project goals.
Contact Tyben Construction for more information today!
RenovationFind Certified is a symbol of integrity held by only the most trustworthy companies in home improvement, service, maintenance.  It increases consumer confidence in your business, giving you an edge over your competition while validating you as the best.
More than an online directory, we are Western Canada's fastest-growing marketing platform for promoting and connecting the best trades, service, and home improvement companies to homeowners.