If your ceiling is damaged or if it was built with a textured ceiling that you no longer like or that is stained or damaged, you might consider removing it and replacing it with a new drywall ceiling. Removing a textured ceiling is a really tough and messy job. Depending on the situation, you could cover the entire old ceiling with a new layer of fresh drywall. Glacier Drywall in Calgary explains which situations putting new drywall over the old ceiling might be the best solution:
Covering up a textured ceiling.
Removing a textured ceiling involves saturating it with a water solution and physically scrapping it off, bit by bit, until the ceiling is smooth. It is extremely messy and very time consuming. Then you have to deal with the clean up!
You should also be aware that ceiling texture applied before the 1980s could contain asbestos and you should have a sample tested by an approved testing service. If you do have asbestos, you'll have to hire a professional asbestos removal company to take care of that for you. The mess, time it will take, skills it takes and the risk of asbestos all add up to enough reasons to just cover it up with a new ceiling.
Covering up a textured ceiling with drywall damage.
If your ceiling is flaking, has holes or water stains you could repair it by cutting out the damaged area, replacing the drywall in that area, re-texturing that area and painting the entire ceiling. Depending on the damage, it might be quicker and easier to cover it all up with a new layer of drywall than trying to repair small areas of damage.
Covering up a cracked and damaged plaster ceiling.
If your plaster ceiling only has a few short, narrow cracks it will probably be easier to just repair those areas than to replace or cover the ceiling. However, if you have large, wide cracks and they expand throughout the entire ceiling, or if areas of your plaster feel loose, it will be tough to repair and the cracks will likely reappear. It is possible to cover your old plaster ceiling with a new drywall ceiling, rather than having to keep repairing the cracks every year or too. Before putting new drywall on the plaster ceiling, you will have to remove any loose or flaking plaster from the surface.
Professional drywall services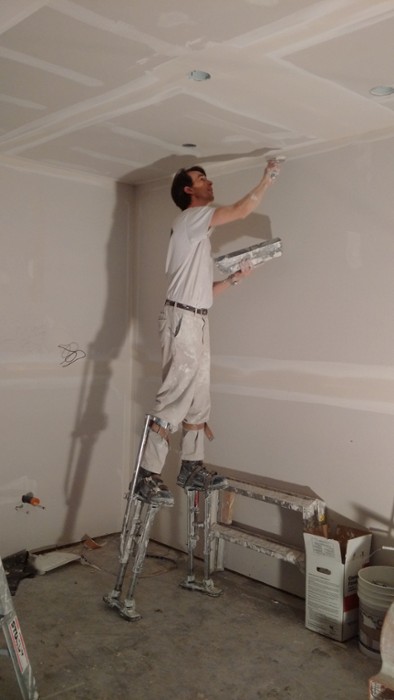 Installing drywall on a ceiling is a tough job. It requires a lot of heavy lifting, specific tools and skill to get the job done and to achieve professional results. That's why it's a job best left for a professional dry wall contractor like Glacier Drywall. They can come to your home to access the damage and will suggest the best solution for your specific situation. It might be to repair the damaged area, remove the ceiling before installing a new surface, or to cover up the old ceiling and damage with new drywall.
Glacier Drywall has extensive experience in drywall home renovations. Whether you need a new ceiling, have gutted your entire home down to the studs or need drywall repaired, they have the skills to insulate, vapor barrier seal, board, tape and texture all walls and ceilings. If you have water leaks that have damaged your ceilings and walls they will have a solution that will have them looking like new again!
If you have an out-dated, stained or damaged ceiling contact the experts at Glacier Drywall in Calgary.