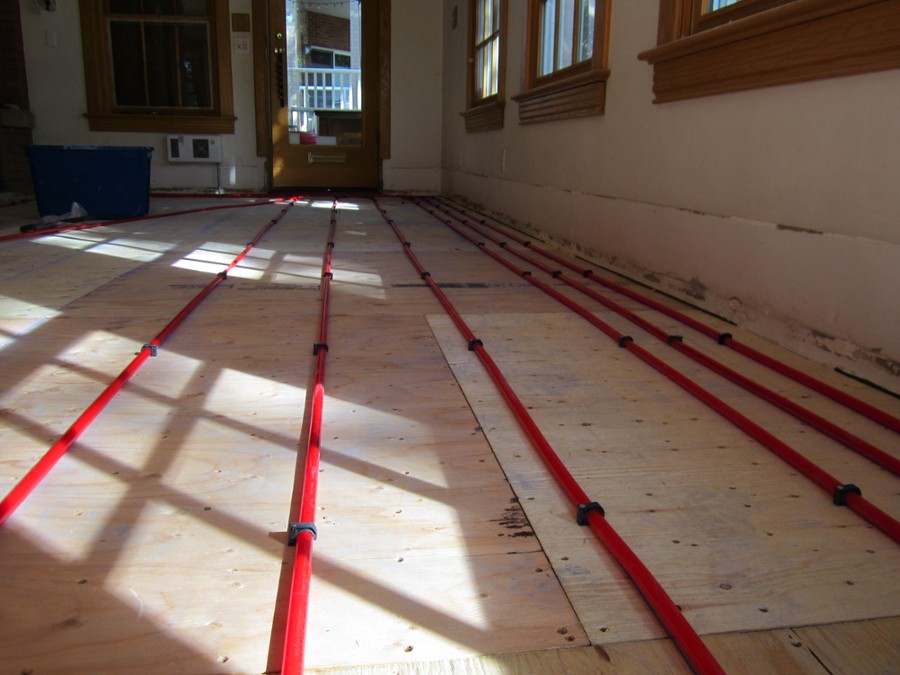 Whether you are upgrading an old heating system or installing a whole new one, you want something that will provide both comfort and efficiency in your life. Radiant floor heating is one such heating upgrade that has become popular in recent years. However, hydronic heating is also quickly becoming popular because of its multiple uses.
In addition to floor heating, it can also heat the garage, melt snow and heat pools and spas. Hydronic heating not only brings a new depth of comfort to your home, but it is also one of the most efficient and cost-friendly heating systems.
Butler Plumbing Heating & Gasfitting Ltd. in Edmonton is a full-service plumbing company. They offer hydronic heating installation and share some of the many benefits it can offer to your home:
What is hydronic heating? 
Simply put, hydronic heating is a system that installs piping beneath the floors to pump hot water throughout the home. This provides an even distribution of heat throughout the home, as well as heating throughout the floors. You can also have hydronic heating in the walls too.
Hot water is sent out through the plumbing installed in floors or the walls. By doing so, it allows each room to be customized with different temperatures. The pump system works constantly, cycling cold water back in and pumping new hot water back out.
As a whole, it creates a highly energy-efficient system that is also very customizable. It also offers superior comfort with heated floors and evenly distributed heating throughout your home. If a condensing boiler is the source of the hydronic heating, it can reach 95 percent or more efficiency.
What are the benefits?
Most notable about hydronic heating is that it is both cleaner and quieter than traditional heating systems. Traditional heating uses forced air that blows hot air through ducts in the flooring and out through the vents located in each room. The problem, however, is that the system also carries dust with it, which can stir up allergens. Air filters on the system must, therefore, be regularly changed and kept clean to help prevent dust in the air. Poor circulation can also result in hot and cold spots in rooms or dips in temperature when the system is off.
With hydronic heating, dust and poor circulation are no longer a problem because of the lack of need for vents. Temperatures in rooms will also always be consistent, and warm floors are a cozy benefit during the colder months.
As well, because hydronic heating is an invisible system, it doesn't limit where furniture can be placed or even possible flooring options. Hardwood, carpet or vinyl floorings are all available options, thanks to advances in installation and design techniques. Plus, without vents, there is no concern of furniture blocking the airflow from a vent.
Best of all, hydronic heating saves a great deal on monthly energy bills. As a better conductor for heat, water requires less energy both to heat as well as then move throughout the home. Compared to a traditional heating system, a hydronic system can save between 10 and 30 percent on monthly heating bills.
Twice the benefits: energy-efficient plumbing upgrades 
In addition to saving expenses and improving comfort with hydronic heating, upgrading your plumbing in general will double up on even more benefits. Installing a pressure reducing valve and low-flow showerheads will help lower the amount of water used and lower monthly water bills. Additionally, swapping out old toilets for high-efficiency toilets will also help control how much water is flushed each time. By doubling up on these simple, yet comfort-enhancing upgrades, your entire home will become one big energy-saving system.
Plumbers in Edmonton 
Butler Plumbing Heating & Gasfitting offers both commercial and residential plumbing services with guaranteed quality of service. They dedicate themselves to offering only the highest quality of work as well as always providing open and honest communication with their customers.
RenovationFind Certified is a symbol of integrity held by only the most trustworthy companies in home improvement, service, maintenance.  It increases consumer confidence in your business, giving you an edge over your competition while validating you as the best.
More than an online directory, we are Western Canada's fastest growing marketing platform for promoting and connecting the best trades, service, and home improvement companies to homeowners.
Click to Find >>> Best Plumbers in Edmonton.