Are you tired of your closets being packed with clothing, hats, purses, shoes and who knows what else piled high on shelves and stuffed in drawers? It's difficult to keep things organized and even more challenging to find what you're looking for every day! That's where having a custom closet can help. Learn how to get organized with an Edmonton custom closet.
Edmonton Custom Closets in Edmonton offers solutions for closets and storage spaces of all sizes. Whether you have the space to design a large, walk-in closet or only have tiny closets to work with, they can help design a solution that will maximize your space, look great and make things easier for you to find and keep organized.
Ideas for Teeny Tiny Closet Spaces
If you live in an apartment condominium or an older home, you might have some small closets that might not seem very useful and that always seem overly packed with stuff. Here are some ideas for best utilizing those tiny spaces:
– Double your hanging space by adding an additional hanger rod in the closet.
– Install vertical shelves on one side to keep items like shoes, belts, hats and purses.
– If you have lower shelves, utilize the space underneath by installing drawers or slide out baskets.
– Install hooks and hanging rods on upper walls and on the back of the closet door for additional storage.
– If there is space, install additional shelves near the top of your closet. You may need a stool to reach these areas but it's great place to store things like luggage or spare bedding.
Read more tricks for getting more space out of your small closet.
Ideas for Large Walk-In Closet Spaces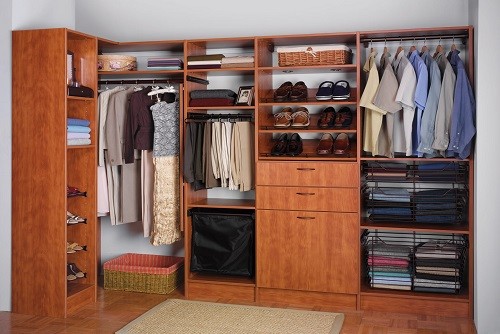 If you have a large walk-in closet, or are planning on building one during a home renovation, there is a lot you can do to truly create the closet of your dreams! Not only will a grand custom closet look great and help you keep your things organized, it can also increase your home's resale value as these closets are attractive to potential buyers. Here are some ideas to spark inspiration when designing your large custom closet:
– Install plenty of shelving for your folded items like sweaters, jeans and other garments.
– Drawer organizers can help you organize smaller items like jewellery, belts and other accessories.
– Tilt-out hampers will hide your dirty laundry, while keeping it accessible for laundry day.
– If you have the space, an island will create a focal point in your closet and act as additional dresser or wardrobe space as well as a surface to keep items you use regularly.
– Hanging rods, hooks and shelving can be installed regardless of angled walls, sloping ceilings and other peculiar areas in the room. Leave the design up to Edmonton Custom Closets!
Want to get real fancy? Check out these walk-in closet ideas from Houzz.com. 
Custom Closet Solutions in Every Room 
Companies that install closets in Edmonton can offer closet and storage solutions in every room of the house, not just the bedroom. Whether you want to design a more functional pantry, home office or laundry room or want a solution to keep your mudroom or back porch more organized, the experts at Edmonton Custom Closets can help! Learn about their  design and installation process here. 
Edmonton Custom Closets is a small company set up to serve our customers on a one to one basis. The company is owned and operated by one man. He will organize your reach-in closets, walk-in closets, pantry, laundry room, home office or garage storage.
RenovationFind Certified is a symbol of integrity held by only the most trustworthy companies in home improvement, service, maintenance.  It increases consumer confidence in your business, giving you an edge over your competition while validating you as the best.
More than an online directory, we are Western Canada's fastest growing marketing platform for promoting and connecting the best trades, service, and home improvement companies to homeowners.