Concrete designs are one of the hot new trends for boosting a home's aesthetic appeal. From decorative concrete driveways, walkways, patios to entryways, concrete furniture and pool decks concrete no longer has to be plain and grey. Whether you want to install decorative concrete in and around your estate home or are interested in installing concrete countertops, sinks, decorative concrete wall tiles or custom concrete furniture, Sparling Concrete can help!
Options for Concrete Design
Concrete is an incredibly diverse material and its applications are endless. Your concrete design can be warm and earthy, slate-looking, colourful and bold or have a reddish Spanish style. The advancement in concrete tools, stains and dyes, textures, patterns and finishes have made it a very versatile, durable and cost-effective building material for both residential and commercial applications.
Stamped concrete is when patterns are imprinted on freshly placed concrete mimicking the look of stone or brick often at a lower cost than those materials.
Stained concrete uses acid-based chemical stains to create rich, earthy tones to plain concrete surfaces.
Coloured concrete will give your patio or walkways almost any shape, design or pattern you can imagine, whether you want it to blend in with nature or make a bold statement that stands out. There are a variety of ways to colour concrete.
Polished concrete produces a high-gloss finish that never needs waxing. It's perfect for indoor floors and a great alternative to marble or granite floors. It is widely used in retail stores, restaurants and showrooms.
The exterior finishes offered by Sparling Concrete include exposed aggregate, stamped concrete, broom finish and coloured concrete. For both exterior and interior concrete surfaces they have really pushed the boundary. Their latest projects include custom concrete countertops, decorative concrete wall tile, furniture and custom design for residential and commercial clients.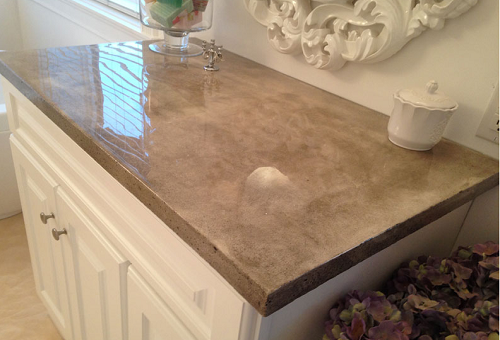 Photos: Left, concrete countertops Edmonton – Right, concrete coffee table
Value of Concrete Design
Using concrete in your home's exterior and interior design will make your dollars go a little further. Many concrete design projects are less expensive than similar projects using natural stone like granite, slate or marble. Plus, concrete is easier to maintain, very durable and in many cases the logical choice for construction projects because of the great value it delivers. In essence, decorative concrete will give you home a high-end look without the high-end price tag.
Any upgrade to your home that greatly enhances its curb appeal will boost its resale value. A brand new driveway, custom walk ways, an attractive patio and even interior finishes like concrete countertops all hold great resale value. Your home will be more attractive to potential home buyers, show that it is well cared-for and will spend less time on the real estate market. You can also expect a higher selling price.
Concrete Contractor in Edmonton
Sparling Concrete has been dedicated to the concrete industry for nearly 10 years, serving Stony Plain, Spruce Grove, Edmonton and surrounding area. Their passion for concrete drives us to pursue continuing education, seminars and exploration of new materials and application. They believe this to be vital to staying ahead, to providing the highest quality end product to their clients. Beginning in residential construction and expanding into commercial they've always enjoyed the challenge of broadening their horizons and offering new innovations in custom concrete design.