Why you should invest in your home's exterior.
The house's exterior is your home's first defence against the weather. It protects your home from water, wind and snow. It is responsible for improving your home's thermal performance, helping to reduce heating and cooling costs year-round.
Your home's exterior also gives the first impression of your home. Not only is this important if you want to sell it someday, it is also important that you enjoy the way your home looks too. When you pull up to your home at the end of the day, you should love the way it looks and take real pride in ownership.
Exterior renovations also have a great return on investment. When you invest money improving the exterior, you are adding value to your property. Investing in real estate is always a smart idea, especially if you plan on selling in the future.
Smart Home Building Systems in Edmonton shares 3 exterior renovations with great ROI:
Entry Systems
The front door plays a major role in your home's aesthetics, security and energy efficiency. Investing in a quality entry system is a great way to enhance all those things, while adding real monetary value to your home.
Replacing your front door will recover over 91% of its cost at resale, according to this report. In the example used, the replacement door was a fibreglass entry door, complete with new door jams, threshold and lock set.
Siding Replacement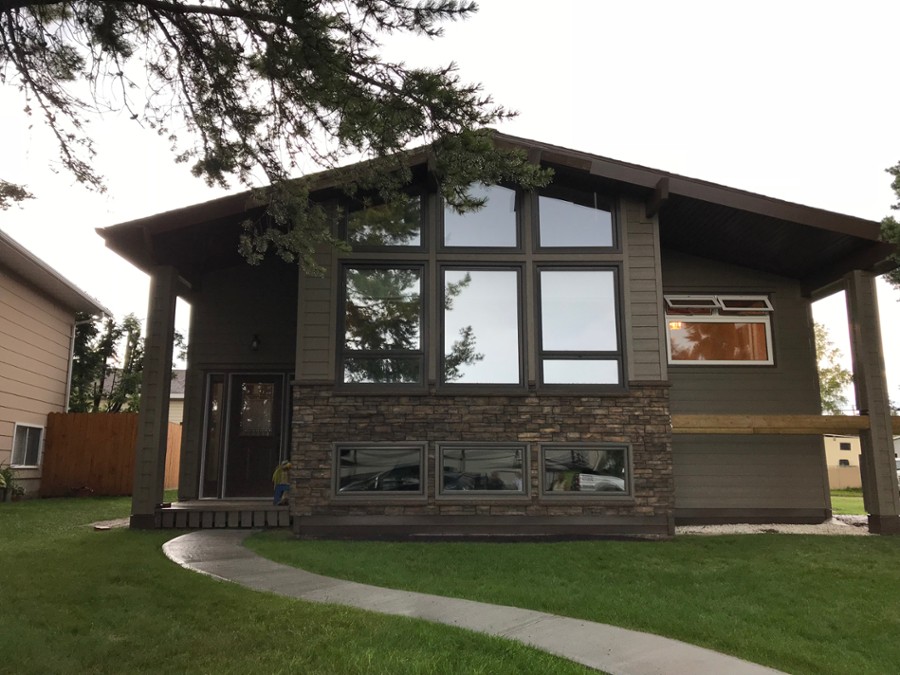 When it comes to upscale home improvements, a fibre cement siding replacement can recoup over 78% of its cost at resale. Combine that with an improved curb appeal and boosted energy efficiency, and your ROI increases.
A vinyl siding replacement can also have a good ROI.  Expect to add over 76% of your vinyl siding replacement cost to your home's overall value. Add stone veneer to your home's exterior and your return on investment increases more. In fact, a stone veneer installation can recoup almost 95% of its cost at resale, making it one of the best ROIs you can get for improving your home.
New Windows
When it comes to energy loss in a regular home, the windows are usually responsible for most of it. Therefore, investing in a high-quality, energy efficient window replacement is so important. A window replacement can give you long-term energy savings and can also add value to your property.
According to the same report, a quality vinyl window replacement can recover over 73% of its cost at resale. That means a $17,000 window replacement job can add almost $13,000 to the price of your home. If you're not selling for a long time, you'll enjoy the regular energy savings and a more comfortable home.
Exterior Renovations in Edmonton
Smart Home Building Systems Ltd. is an Alberta owned and operated organization that specializes in exterior renovations. Vinyl windows and entrance systems, siding, stone veneer and roofing are among their services. Explore the many benefits of the "Smart Home" experience and you'll see why they are quickly becoming a respected household name in your community.
Contact them to learn more about the Smart Home experience!
RenovationFind Certified is a symbol of integrity held by only the most trustworthy companies in home improvement, service, maintenance.  It increases consumer confidence in your business, giving you an edge over your competition while validating you as the best.
More than an online directory, we are Western Canada's fastest growing marketing platform for promoting and connecting the best trades, service, and home improvement companies to homeowners.