Having a finished basement can nearly double your home's usable living space. You can use your basement as a family room or home theatre, build in additional bedrooms and a bathroom for your growing family, a home office, fitness area, man cave or have additional storage. The possibilities are endless, but it all starts with a good plan and design.
That's where Bond Contracting and Construction in Calgary comes in. If you are planning to finish or remodel your basement, the planning phase is extremely important. Working with a professional renovation company and designer will ensure that the best lay out, function and design of your basement development matches up with your needs, lifestyle, budget and personal taste.
What is involved with finishing an unfinished basement?
Your unfinished basement might be nothing more than a concrete floor, exposed pipes and electrical and some bare wall framework. Here are some things that Bond Contracting and Construction will take care of for you when they finish your basement:
– Complete design services and pre-construction planning.
– Framing the walls, adding insulation, installing and finishing drywall on both the walls and ceiling.
– Installing any egress windows where necessary to ensure your basement upgrade is compliant with building code.
– Encasing and/or rerouting duckwork if necessary.
– Adding or updating the electrical including installing outlets, fixtures and even charging stations for electronic devices if it's in your design plan.
– Installing flooring of your choice.
– Installing and/or roughing in plumbing for any bathroom addition, wet bar or kitchen as well as installing fixtures, cabinets and any other features.
– Installing trim, doors and painting the finished space.
– Cleaning up afterwards.
They can also build a media room or home theatre, install a fireplace or wet bar or even build an entirely functional secondary suite in your basement. No matter what you would like for your new finished basement, Bond Contracting and Construction can make it happen.
What is involved in a basement remodel?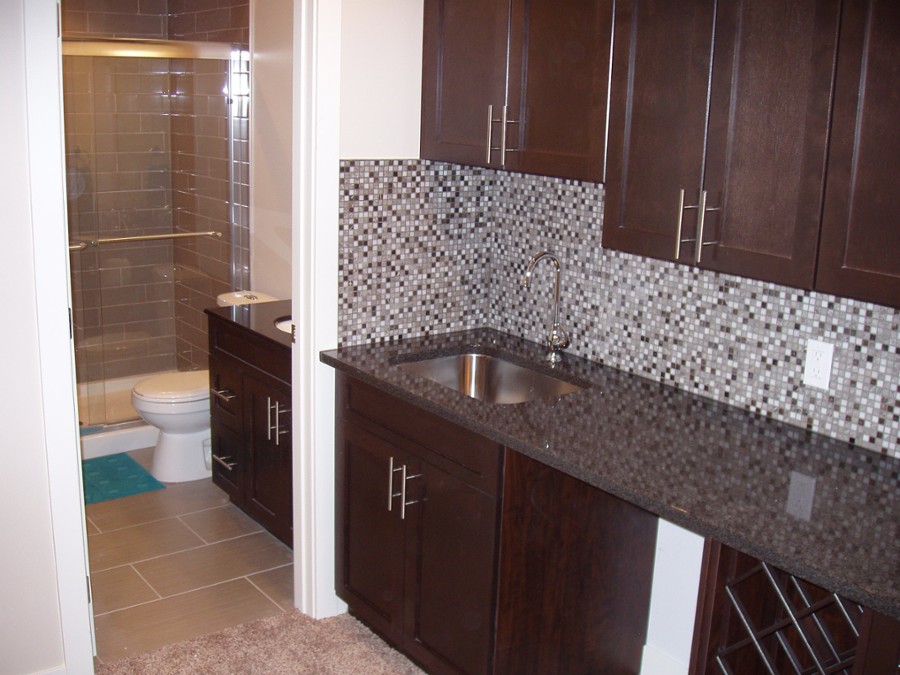 A basement remodel is when you make minor or major changes to your existing finished basement. It can mean adding living rooms, play rooms, home offices, bedrooms or transforming the basement into a secondary suite. Bond Contracting and Construction can create a new design for your basement that can either upgrade the features you already have or totally change the layout of the space.
Your renovation company will take care of everything required to transform your dated basement into something you'll love. They'll take care of any installation or upgrading of electrical, plumbing and duct work as well as the demolition of your old basement, re-framing, drywall, paint, trim, flooring and all the finishing touches.
Whether you want to add a new bathroom, remove walls to make the living areas more open concept, install new features like a fireplace or theatre, they can enhance your downstairs living space to something you're really going to enjoy.  For some inspiration, check out these basement remodeling ideas.
Basement Renovations in Calgary
For over 18 years Bond Construction has been providing Calgary and area residents with premium renovations for their homes. They offer a full range of professional residential renovations including kitchen renovations, basement development, bathroom remodeling, whole home renovations and decks.
RenovationFind Certified is a symbol of integrity held by only the most trustworthy companies in home improvement, service, maintenance.  It increases consumer confidence in your business, giving you an edge over your competition while validating you as the best.
More than an online directory, we are Western Canada's fastest growing marketing platform for promoting and connecting the best trades, service, and home improvement companies to homeowners.