Kitchen renovations have a very high return on investment when compared to other home renovations. Not only will a beautiful and functional kitchen add to your personal enjoyment of your home, it will also improve resale value. A kitchen remodel can recoup over 80.5% of it's initial cost, adding thousands to your home's value, according to Remodeling Magazine's Cost vs. Value report.
Crown Custom Cabinetry Inc in Calgary are the experts when it comes to kitchen renovations and custom cabinetry. They share this kitchen renovation checklist so you'll be aware of the things that will need to be done during a major kitchen renovation. When it comes to the cabinet component, they will work with any kitchen design plan (or can provide you with one) and will produce the cabinets and kitchen of your dreams.
Kitchen Renovation Checklist
Framing: If you're completely changing the layout of your kitchen or main floor area, your contractor will install 2×4 framing for any new walls and doorways.
Electrical: If necessary, new wiring, outlets and other electrical components will be installed behind the walls and ceiling. They will install wire and receptacles for your new lighting.
Plumbing & Gaslines: In the early construction phase, a renovation company will install or upgrade any plumbing as necessary to fit with your kitchen design. Professional gasfitters will come in to install any gas lines you might need for a new gas range or other appliance.
Drywall: Once all the electrical and plumbing is in place, new drywall will be installed and finished.
Trim: New trim, including valances and moulding, will be installed to add charm and a finishing touch to your kitchen's design. Your general contractor will make sure that any baseboards and trim are consistent with the trim throughout the rest of the house.
Kitchen cabinets: The cabinets are probably the largest, most expensive and most important component of your kitchen renovation. You can choose between stock, semi-custom and custom cabinets. If you are investing in a kitchen renovation, get the type of kitchen cabinets that best match your design tastes and the way you'll use the kitchen. Custom cabinets will allow you to completely customize your kitchen the way you want it. They're high quality, durable and attractive.
Countertops: Choose your countertop based on the activity level in the kitchen and your design tastes. Natural stone countertops like granite and quartz are popular choices. Not only are they durable and functional, they can increase aesthetics and add value to your home.  Laminate is the cost-effective countertop option and comes in a variety of colours and styles. It can even mimic the look of natural stone or wood countertops.
Backsplash: The backsplash is put in after the countertop. It is intended to protect the walls from splashes and spills that happen in the kitchen. The backsplash can also be a focal point in the room. It will tie in your countertop with the wall colour and cabinetry.
Sinks and fixtures: There is a big range in price and style when it comes to sinks and faucets. A simple stainless double sink is a smart and affordable option, but don't cheap out too much on faucets. You want your fixtures to last.
Appliances: New appliances will chew up a lot of your budget. Some homeowners choose to keep their existing appliances, or upgrade to new energy efficient models. Make sure you purchase ENERGY STAR certified kitchen appliances when possible.
Paint or wallpaper: Most homeowners choose to paint their kitchen walls, though wallpaper is making a comeback. Choose a wall colour that will best match the rest of your kitchen renovation design components.
Flooring: Make sure to choose flooring that is resistant to moisture as the kitchen is a major spill zone. Tile flooring will add value to your home, is very attractive, durable and easy to clean and maintain. For busy families on a budget, choose a durable option like linoleum or vinyl flooring.
Kitchen Renovations in Calgary
Crown Custom Cabinets specializes in kitchen cabinetry, including custom island and wall cabinets. They will work with any plan and budget – from small basic layout to the most elaborate kitchen of your dreams.
Crown will customize your cabinets to suit your specifications and they offer a large variety of woods, finishes and door styles. If you're getting ready to renovate the kitchen, be sure to contact Crown Custom Cabinets!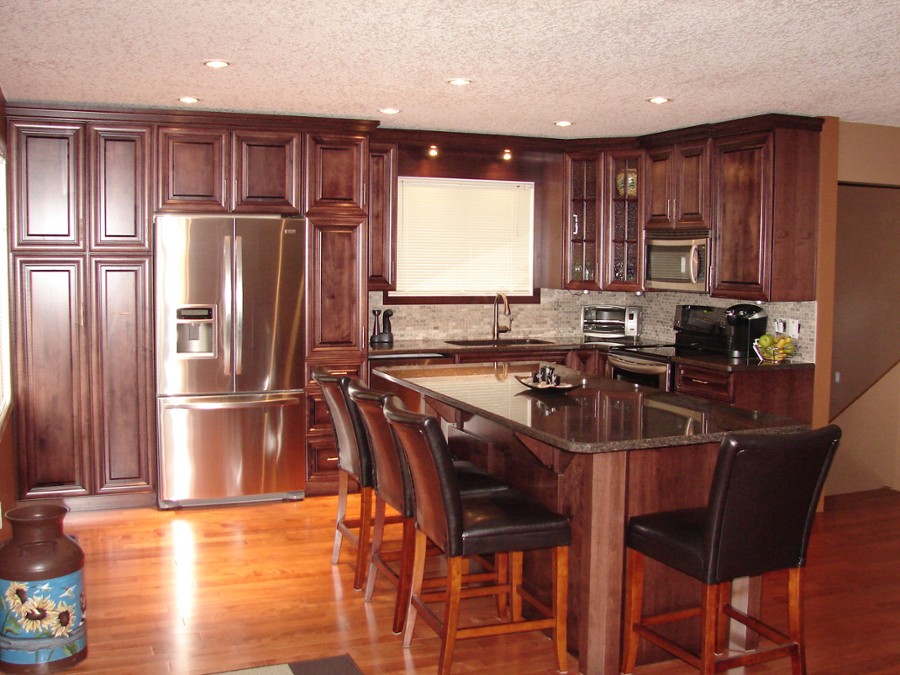 RenovationFind Certified is a symbol of integrity held by only the most trustworthy companies in home improvement, service, maintenance.  It increases consumer confidence in your business, giving you an edge over your competition while validating you as the best.
More than an online directory, we are Western Canada's fastest growing marketing platform for promoting and connecting the best trades, service, and home improvement companies to homeowners.