The interior staircase in your house is necessary, but it can also be an attractive design feature in your home. You have a wide range of railings and stair styles and materials to choose from. This allows you to design the stairs and railing system that best matches your home's style.
Sandhills Manufacturing Ltd. in Edmonton shares some of the products they offer to create the perfect staircase system:
A wide range of rail options.
The type and design of your railing system will set the style of the staircase in your home. All varieties of materials are available including wood, hardwood and iron spindles, as well as glass. Choose from a wide range of railing, posts and end cap types and profiles. You can get creative with a spindle design or keep things simple with traditional iron or wood posts. View Sandhill's railing product guide for inspiration.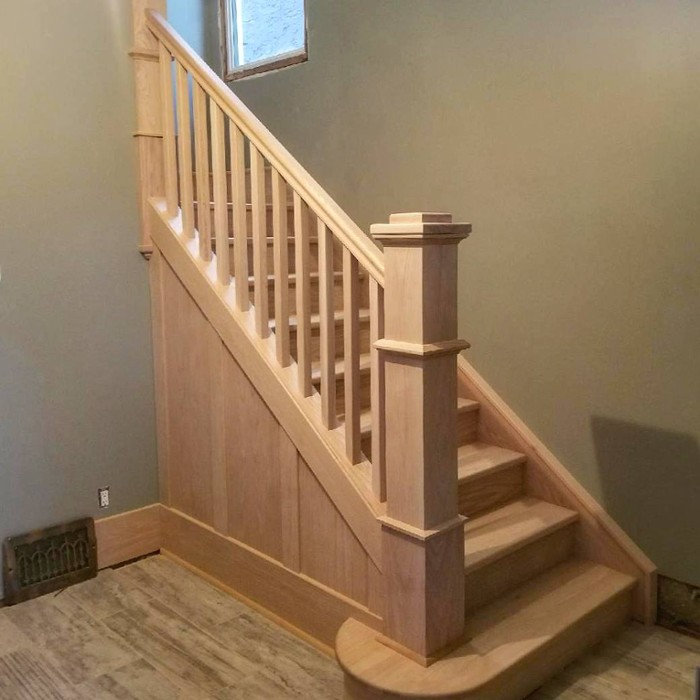 Stronger stairs with Ply-Lam products.
All Sandhills Manufacturing's stairs are built with a plywood product called Ply-Lam. This cost-effective product is strong, durable and environmentally friendly. Here are some benefits of using this product for your staircase project:
Durable and reliable: Ply-lam is resistant to cracking and twisting. You won't have to worry about your stairs warping over time.
Safety: It's light and easier to work with. It's also more resistant to fire than other commonly used materials. It can swell when wet but will return to its original size once dry.
Eco-friendly: Ply-Lam is better for the environment compared to dimensional lumber. When you use regular lumber to create stringers, up to 40% of it can be wasted! Ply-Lam is committed to more environmentally-friendly manufacturing processes and less waste.
Exterior Grade Stairs
If you're looking for stair products to use outside, Sandhills Manufacturing can help with that too. In addition to interior grade stairs, they've been building exterior grade staircases for over 20 years. Share with them your ideas and their experienced carpenters can build and install the stairs you need for any application.
Stairs and Railings in Edmonton
Sandhills Manufacturing is a family owned full service stair and railing company. They've served Edmonton for over 30 years, offering quality stairs and railings to the renovation market.
As mentioned, their stairs are built with an eco-friendly plywood product called Ply-Lam. This material is guaranteed not to twist, warp, or crack like traditional stairs manufactured with dimensional lumber.
Their quality wood railing components are produced by Woodchucks Mouldings. Through Woodchucks, they can customize your railing profile and parts to your exact specifications. Their professional railing installers are able to update and modernize your stairwell to create a brand new look.
RenovationFind Certified is a symbol of integrity held by only the most trustworthy companies in home improvement, service, maintenance.  It increases consumer confidence in your business, giving you an edge over your competition while validating you as the best.
More than an online directory, we are Western Canada's fastest growing marketing platform for promoting and connecting the best trades, service, and home improvement companies to homeowners.