Benefits of a Sunroom Addition
A sunroom gives your family another productive living area and increases the value of your home.  In spring and summer in Edmonton, sunrooms provide a relaxing space to enjoy natural views and sunlight without worrying about mosquitoes or flies.  In the winter a sunroom lets in natural light, improving your mood and wellness.  It also lets in the heat of the sun and a well designed sunroom can even help heat your home!
Apollo Sunrooms Inc. in Edmonton gives some information on how to plan for your sunroom addition.
Choosing the type and style of your sunroom:
You can see the benefits of a sunroom.  You are ready to make this home addition.  Now you have to choose the type of sunroom that would best suit you. Choose between an all-season or three-season sunroom or explore your options with three season patio enclosures. All-season sunrooms come in a variety of styles including curved eave, studio, cathedral, Victorian Conservatory and Georgian Conservatory,
When choosing a sunroom from Apollo Sunrooms Inc., they will help you match your new sunroom to the architectural style and design of your home.  With a wide selection of sunrooms they will help you choose the best style, design, glazing, functionality and materials for your home and lifestyle.
Where to build your sunroom?
When you have a sunroom installed by Apollo Sunrooms Inc. they will guide you through the entire process.  Their team of experienced experts will help you choose the sunroom addition you've always imagined having, and ensure that it matches your lifestyle, home and yard.  You will experience the true benefits of a sunroom, without the stress and frustration that usually comes with home renovations.  In this process, they will advise you on the best place in your yard to build your new sunroom addition.
It's important to also consider the accessibility of addition.  Will the sunroom be easy to get to without disrupting the flow of your household?  Will any rooms in the house be blocked once it is built?  Is there physically room in the space you have chosen for your sunroom?
You also want to make sure that there are not other obstructions around your proposed site.  If you want to allow lots of natural light, they will make sure there will be a clear view from your sunroom.  Items like neighbouring buildings, large trees, or shrubs could block your view or the sunshine.
You want your sunroom addition to have enough solar exposure to give you at least four hours of sunlight around midday, even in the middle of winter.  To maximize the amount of natural light in your new sunroom during the winter months, it is a good idea to orient your sunroom towards the true south if possible.  This will take advantage of the sun's low angle during the winter months in Edmonton.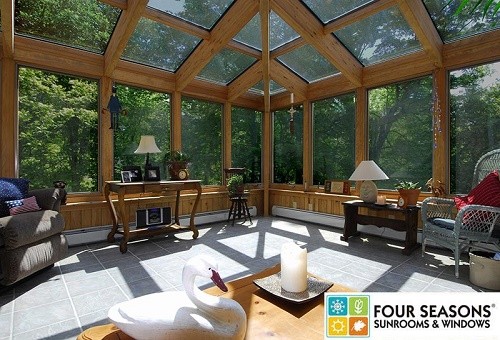 Working with Apollo Sunrooms Inc. in Edmonton:
Apollo Sunrooms Inc. will also take care of all the specific building permits and other items required to complete your sunroom addition, so all you have to do is sit back and wait for your new, sunny addition to be completed. They will also educate you on the basics of solar design, glazing, insulation, and ventilation. These systems will help you realize the full benefits of a sunroom, keeping it a functional, productive, and comfortable living space.
You have a picture of it in your head, you know the benefits of a sunroom, and Apollo Sunrooms Inc. will work with you make certain you have the new sunroom addition you've dreamed of.  You will be thrilled at the difference a sunroom can make in your life!