Natural stone floors and countertops are elegant and valuable additions to your home or business. Sometimes, your natural stone can become dull or even chip, crack and suffer other damage. If this is the case, not all is lost.
Professional Stone Restore in Edmonton offers natural stone repair and restoration. Granite, marble, limestone, travertine and many other surfaces can all be restored to look like new. This will save you hundreds, even thousands, of dollars compared to a full replacement. Here's how they can repair and restore each type of stone:
Granite Restoration
Granite is a dense stone that requires specific care. First, you should be sealing your granite periodically to keep it resistant to moisture and staining. If your granite countertops or flooring need cleaning, repair or restoration, Professional Stone Restore can help. They offer deep cleaning, polishing and sealing of your granite surfaces, bringing back it's luster without a costly replacement.
Marble Restoration
Marble is a valuable and luxury natural stone. Unfortunately, marble is not as durable and granite and can be scratched and chipped more easily. Scratched, etched, cracked and chipped marble can be made to look brand new with restoration services. Professional Stone Restore has the proper tools and equipment to rejuvenate and preserve your marble countertops, vanities, shower, floors and more.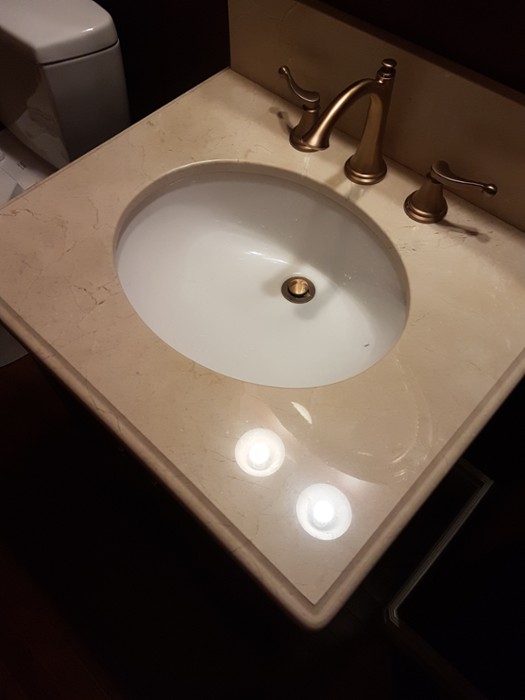 Travertine Restoration
Travertine is another natural stone commonly used for countertops, flooring, bathtubs, showers, sinks and wall tile. If your travertine is looking worse for wear, you don't have to replace it! It just needs professional TLC. Because travertine is softer than marble and granite, it's more susceptible to dulling, scratching and etching. If your travertine needs a facelift, Professional Stone Restore can help.
Limestone Restoration
Limestone is not as common as other natural stone, especially in regard to home design and renovations. If you have beautiful limestone floors or tile that need to be repaired and restored, call in the pros at Professional Stone Restore. Just like other natural stone, limestone can be made to look like new again.
Granite Repair and Restoration in Edmonton
Professional Stone Restore is a family owned and operated business in Edmonton. They specialize in restoring marble, granite, travertine, terrazzo, slate, limestone, quartz, onyx porcelain and ceramic surfaces. From crack and chip repair, cleaning and sealing to diamond honing and polishing, they can make your stone surfaces look new again.
RenovationFind Certified is a symbol of integrity held by only the most trustworthy companies in home improvement, service, maintenance.  It increases consumer confidence in your business, giving you an edge over your competition while validating you as the best.
More than an online directory, we are Western Canada's fastest growing marketing platform for promoting and connecting the best trades, service, and home improvement companies to homeowners.
Click to Find >>> Granite Repair and Restoration in Edmonton.