Is it time to replace your entry door?  The front door is commonly overlooked during many renovations and yours could be damaged, out-dated and drafty.  Installing a new front door can increase your home's efficiency and its resale value. Pella Windows and Doors in Edmonton explains why you should replace your old front entry door.
Replace Your Entry Door to Increase Efficiency
To determine if you need to replace your entry door test how it opens and closes.  Do you notice any sticking when you're opening it or large gaps between your door and the threshold when it's closed?  Regular sticking and visible gaps are good indications of warping.
Exposure to extreme weather conditions can cause your wooden door to shrink and expand, absorb moisture, split and/or warp.  Warping creates gaps between the door, threshold and sometimes even the frame.  Gaps will allow heat loss and you could see a rise in your energy bill.  Your threshold, door jam, and frame can all experience warping and could become loose.  This would also cause gaps and heat loss. If you see these issues, it's a good idea to contact a custom exterior door company in Edmonton.
Replacing Entry Door to Increase Property Value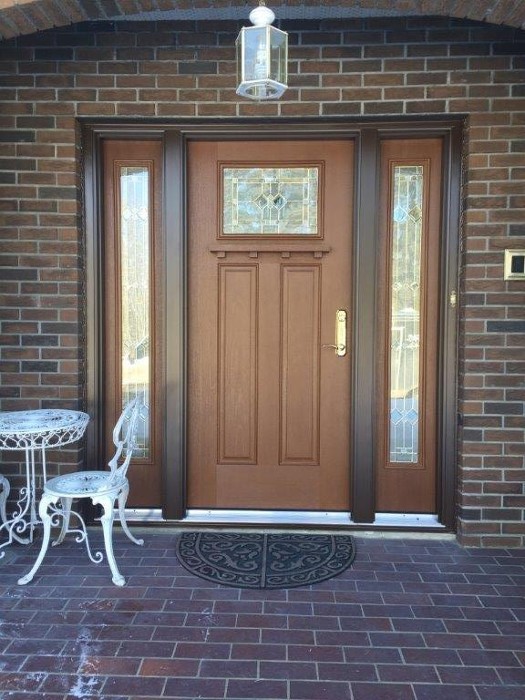 Having your door in good aesthetic condition will improve curb appeal.  Remember that your front door will give the first impression of your home to guests and if you're planning on selling your home, to potential home buyers.  Doors that are outdated, cracked, dented, rusted or peeling paint make your home's exterior look bad and can deter potential buyers.
Installing a new door will increase the value of your home.  In fact, a new steel entry door can give homeowners a 91.1% return on investment, according to Remodeling's 2016 Cost vs. Value Report.  Install a new fiberglass front entry door and you'll recoup 82.3% of your costs. That is incredible value!
Inspecting Your Entry Door
Your door stands up against all weather conditions, totally exposed to the elements on a daily basis, and over time these conditions take a toll.  If it looks like your door has seen better days, today might be a good day to invest in a new entry door and system.
Pella Windows and Doors can come to your home and inspect your entry system.  In some cases, well weathered doors can become like new with a simple paint job.  A proper inspection will determine if your door is working properly and if it needs to be replaced.
Windows and Doors Company in Edmonton 
Pella Windows and Doors offers various lines of low-maintenance entry doors present you with multiple style choices and greater weather resistance. Choose from fiberglass, steel, wood or vinyl. With beautiful style choices, veritable details and the optional multi-point lock system, Pella has an front door that will help increase the beauty of your home and give you greater peace of mind.
Install your new entry door today! Contact:
Pella Windows and Doors EDMONTON