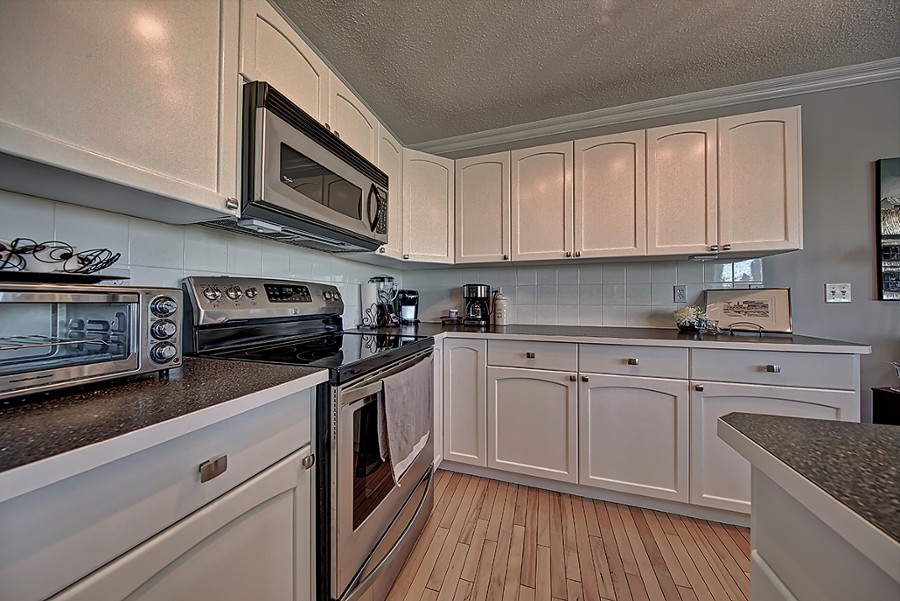 We've all seen the horror stories about painted cabinets.  The paint chips off, it doesn't clean well, it doesn't look as nice as if you had just gotten new cabinets installed. It doesn't have to be like that! Cabinets can be painted so that they look and feel brand new again.  If this is something you've been thinking about, you probably have some questions about it.
Distinctively Paint in Calgary shares the answers to some common questions homeowners have about painting their cabinets.
Will it be durable?
When painting cabinets, the most durable, washable product available must be used.  Choose only products used in professional high-end cabinet shops.  There are several products that are tried and true for cabinet refinishing which are designed specifically for that purpose.
Think about the fact that brand new, high-end, custom-built cabinets are finished locally on-site and in a commercial spray booth.  When painting your homes existing cabinets, demand the very best finishes such as those used on new cabinetry. This will ensure your cabinet finish is durable, beautiful and washable.
What colours can I pick?
When picking colours to paint your cabinets, the sky is the limit!  You can choose literally any colour available in any paint line.  The team at Distinctively Paint loves helping clients with colour selection and can offer some great tips.
Don't forget about lighting: Be sure you don't just pick a colour a friend used or something you saw online. Consider that colour is greatly affected by lighting and other colours in the space.
Consider two-tones: Two tone kitchens have been growing in popularity in the last few years.  A neutral colour on the perimeter cabinets and a fun, bold colour on the island is a great way to get a little creative on a smaller scale.
Enlist professional help: For best results, have our colour consultant come to your home. They can help you choose the colour that goes perfectly with your counters and backsplash and also looks great under your lighting. The right colour choices make everything look like a cohesive package to give you that designer feel.
Look at popular paint colours: Of course, there are several popular colours that get used repeatedly for painting cabinets.  For example, Benjamin Moore's Oxford White and White Dove are 2 popular off whites to use.  If you are in love with the dark blue island trend, Hale Navy is a beautiful option.  If a warm charcoal island is more your style, take a look at Iron Mountain, also by Benjamin Moore.
Will people be able to tell it's painted?
When finished by a professional cabinet painting company using industry specific products, your kitchen will look and feel brand new.  Your neighbours won't be able to tell the difference.
How long will it last?
Properly painted cabinets will last a decade or more.  It all comes down to choosing the right finishing product, and a thorough preparation process.  Cabinets need to be repaired of any defects and thoroughly sanded.  Old silicone must be removed and the correct primer, designed to chemically bond with both the topcoat and substrate, must be applied prior to the final finish being sprayed.
Can I make changes to my kitchen at the same time?
Is your island shape dated?  Would you like to remove the cabinet above the stove and insert a big beautiful hood fan?  Perhaps you'd like to add a crown molding or an additional row of cabinets to go right to the ceiling.  Distinctively Paint can help with all of that.  With Distinctively Paint and their trade partners, they can update your island, make edits to your cabinets, change the backsplash or add a new stone or quartz countertop.
Once everything is painted, you won't be able to tell where the old cabinets stop, and the new improvements begin.  It will all appear as though you had an entirely new set of cabinets installed – for a fraction of the price of brand new.
Painters in Calgary and Cabinet Refinishing in Calgary
At Distinctively Paint, respect, quality, and timely work are the three key principles that the company upholds. When you work with them, you can be guaranteed that your home is in the best hands possible and that you will love the results. They pride themselves on ensuring absolute customer satisfaction every time. Plus, if you aren't sure about what colours to choose, their house colour specialist will come in and help you choose.
Ready to get painting? Contact Distinctively Paint today! 
RenovationFind Certified is a symbol of integrity held by only the most trustworthy companies in home improvement, service, maintenance.  It increases consumer confidence in your business, giving you an edge over your competition while validating you as the best.
More than an online directory, we are Western Canada's fastest growing marketing platform for promoting and connecting the best trades, service, and home improvement companies to homeowners.