Building a garage is a big project that takes careful planning, permits and construction work. Whether you're planning on purchasing a garage package or hiring a professional garage builder in Edmonton, there are some important things to consider. Northland Building Supplies shares information on the process of building a garage in Edmonton:
Planning and Permits
The first step to any construction project is to plan and obtain all necessary permits from the city before proceeding. The City of Edmonton can be a good resource as you go through the planning stages as well as Alberta One-Call to locate any utilities that may affect the garage.
Construction of a detached garage requires both a development permit and a building permit from the city. A development permit will make sure that the position of the garage on the property is compliant with code and the building permit regulates design and construction. View the detached garage application form here.
A Development Officer will review your application and ensure it's compliant with Zoning Bylaw regulations. Once it's approved, the plans will be reviewed by a Safety Codes Officer to ensure it's compliant with the Alberta Building Code. When the project is complete, a final inspection is required and can be arranged by calling 311.
Northland can help with the planning and permit process and even take care of the permit for you!
Demolition & Concrete Work
Once you've obtained all the permits required, it is time to start the site work and concrete slab.
If demolition is required, the proper permits and precautions must be followed including disconnecting any existing services to the old garage. Once the old garage is removed, the site must be prepared for the concrete slab.
It is crucial to have the proper trade for the concrete work as this is the foundation for your new garage. They will ensure that the area is properly prepared and that the concrete is poured and finished correctly.
To eliminate the hassles of finding qualified trades, Northland employs skilled trades that can complete these steps for you!
Construction
Once the site is prepared and the concrete has cured, it's time to frame your new garage!
If you've purchased a garage package, Northland Building Supplies will give you a step-by-step instruction booklet to help you with framing.
After the framing is complete, the next step is the roofing, siding, overhead door and eavestrough. All products must be installed as per manufacturer's instructions.
Northland has experienced and knowledgeable garage builders that can have your new garage complete in just a few days, making your garage the envy of the neighborhood!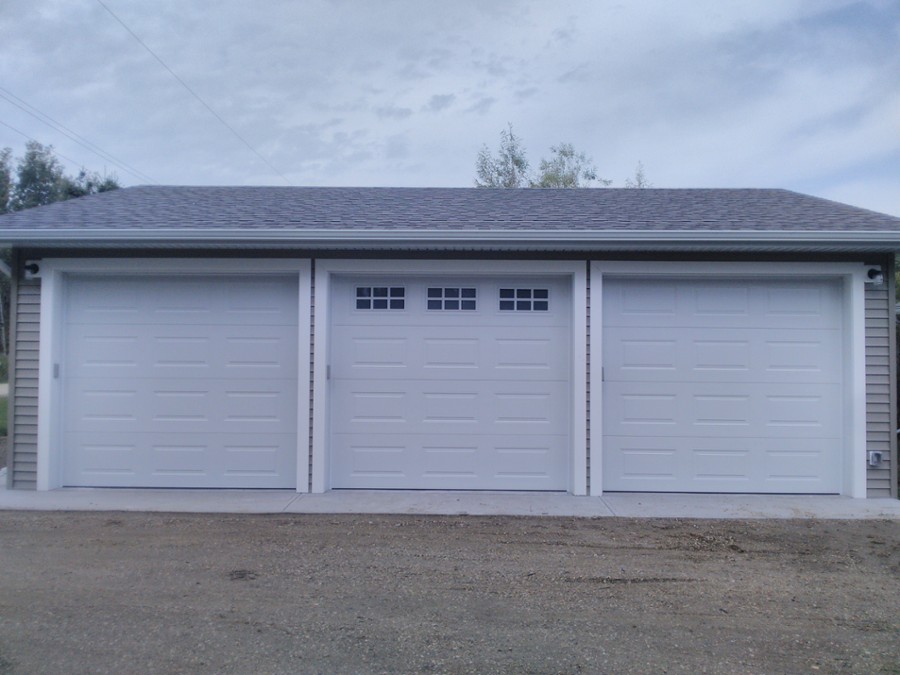 Gas & Electrical
Typically, most garages have electrical but only some are insulated and heated. This should be determined at the beginning of the project as it can affect aspects of the construction, i.e. light and plug plate locations. Also, it is good to have the trenching completed during the site work to minimize damage to the yard by the bobcat and trencher.
Both electrical and gas should be completed by a certified electrician and gas fitter as they require particular skills and permits. Northland can take care of the planning and provide electrical and gas based on your needs.
Finishing
Once construction is complete, you might want to add some finishing touches. Do you want to insulate and finish the inside of the garage with drywall and paint? Build custom shelving or install cabinets for your at-home workshop? Perhaps you want to install custom garage storage solutions or even an epoxy garage floor coating. Read these great garage finishing ideas.
Garage Builders in Edmonton
Northland Building Supplies Ltd. was established in 1987 and is situated on 13 acres in the heart of Edmonton. Northland houses a lumberyard, truss plant, display garages and sales offices. Our talented team consists of garage experts, truss and floor system designers, estimators and sales staff.
With over 30 years of experience in garage construction, you can trust Northland to complete your next project on time and on budget.
Northland will build your garage your way. If you can complete part of the garage or have a friend or family member who is willing to do some of the work, Northland will remove that portion of the project and coordinate our schedule around yours. From concrete and framing to drywall and insulation, Northland can complete as much or as little as you need.
Northland also offers fully customized DIY garage packages to accommodate your individual needs. From simple to complex, Northland has the perfect garage for you!
RenovationFind Certified is a symbol of integrity held by only the most trustworthy companies in home improvement, service, maintenance.  It increases consumer confidence in your business, giving you an edge over your competition while validating you as the best.
More than an online directory, we are Western Canada's fastest growing marketing platform for promoting and connecting the best trades, service, and home improvement companies to homeowners.