Building a garage is a big project that takes careful planning, permits and construction work. Whether you're planning on purchasing a garage package and tackling the project yourself or hiring professional garage builders in Edmonton, there are some important things to consider. Northland Building Supplies shares information on the process of building a garage in Edmonton:
Planning and Permits
The first step to any construction project is to plan and obtain all necessary permits from the city before proceeding. The City of Edmonton can be a good resource for you as you go through the planning stages.
Construction of a detached garage or carport requires both a development permit and a building permit from the city. A development permit will make sure that the position of the garage on the property is compliant with code and the building permit regulates design and construction. View the detached garage application form here.
A Development Officer will review your application and ensure it's compliant with Zoning Bylaw regulations. Once it's approved, the plans will be reviewed by a Safety Codes Officer to ensure it's complaint with the Alberta Building Code. When the project is complete, a final inspection is required and can be arranged by calling 311.
Preparing the Site for Concrete
Once you've obtained all the permits required and everything is good to go, you'll have to prepare the area for concrete installation. In some cases, you'll need to extend the driveway, or you'll require just a garage pad. If you're doing the project yourself, it's a good idea to hire a concrete contractor to take care of this stage for you. They will ensure that the area is properly prepared and that the concrete is poured and finished correctly.
When you hire a garage builder they will contract all the necessary trades to do this job. From excavators to concrete contractors to come and pour the garage pad, it will all be taken care of.
Construction Phase
Once the site is prepared and the concrete has cured, it's time to construct your new garage! If you've purchased a garage package, Northland Building Supplies will give you a step-by-step instruction booklet to help you with this project. Alternatively, you can hire them to build the garage for you. Their experienced and knowledgeable garage builders will have your new project complete in just a few days, making your garage the envy of the neighbourhood!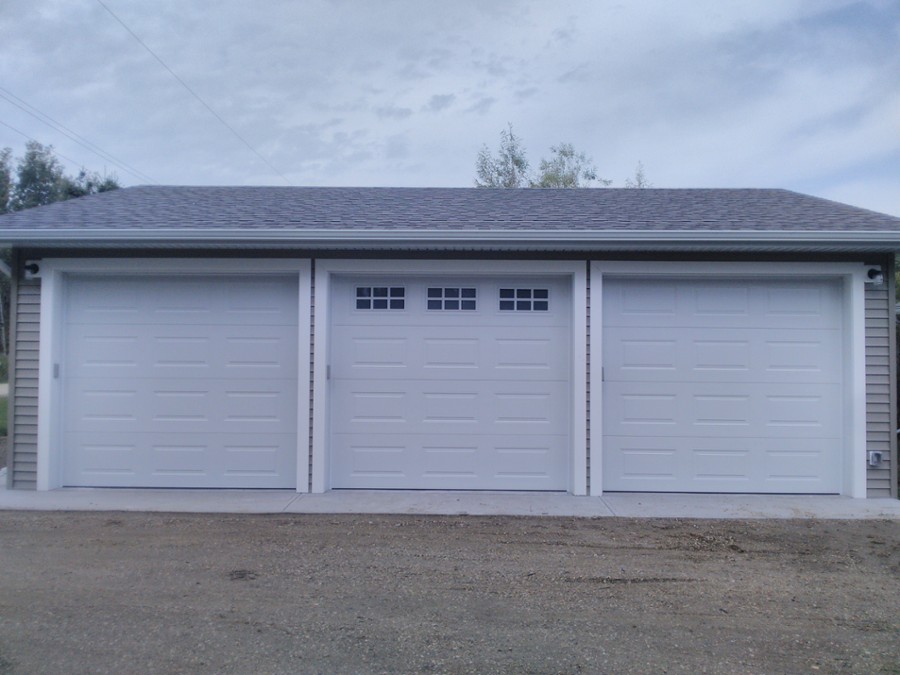 Finishing Phase
Once construction is complete, you might want to add some finishing touches. Do you want to insulate and finish the inside of the garage with drywall or panelling? Build custom shelving or install cabinets for your at-home workshop? Perhaps you want to install custom garage storage solutions or even an epoxy garage floor coating. These are things that Northlands Building Supplies can help with and provide expert advice for. Read these great garage finishing ideas.
Garage Builders in Edmonton
Sitting on 13 acres of property in the heart of Edmonton, Northland Building Supplies Ltd. houses a lumberyard, truss plant, windows showroom and flooring showroom, and employs talented and experienced designers, estimators and sales staff.
No matter what size of building you are undertaking, Northland Building Supplies can put together the lumber package you need, and have it delivered within 24 hours. If it's a garage package you are after, they can customize it to suit your needs and even build it for you!
RenovationFind Certified is a symbol of integrity held by only the most trustworthy companies in home improvement, service, maintenance.  It increases consumer confidence in your business, giving you an edge over your competition while validating you as the best.
More than an online directory, we are Western Canada's fastest growing marketing platform for promoting and connecting the best trades, service, and home improvement companies to homeowners.