Kitchen renovations are a great way to invest in your home. You'll get a beautiful, functional kitchen while adding real value to your property. A major factor of your kitchen renovation is the cabinetry. It will also be the largest expense on your kitchen renovation budget. Investing in custom cabinetry will ensure you get the best quality cabinets and the biggest return on investment.
Crown Custom Cabinets in Calgary offer quality, hand-crafted custom cabinets tailored to your space. They share the process of buying custom cabinets:
Do some research on kitchen design
There is a lot of kitchen design and cabinetry style options out there. If you already know the kind of kitchen you'd like, you're ahead of the game. If you're not sure, there are plenty of resources to help you decide. Connect with Crown Custom Cabinets and book a consultation. They can show you examples of kitchens and cabinets. A professional designer can also help you bring all the other style aspects of your new kitchen together with your cabinetry style choice. Some popular choices include contemporary, modern, traditional, and rustic.
Work with a professional designer
During your initial consultation, you can go over your ideas and ask any questions you might have. You'll learn more about the type of cabinetry you're interested in. This is also an opportunity to discuss all the things you must have in your new kitchen and any other details you may have overlooked. Because your cabinetry will be custom-made for your specific requirements, working with a designer and custom cabinet maker can ensure your kitchen plan has everything you need and want.
See your kitchen come to life through a design plan.
Once Crown Custom Cabinets has the information they need, they can create a comprehensive design plan for your custom cabinetry and kitchen renovation. This plan will include the layout of the kitchen an all the details you discussed with them. You'll review a 3D rendering of your future kitchen, so you can get a good idea of what it will look like when the renovation is complete.
If you have questions or want to make changes, now is a good time to do so. The designer will receive your concerns and revise the plan accordingly. Keep the conversation going until you see a design for your new kitchen that you absolutely love.
Have fun choosing the details
Start picking out things like wood type, cabinet finish and colour, door and drawer front styles, hardware, and other accessories that will come with your cabinetry. You can visit a showroom for inspiration, or get online and look at trending kitchen design ideas. This will help the cabinet company work on the finishing touches of the plan and provide an accurate quote for the work.
Its time to build the cabinets
Your kitchen will be measured properly to ensure the precise measurements of your floor space, wall space, appliances, and countertops. Using your design plan and these measurements, skilled craftsmen will start to construct your custom cabinetry. Expect this process to take several weeks, depending on the size and number of cabinets being build.
Installing your new custom cabinetry.
When the cabinets are nearing completion, you will be scheduled for your cabinetry installation. Your custom cabinet installer will work with other trades to ensure your installation is scheduled at the right time in your home renovation. Installing the cabinets can take one or many days. It all depends on the size of your kitchen and the complexity of your kitchen renovation.
Now it's time to enjoy your new kitchen!
Custom Cabinets in Calgary
Crown Custom Cabinets is a family-owned and operated business. They've offered over 31 years of value and quality when it comes to kitchen renovations.
They're a true design and build company. No mass-produced, assembly-line cabinets here. Their products are expertly handcrafted exactly for your space. Crown Custom Cabinets can work with any plan and budget from a small basic layout, to the most elaborate kitchen of your dreams with superior quality and competitive pricing.
Contact them for your cabinets today!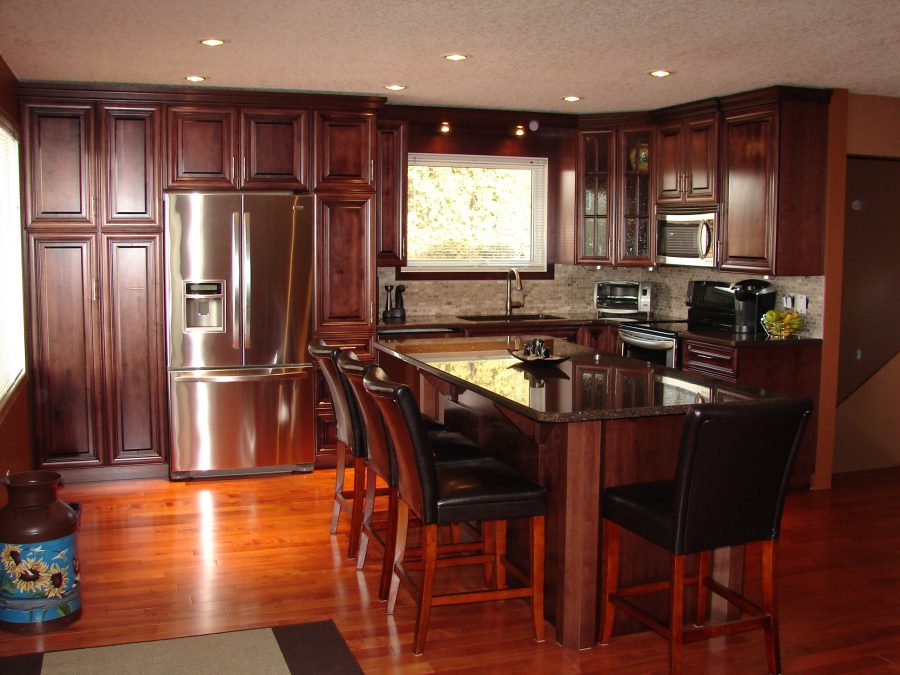 RenovationFind Certified is a symbol of integrity held by only the most trustworthy companies in home improvement, service, maintenance.  It increases consumer confidence in your business, giving you an edge over your competition while validating you as the best.
More than an online directory, we are Western Canada's fastest growing marketing platform for promoting and connecting the best trades, service, and home improvement companies to homeowners.