Do you long for a yard with little to no maintenance?
Xeriscaping is the process of landscaping that reduces the need for supplemental watering. Xeriscapes are low maintenance, chemical free and better for the environment.
Top Spray in Cochrane offers landscape materials including a wide range of organic mulch and soil blend products.
What do you need for xeriscaping?
You need to pick up some drought resistant plants, dense soil and a whole lot of mulch. It's the mulch that creates a low water-consuming landscape. With the right mulch, you can reduce water consumption of your yard by up to 50%.
Mulch around plants will protect them from extreme temperatures and help reduce evaporation. Mulch also suppresses weeds, insulates the ground against hot and cold and adds nutrients to the soil. Premium organic mulch will give your landscape a simple and attractive look. It is available in a range of sizes, colours and wood species.
Plan and design your xeriscape.
Like any landscaping project, you'll have to make a plan and design for your outdoor space. Hire a landscape designer or find some xeriscape ideas online. Identify where your sunny and shady spots are and plant the appropriate plants in the area. If you want to have small sections of grass, put it in low traffic areas.
To use less water, you'll want plants, trees and shrubs that can survive in drought. Many plants that are local to Calgary have a high tolerance to drought. The City of Calgary offers a detailed list of water-wise plants to consider.
Use water wisely.
If you do need to use water for your landscape, collect it in a rain barrel. You can even set up a rain barrel irrigation system, so you're only using water collected naturally. You can install drip irrigation or use soaker hoses to efficiently, but effectively water your plants or grass areas. Learn how to make a gravity fed rain barrel drip irrigation system.
Landscaping Materials in Calgary
If you need mulch for your xeriscaping project, Top Spray is the company to call. Not only do they have a massive and diverse selection of organic mulch products, they offer residential blower truck applications. Their blower trucks can install bark mulch efficiently and effectively for all sizes of landscape projects. They can apply mulch up to 600 feet away, perfect for hard to reach garden beds!
Contact them for a free on-site estimate and get started on your xeriscape landscaping today. Learn more about Top Spray!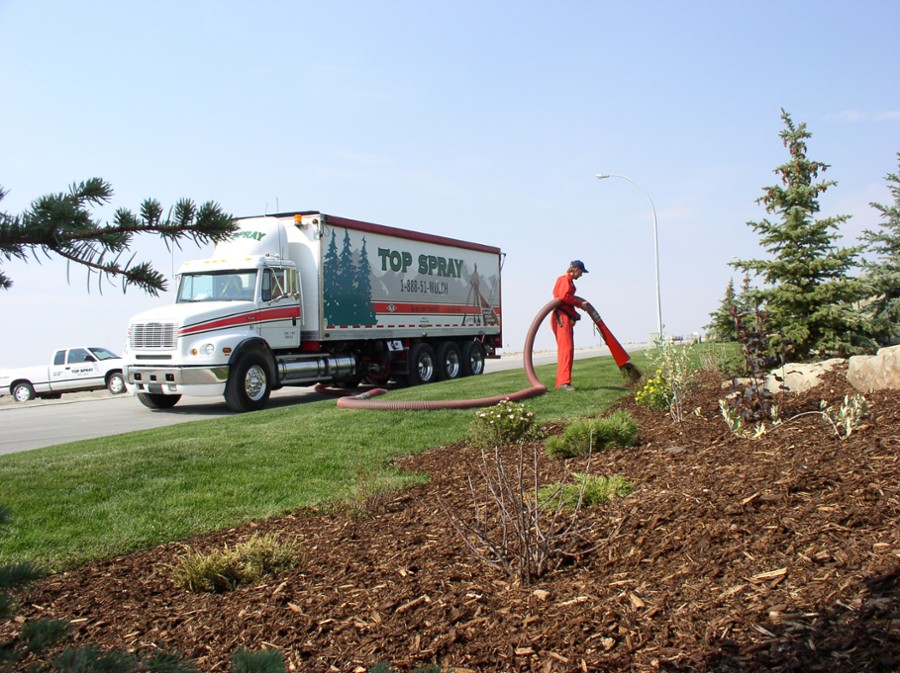 RenovationFind Certified is a symbol of integrity held by only the most trustworthy companies in home improvement, service, maintenance.  It increases consumer confidence in your business, giving you an edge over your competition while validating you as the best.
More than an online directory, we are Western Canada's fastest growing marketing platform for promoting and connecting the best trades, service, and home improvement companies to homeowners.