If you're planning a home renovation, choosing the right lighting is a very important step. The lighting in your home is very important to how it both functions and feels. The right lighting can set the mood, enhance the atmosphere of your space and provide the necessary light to perform specific tasks. The wrong lighting can deteriorate that welcoming atmosphere and create a dull or uncomfortable setting.
Chateau Lighting in Edmonton shares tips for lighting your home:
Choosing the Right Type of Lighting
So, how do you choose the right lighting for your home? There is a lot to choose from and Chateau Lighting can help you decide. Putting style and specific fixtures aside, lighting can be put into three general categories.
Ambient lighting: This type of light illuminates the room completely. It is the centerpiece of illuminating a room, and generally consists of recessed, wall and ceiling lights.
Task lighting: As the name suggests, this type of lighting is used for particular jobs like doing homework, applying makeup, reading or cooking. This kind of lighting would be a lamp or desk light.
Accent lighting: This type of lighting is perfect for creating depth and drama to a room by illuminating important areas like architectural features, books or artwork.
Creating a Lighting Plan
Whether you're completing a big home renovation or just want to upgrade lighting in one or two rooms, you can work with Chateau Lighting to create a plan for your project. Once you know what type of lighting you'll need for each space, you can have fun browsing the fixtures and options in their showroom. They'll help you find lighting that suits your home's style and performs the correct function.
A properly planned lighting plan can create continuity, create inviting spaces and solve problem areas like a dark back porch or harsh lighting in the bathroom when you want a relaxing atmosphere.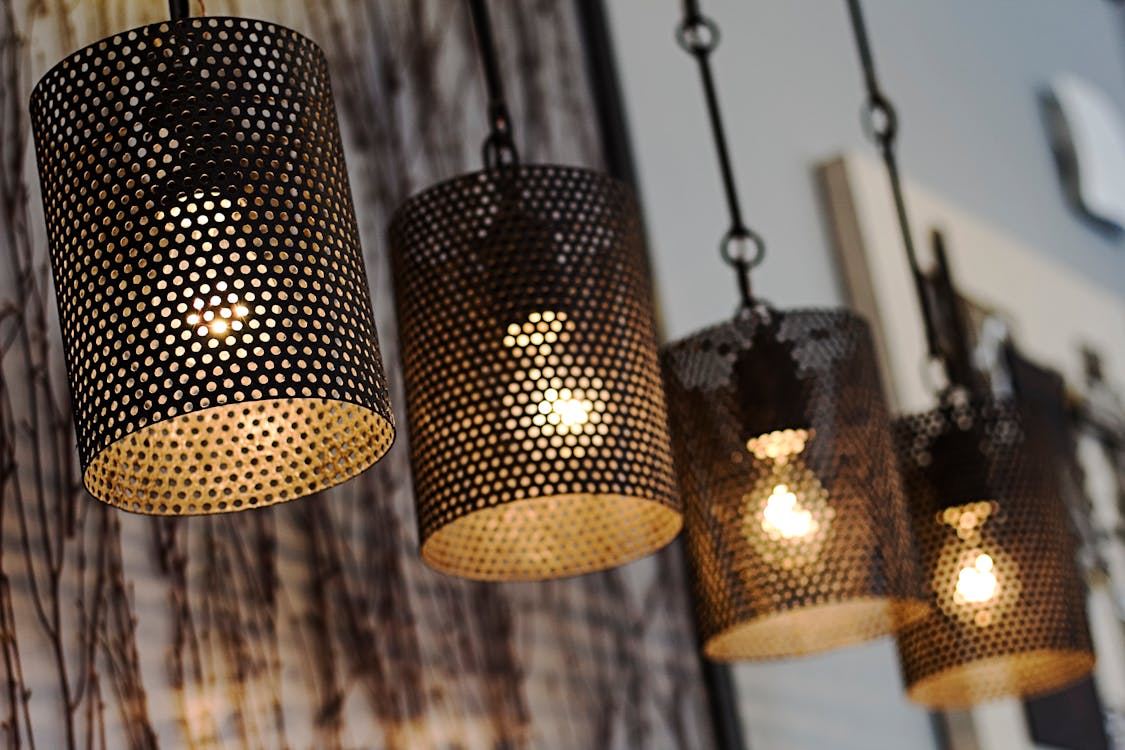 Lighting Room by Room
Remember that each room will have different lighting needs. Learn how to choose the right lighting for each room.
Bathroom: You'll need task lighting for doing things like putting on make up or shaving, but should also work well with indirect accent lighting to soften the bathroom's ambiance. Decorative and ornate light fixtures and lamps provide elegance and sophistication.
Living Room: Your living room should feel comfortable. Choose lighting that allows you to do things like play games, reading, watching TV and other activities. Recessed lighting can help illuminate the general area and these fixtures can be decorative and functional. Use table lamps if you have the space available and wall fixtures if you don't. Central lighting could be a fixture in the ceiling while decorative lighting like lamps in the corners could create a softer atmosphere when it's time to relax.
Kitchen: The kitchen can be a busy place and you're going to need some good lighting! Make sure your work spaces have good task lighting so you can see what you're doing when you're preparing meals. Under cabinet lighting will remove shadows over your counters and will help you save energy over having the big ceiling lights on.
Bedrooms: Bedrooms usually have a ceiling fixture to completely illuminate the room as well as smaller lamps near the bed or lighting above the bed that creates a soft and low light for relaxing or reading in bed.
Lighting Stores in Edmonton
Customer satisfaction, excellent service, and quality products will always be priorities at Chateau Lighting. For over 40 years, they've helped customers like you find exactly what you're looking for. They began as a small family-owned shop in 1977 and has grown exponentially over the past 40 years. All their associates ensure the best possible service when you come to the showroom and sales associates and designers work hard to ensure that no matter budget level or style, they help find what you're looking for.
RenovationFind Certified is a symbol of integrity held by only the most trustworthy companies in home improvement, service, maintenance.  It increases consumer confidence in your business, giving you an edge over your competition while validating you as the best.
More than an online directory, we are Western Canada's fastest growing marketing platform for promoting and connecting the best trades, service, and home improvement companies to homeowners.
Click to find >>>> Lighting stores in Edmonton