Home renovations, new construction and basement developments will all need drywall installation. Drywall contractors specialize specifically in drywall construction and repair. Hiring a professional and experienced company like The Great Wall Inc. in Calgary will ensure your project will be strong, seamless and attractive. Here are some projects they can help you with:
Drywall Repairs
Over the years, your walls can take some wear and tear. Sometimes accidents happen and a piece of furniture (or children's toy) can punch a hole in the drywall. Leaking pipes, windows or flooding can also damage drywall. The Great Wall can assist with drywall repair, from large jobs to small ones. Read these drywall repair tips.
Home Renovations
If you're taking out or adding walls, you'll need new drywall installed. From home additions and major home renovations, you'll need to trust the experience and expertise of a professional drywall contractor like The Great Wall.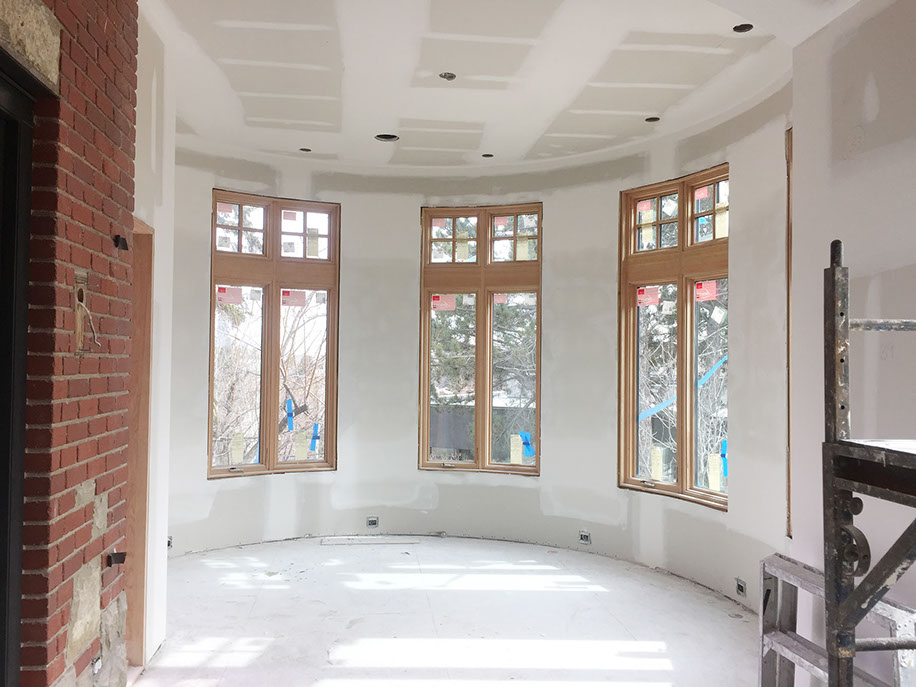 New Construction
Building a new home? The drywall is one of the most important steps in the home building project. The drywall contractors are literally putting up the walls and ceilings in your home. Hiring a reputable professional will ensure your walls and ceilings have a seamless, aesthetically pleasing finish. If the drywall installation isn't done properly, it will make the painting stages difficult and diminish the finished look. You might end up with noticeable seams on your walls. A new home is a major investment, make sure every stage, including the drywall installation, is done right.
Basement Developments
If you have an unfinished basement, give The Great Wall a call. They can help with insulation, boarding, taping and even custom ceilings. Drywall is part of the framework that will help the layout of your new basement take shape, turning it into a functional, comfortable living space.
Drywall Contractors in Calgary
The Great Wall is a full service drywall company. They provide:
– Full insulation spectrum supply and install, including all sprayfoam, batt, blow – in.
– Drywall supply and install as per builder and code requirements.
– All taping and finishing, including all types of beads, trims, ceiling and wall finishes.
– Ceiling texturing and Paint / Level 5 skim ceilings.
– Finish sanding and touch-up services.
RenovationFind Certified is a symbol of integrity held by only the most trustworthy companies in home improvement, service, maintenance.  It increases consumer confidence in your business, giving you an edge over your competition while validating you as the best.
More than an online directory, we are Western Canada's fastest growing marketing platform for promoting and connecting the best trades, service, and home improvement companies to homeowners.