New concrete for your driveway, walkways and patio can boost curb appeal and add value to your home. If you're investing in new concrete this summer, there are some things you should expect with your installation and finished project. IntelCrete Concrete Works Ltd. in Winnipeg shares more:
Concrete is durable, but it will wear over time.
Your new driveway, sidewalks and porch will look great and will last for a long time, but concrete in Winnipeg's climate does not stay perfect forever. Unfortunately, it must withstand harsh weather and vehicle traffic, which will cause wear and tear. The biggest culprit for wearing concrete in Manitoba is the freezing and thawing cycles.
Freezing can cause your concrete to heave up, but when the temperatures improve your concrete will likely go back to its normal height. Sometimes water can penetrate in the concrete and when it heaves, it can cause cracking. Read these tips on how to maintain your concrete driveway.
If you've noticed the surface of your new concrete is flaking or popping, rest assured knowing the slab is not compromised. If you're concerned and the flaking is over 30% of the surface of your new concrete, talk to IntelCrete. They'll inspect it and see if it's covered under warranty.
How IntelCrete can reduce cracking.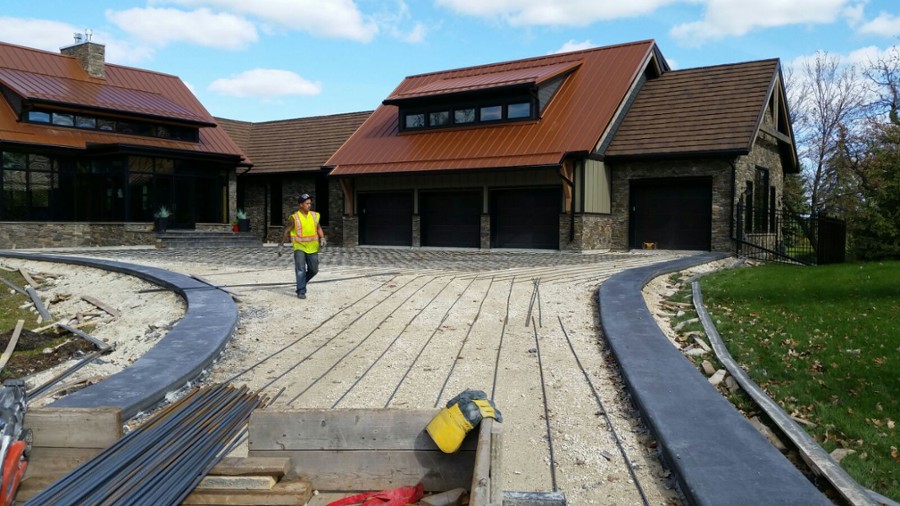 Concrete will crack, unfortunately, but there are some things you can do in installation to reduce cracking and even prevent it for a period of time. To help prevent cracking from settling, up to 8 inches of sand and/or gravel is placed and packed in the installation area before the concrete it poured.
For concrete poured over a large area, like a driveway, IntelCrete will design the concrete to compensate for movement (cracking) by cutting or forming control joints in the surface in the slab. The control joints are put in where we want the concrete to crack. These are places it will cause the least damage and be the easiest to fix.
Control joins are cut into the concrete slab 12 to 24 hours after it has been poured. The installers will do everything possible to control and prevent cracking. No concrete contractor can guarantee that no cracks will develop on your new concrete. If someone has told you they can, they are not being honest. However, utilizing the professional installation methods provided by IntelCrete Concrete Works can help.
Concrete Contractors in Winnipeg
IntelCrete Concrete Works designs and finishes custom residential concrete projects in Winnipeg. They take pride in their work and are only satisfied when you, the valued customer, is satisfied. They have also been chosen for the Consumer Choice Award for Concrete Companies in Winnipeg!
Contact them for your next concrete project!
RenovationFind Certified is a symbol of integrity held by only the most trustworthy companies in home improvement, service, maintenance.  It increases consumer confidence in your business, giving you an edge over your competition while validating you as the best.
More than an online directory, we are Western Canada's fastest growing marketing platform for promoting and connecting the best trades, service, and home improvement companies to homeowners.
Click to Find >>>> Concrete Contractors in Winnipeg.