Whether you're redoing your walls or hanging new drywall in an unfinished basement, you might be considering doing your dry wall yourself. How hard can it be? Professional drywall contractors like B. Wright Drywall Inc. in Edmonton make it look easy because they have the proper tools and expertise, not to mention over 26 years of drywall experience. DIY drywall is doable, but you have to consider the time, mess and stress that comes with the project. You should also consider that your finished project might not look professional quality either.
Bryan Baeumler, homebuilder and host of Disaster DIY and House of Bryan shared the top 10 DIY mistakes homeowners make in this article in the National Post.  DIY drywall repair made the list of DIY disasters. Here's what Bryan had to say about it:
"They'll buy a bucket of the compound, they'll get it on their spatula and start spreading it on the wall. They'll go back to their computer and send me an email saying, 'Bryan when I see you do drywall on TV, it goes on so smooth and perfect. What am I doing wrong?' Well, they're not reading the instructions on the bucket that says add water and mix! For a big bucket, you have to mix a litre of water in there and get a mixer and mix it so it's nice and smooth and there's no more air bubbles in it. I see that all the time. The next thing they'll do is put too much mud on and then sand too much off and expose the paper, so they put more on and sand too much off. If you drywall properly, you barely need to sand."
Here are some other downfalls to DIY drywall:
Drywall is heavy, cumbersome and can break easily. Once you've managed to borrow a truck and transport your drywall from the building supply store to your home, you have to get it into the basement or whatever room is getting the drywall. 4'X 8'sheets of drywall weigh about 70 pounds and they're awkward to carry so you'll need help carrying the pieces. If you're doing the basement you'll probably need more than 20 sheets, so you can image how long it will take you and your helper to even get it down there.  Bang into the wall and you'll nick it.
You'll also need help hanging the drywall. Someone will have to hold it for you while you screw it into the studs.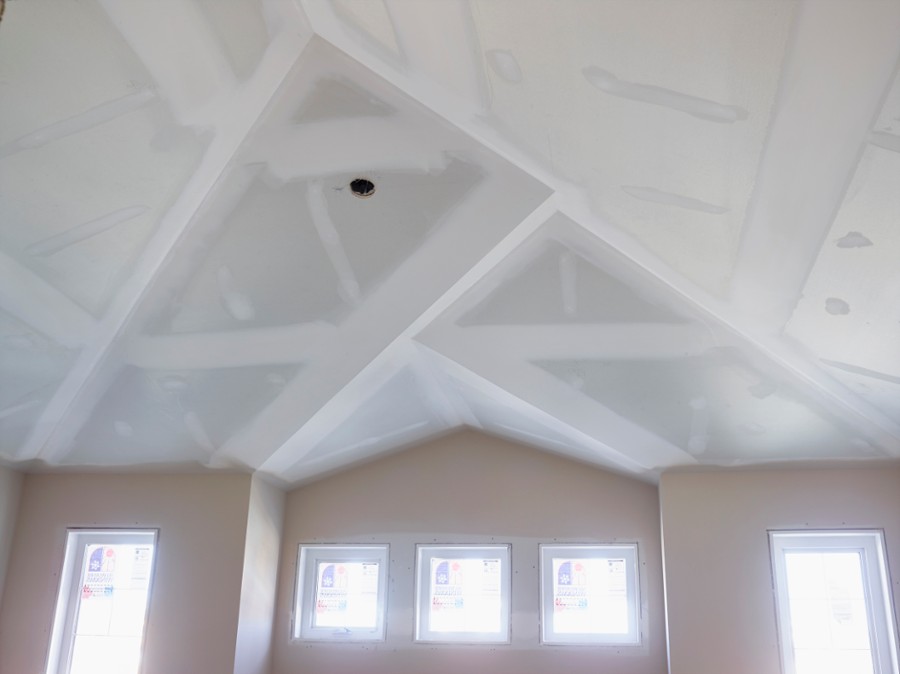 Drywall is difficult to cut. You'll need long straight edge to cut your drywall pieces. If you cut it too long, you'll have to cut again. Cut it too short and you'll have to use another piece or do a patchwork job using multiple pieces, which will increase the amount of taping and mudding you'll have to do later. Some projects require more intricate measuring and cutting, this is where professional experience comes in handy.
Taping and mudding takes skill and patience. The taping and mudding is probably the most important part of your drywall project. Like Bryan Beaumler commented in the National Post article, people ask him why it always turns out so nice and smooth when he does it. It's because he is a professional and has been doing it for many years. You'll get the same smooth, high quality finish when you hire professional drywall contractors in Edmonton.
Each seam and inside corner will have to be taped. Outside corners should be reinforced with a corner piece and then covered over with drywall compound.  All the seams and screw heads then have to be mudded and once dry, sanded. The process repeats itself over several days: mudding, drying, sanding. If the seams are built up and sanded properly, they will disappear eventually. A common DIY mistake is putting on too much compound and then spending too much time sanding it back down…and then sanding it too far and needing to put on more compound. The result: raised seams and bumps on your finished wall.
Drywalling is a very messy job. During the mudding and sanding phases, you'll have drywall dust everywhere.  Not only should you wear a mask, you'll also have to cover your floors with plastic and get a good shop vacuum cleaner to help clean up.
Hiring a Professional Drywall Contractor
B. Wright Drywall Inc. can tackle any drywall project, big or small, and they will do a fantastic job in the fraction of the time it would take you to do it yourself. Not only do they have over 26 years of specific drywalling experience, they also have the proper tools that allow them to complete each task efficiently the first time. They know exactly how much drywall compound to use, will sand it perfectly smooth and produce a professional, high-quality finish every time. They also offer framing and complete insulation services.
Contact B. Wright Drywall Inc. today!