Creating your personal outdoor oasis.
Whether it's installing retaining walls for your flower beds, a new patio for relaxing or outdoor space for barbequing and entertaining, professional landscape design allows you to create an outdoor living space that will suit your lifestyle and be the most enjoyable for you and your family.
Mohr's Landscaping Services in Edmonton provides full landscape construction services including landscape design. They will come to your property, inspect your outdoor space and work with you to plan the perfect back yard oasis for your home. Expert planning and design enables the construction process to be completed as smoothly and efficiently as possible and make sure you get the yard of your dreams.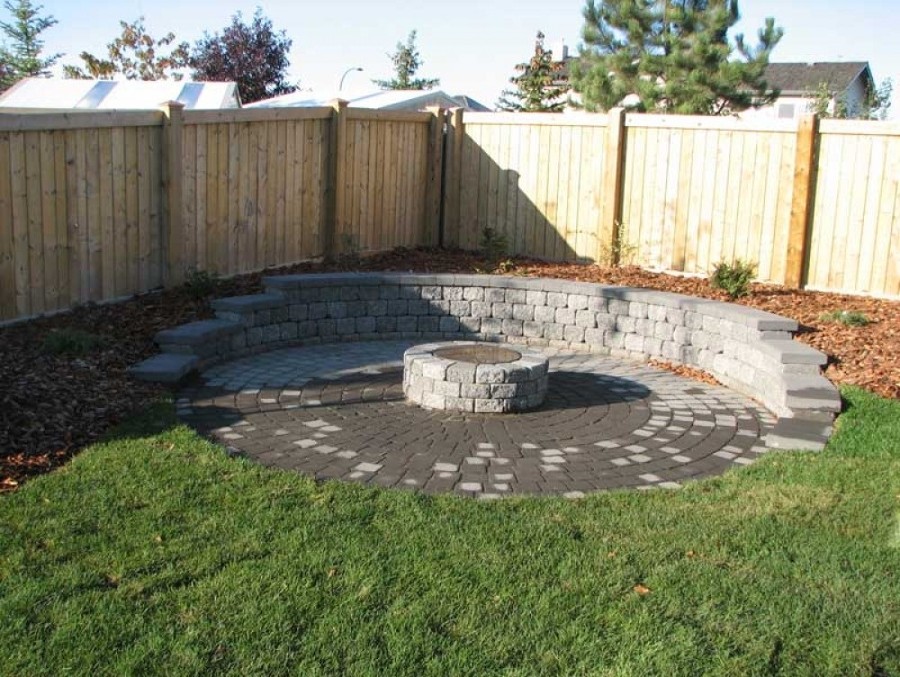 Landscaping features that make your yard more enjoyable.
There are many features that could be included in your landscape design including: patios and pathways, retaining walls, decks and other wooden structures, water features, irrigation systems and outdoor lighting. You can create a space to enjoy evenings around the campfire or if you're a green-thumb, incorporate a variety of flower beds and gardens in your yard.
Installing an irrigation system will allow you to relax, not having to worry about waking up to water your lawn, and will help your lawn and garden grow lush and healthy. Landscapers can design a watering schedule that will work best for your yard's exact needs and offers winterization services to make sure it keeps running smoothly year after year.
Installing an outdoor lighting system will create a comfortable ambiance in your outdoor living space. Outdoor lighting looks great, can increase your home's security, illuminate pathways to make your yard safer to navigate through in the evenings and help highlight some of your yard's best features.
Find exciting front yard and backyard landscaping ideas. 
Professional landscaping increases the value of your property.
A beautifully landscaped yard will increase the overall value of your property. Not only that, if you are planning on selling your home, your professional landscape design will make your property more attractive to prospective home buyers. The exterior of your home is what makes the first impression and if you make a great first impression, you could reduce the time your property is on the market and sell for a price you're happy with.
Choosing a landscaping contractor.
There are a lot of landscaping contractors out there and it might seem difficult to find a reliable, reputable and skillful company you know you can trust.  When searching for a landscaping contractor in Edmonton, be sure to check for their business licensing, insurance and WCB coverage. You would be surprised how many 'contractors' operate without those things, putting homeowners at risk should anything go wrong on the job-site. You can also check their rating on the Better Business Bureau, review consumer complaints and see if they've been proactive in making things right with their previous customers.
Before you hire a landscape contractor, make sure you ask for references. If a company has a number of happy customers, providing you with a few references should be no problem. Ask for addresses as well so you can drive by the property and check out the work they've done. You can check for reviews online, but be aware that not all online reviews are reliable. Fake reviews are all over the internet, so asking for names and phone numbers of previous clients is always a better idea.
Mohr's Landscaping Services are certified by RenovationFind.com. That means they passed our screening process that included financial and legal background checks, checking for proper insurance, WCB coverage and that consumer reviews were checked and are being monitored.
Landscapers in Edmonton
Mohr's Landscaping is a locally owned and operated full featured landscaping company. Their services range from minor residential projects right through to full scale commercial properties. They work with you every step of the way to ensure your satisfaction and that no detail is ever over-looked, no matter how large or small the project.
Start planning your spring landscaping project. Contact Mohr's Landscaping!
RenovationFind Certified is a symbol of integrity held by only the most trustworthy companies in home improvement, service, maintenance.  It increases consumer confidence in your business, giving you an edge over your competition while validating you as the best.
More than an online directory, we are Western Canada's fastest growing marketing platform for promoting and connecting the best trades, service, and home improvement companies to homeowners.