There are many reasons why you might need to purchase new appliances. Maybe your older appliances are no longer working properly, you want to upgrade the look of your kitchen during home renovations or you've moved into a new house and you wish to change out the appliances. Whatever your reason is, there are many benefits to purchasing new appliances for your home. Not only will they boost your home's energy efficiency, they will also increase your own personal enjoyment of cooking and household chores and are an attractive feature to potential buyers should you ever sell your home.
Buying new appliances could be some of the costlier components of a kitchen renovation, so you want to make sure you are prepared to purchase the best appliances for your lifestyle and personal taste. Avenue Appliance in Edmonton shares some advice for buying appliances:
Do your research.
Make a list of things that are important to you when it comes to appliances and take that list with you to the appliance showroom.  Things to consider when making your list.  Do you want a fridge with french doors or a full column and what size?  Do you require any beverage or wine refrigeration?  Are you considering a range or would you prefer wall ovens with a cooktop?  Would you prefer a gas cooking surface over a glass cooking surface?  What space do you have available for ventilation?  Avenue Appliance has a large selection of European and North American brand appliances, all with different combinations of features and prices. They will help you find the appliance that will check off everything on your list.
Set a budget.
Appliances can have a wide range when it comes to price. Depending on the brand, the features and finishes, you will find options for both the extravagant and modest budget. For example, If you want a 6 burner gas range stove with a convection oven, you will pay more than you would for a standard 30" electric stove. The things on your list will help you determine which features are worth paying for and adjust your budget accordingly.
Buy your appliances together.
If you need to purchase a fridge, range and dishwasher, Avenue Appliance suggests purchasing them all at the same time. Depending on the brand and models, many appliances come as a package with a discount when purchased together. Plus, choosing all of your appliances at the same time in the showroom will ensure you like the way they look and be happy with the design of your kitchen.
Make sure you buy the right size!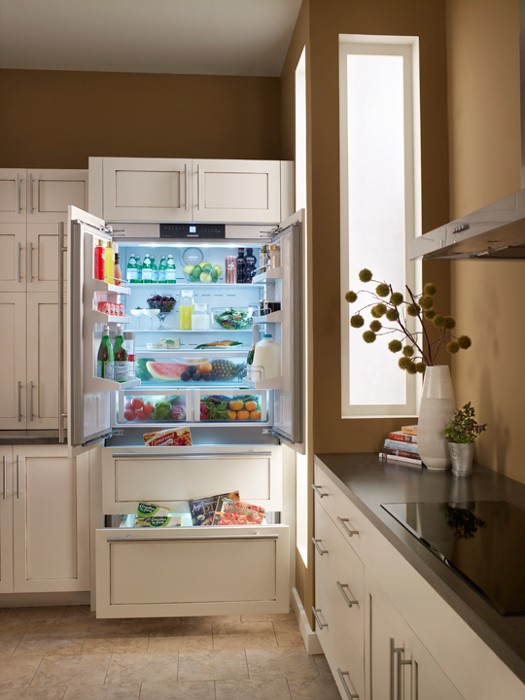 Measure the space your new appliances will be installed in and bring those measurements when you visit the showroom at Avenue Appliance.  Measure the cabinet openings, counter-depth, how much space you have to allow for opening doors on your appliances and then measure it again!
Consider how you cook when purchasing an appliance and consider your current cooking equipment.  If you love roasting huge turkeys, make sure your oven can accommodate your largest roasting pan. If you're buying a new dishwasher, make sure your dinner plates will fit in nicely with the racking inside the unit.  At Avenue Appliance we encourage you to bring these items with you to the showroom and see for yourself how they will fit with the appliances you have chosen.
Check the sticker for energy efficiency information.
All refrigerators, dishwashers and laundry appliances will have a sticker with them that shares information on their energy efficiency. Since your major appliances account for a large portion of your home's overall energy use, this information will play a big role in your purchasing decision. For example, a dishwasher should have an energy guide label that will state how much energy it uses in kilowatt-hours per year. For a dishwasher to be certified by ENERGY STAR it should run at about 331 kwh/year. ENERGY STAR dishwashers will also use about four gallons of water per cycle as opposed to non-ENERGY STAR rated dishwashers that could use up to six gallons.
In Canada, the ENERGY STAR label ensures that appliances are meeting a minimum energy performance standard set by Canada's Energy Efficiency Regulations. You can view ENERGY STAR rated appliances here.  Avenue Appliance will be happy to show you their selection of energy efficient appliances made both in North America and abroad.
Visit the showroom at Avenue Appliance
Avenue Appliance is a family owned business that has served Edmonton, Alberta since 1970. We offer premium appliances including many European appliance products that are the latest in innovation, technology and quality. The brands they carry are energy efficient and environmentally friendly when it comes to their disposal.
We want to make sure you love your new appliances! That's why they will take care of any concerns or issues you might have quickly, answer all your questions and follow up after purchase to ensure your new appliance is functioning as it should.