Do you find you never use the bathtub? If you usually take showers and rarely use the tub, you might want to consider a bath to shower conversion. With help from professional plumbing contractors, you can turn your shower into a luxurious retreat!
Plus, bathroom renovations have one of the highest return on investment and can help increase your resale value. These types of conversions are affordable and a reputable bathroom renovation company will work with you to make sure the renovation fits within your budget.
Reasons to Convert your Tub to a Shower: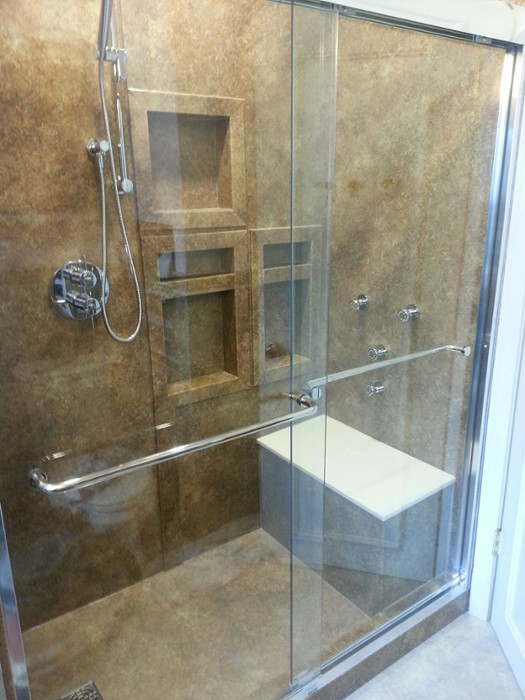 Tubs are difficult for people with mobility issues to get in and out of and falls are one of the top reasons for hospitalization for seniors and those living with mobility issues. Bathroom renovations that include a bath to shower conversion can create a safe environment and give you peace of mind.
In many cases, homeowners just prefer showers over baths. Bathrooms that have a shower over a bathtub are growing in popularity. According to this article in House Logic, the American Institute of Architects conducted a survey that found that more than 60% of homeowners preferred a stall shower without a tub. They still recommend that you keep at least one tub in your home. While tub-less bathrooms are trendy, people will still have a hard time purchasing a home that has no bathtub at all.
Modern showers can be built with lots of easy-to-use features like seats and sturdy handles to help those with mobility issues. You can also browse the huge selection of fixtures from a bathroom and plumbing supply store to find fixtures that match your design needs and improve your bathroom's efficiency like water-saving shower heads.
Bathroom Renovation Process:
When you contact a bathroom renovation contractor, they will come to your home to inspect the existing bathtub area to make sure it's actually compatible for a bath to shower conversion. Once you get your quote and decide to move forward with the project the work begins!
It starts with repairing the area where required to make sure your new shower remodel will function perfectly and last for years to come. After the area is properly prepared they will begin to install the shower you have chosen as well as the fixtures.
When the conversion is complete, the bathroom renovation expert will clean up the work space and remove the old tub for you. Now you are ready to enjoy your brand new shower! Most shower remodels can be completed in one day.
Find a contractor to help you with bathroom renovations in Edmonton.