You might love a paint colour you saw at a friend's house or on a renovation show, but that doesn't mean you'll love it in your home. The lighting of a room has an incredible impact on how a certain paint colour will look. How it will look at a friend's house, or even at the paint store, can be very different than how it might look in your house.
JV Painting & Decorating in Edmonton shares more:
How does light affect wall colour?
Light, either natural or artificial, is absorbed by some colours and reflected by others. This can change the look of a wall colour by making it look saturated or way too bright for your taste. Also, colours with certain undertones have different reactions to light and its colour spectrum. For example, blue absorbs red light, black absorbs all colours and white doesn't absorb any. All this absorbing and/or reflecting will make your wall colour look a bit different throughout the different parts of the day. More than that, the direction the light is coming in can make a room feel warmer, cooler, brighter or darker.
You might have liked your friend's light grey kitchen in the afternoon, but what does it look like in the morning? Likely, it feels darker in there and you might not like it as much. If you have questions about how light will affect your chosen colour, talk to the pros at JV Painting and Decorating. They can give you a better idea on what your walls will look like based on the every-changing lighting in your house.
Tips for choosing colours based light direction.
You'll never really know 100% until the paint is on your wall, but we can give you some tips in the meantime.
North facing: Generally, lighting in north facing rooms is cool or blue. Choose bold colours for these rooms as it will white-out those pastels or light colours.
South facing: For south facing rooms, light colours will feel really light and dark colours will look brighter. Both cool and warm colours can work in a sunny south facing room.
West facing: Colours might look a little dull in the morning light, but in the evening they will warm up.
East facing: In the morning, you'll feel a yellow glow in the room followed by a blue glow later in the day.
Read "How to choose a paint colour? Look at the light!" for more ideas.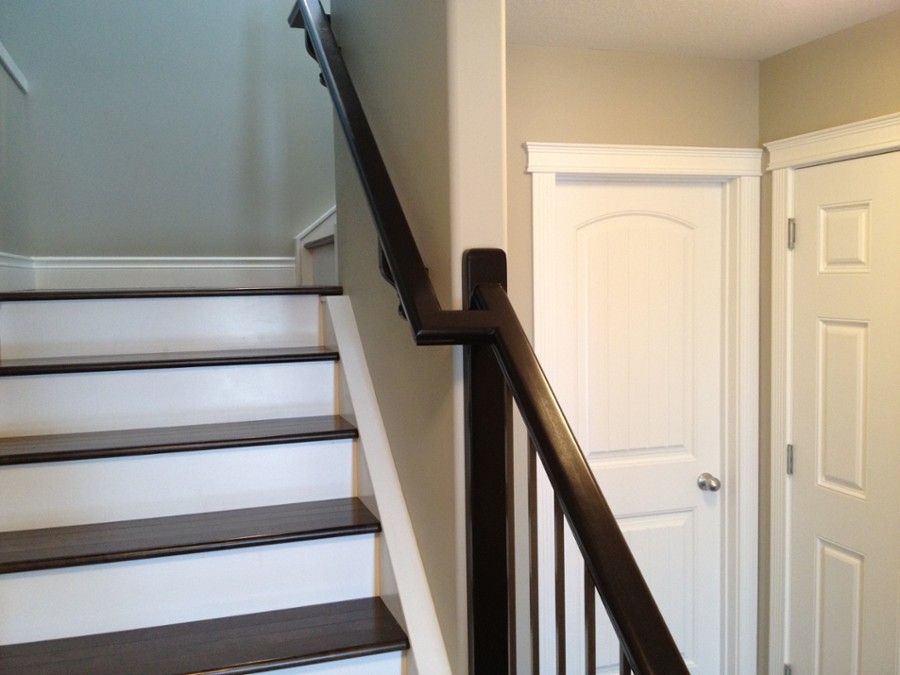 Not sure? Paint some samples on the wall.
As mentioned, the best way to determine how a paint colour will look like in your home is to get a few samples of your top picks and paint strips on your wall. Then you can see how each colour responds to the natural and artificial lighting in your house.
Watch it carefully as the day goes on. Even though the colour will change slightly, you want to make sure you like how it looks throughout the entire day. Test it by turning your lights on and off in the morning, afternoon and evening. Do you like how the colour reflects or absorbs the light?
You should also consider the finish of the paint. Obviously, a semi-gloss or gloss paint will reflect the light, and this could affect the colour tone. Matte finishes are a typical choice for wall paint. A matte finish will present the true colour of the paint the best in most cases.
Another tip? Consider your furniture and accessories. A bold blue throw rug could make your white or cream walls look light blue. Again, these things are all something JV Painting & Decorating can help walk you through. Their expert design team will help you pick paint colours you'll love.
Painters in Edmonton
JV Painting & Decorating provides a complete range of residential and commercial painting services in Edmonton to combat the effects of weathering and age. Whether you are planning a large commercial painting project, or you just want to freshen up your interior walls, they'll paint to improve the look of your property.
RenovationFind Certified is a symbol of integrity held by only the most trustworthy companies in home improvement, service, maintenance.  It increases consumer confidence in your business, giving you an edge over your competition while validating you as the best.
More than an online directory, we are Western Canada's fastest growing marketing platform for promoting and connecting the best trades, service, and home improvement companies to homeowners.