Patios are a great addition not only to enhance your home or yard but to create a space to enjoy the outdoors. When you build a new patio, you want a material that will last and look great at the same time. With concrete, you get exactly those benefits, plus plenty of creative freedom.
Intercity Concrete in Winnipeg are a professional concrete company. They share some design ideas for your new concrete patio:
Benefits of a concrete patio
Two of the main attractions of concrete is how incredibly durable it is, yet only needing minimal maintenance in return. Concrete itself will also stand up to various weather, so come rain or snow, you won't have to worry about your patio. Maintenance wise, all concrete needs is cleaning now and then to help keep it clean and clear of debris. Compared to the cost of other materials such as wood or natural stone, concrete is also a very affordable choice. Plus, its affordability won't come at the expense of its appearance, since concrete is easily customizable.
Design with curves
Don't just stick to straight lines and hard edges; instead, add some curves to your patio design. Not only does this soften the look, but it makes incorporating it into your landscape design much easier. If you design a rounded patio, it creates the perfect space to add a centrepiece feature. That can be a water feature, such as a fountain, or the ideal spot to add a fire pit and some lounge chairs. Having curves will also create a sense of spaciousness since there is no definitive edge to your patio.
Add a finish to your concrete
Concrete finishes are the perfect way to not only customize your patio but also add some visual interest. Exposed aggregate is one popular choice that combines natural stone aggregates into the mix. Different colours and textures can also be mixed in to help create customized looks for the patio. It also creates a slip-resistant finish, so you won't have to worry about rain or snow.
Coloured concrete is another option and one that will work well in complementing your home or yard. You can either choose one colour or blend colours to create patterns and separation. Browse through some of these pictures of beautiful concrete patios for ideas and inspiration for your own patio design. If you have a multi-level patio or more than one patio, then choose different colours for each to turn them all into features.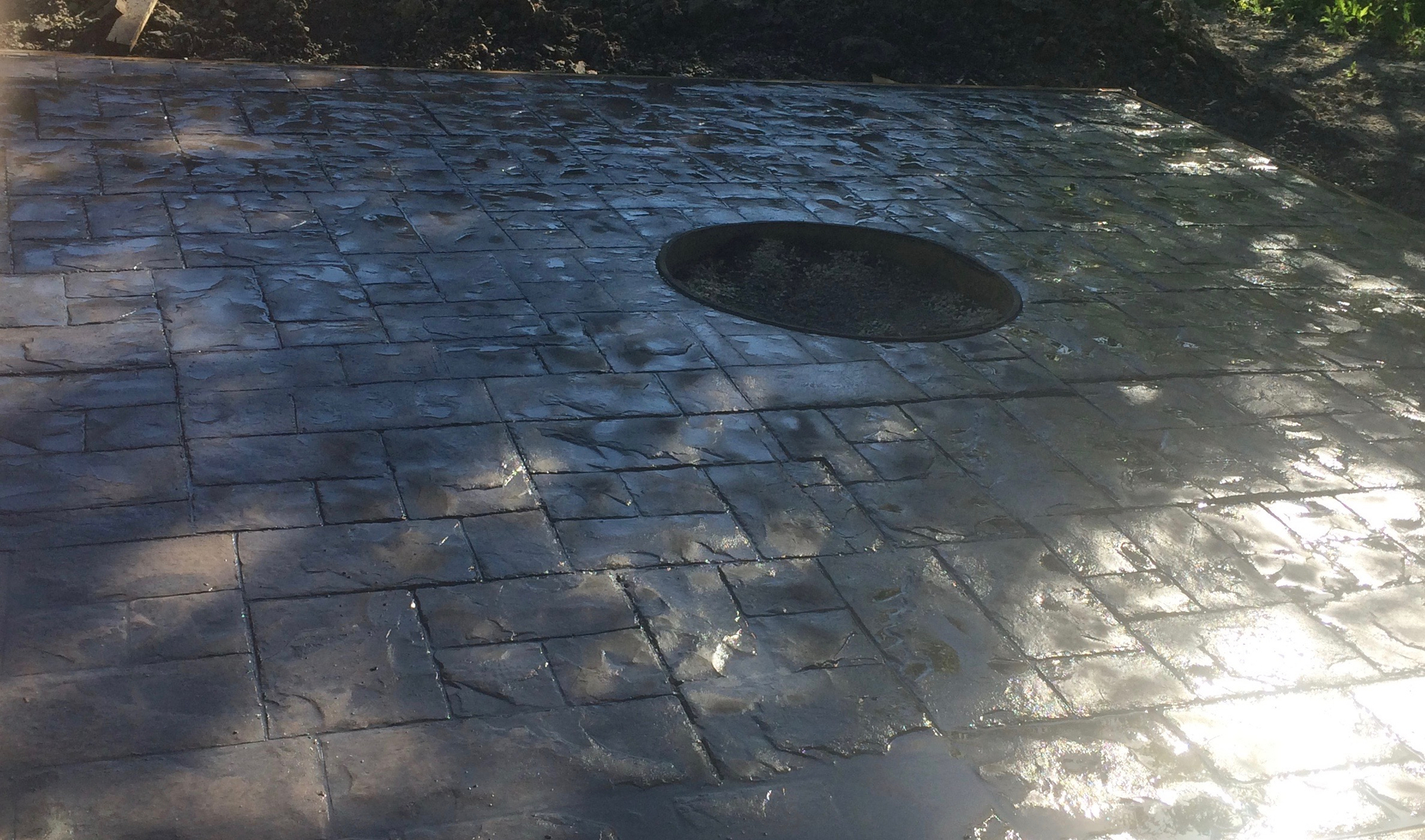 Add a custom border
Borders really dress up your patio and will work for any style of the patio, whether straight edges or curved. Coloured or plain, patterned or not, there are a lot of ways to customize a border. You can even combine a patio border with a pathway; that way, the two will seamlessly blend. If you want to create separation in your patio, such as sitting area and place to cook, a border can help.
Concrete Contractors in Winnipeg
Quality service with a stress-free experience, are what the professionals at Intercity Concrete are proud to provide. Their expertise and skills guarantee that every job with them leaves their customers satisfied with the results. Any concrete service from driveways, walkways, patios, and more, is provided by Intercity Concrete.
RenovationFind Certified is a symbol of integrity held by only the most trustworthy companies in home improvement, service, maintenance.  It increases consumer confidence in your business, giving you an edge over your competition while validating you as the best.
More than an online directory, we are Western Canada's fastest growing marketing platform for promoting and connecting the best trades, service, and home improvement companies to homeowners.