A common frustration for most home owners is the accumulation of stuff. Unfortunately, the garage becomes the common dumping ground for it. So much stuff gets stored and piled along the walls there is barely enough room to park your car, and for some, the car now sits on the driveway. It feels like you're embarking on a treasure hunt to find anything in there and even unearthing the kid's bikes is a huge chore. Organizing your garage is easier than you think, will make that space far more efficient and way more fun to use. Learn how to organize a garage on a budget.
There are some very unique products and storage solutions that will help you design a garage you'll actually love going into. Here are some of our favourites:
Monkey Bar Storage Systems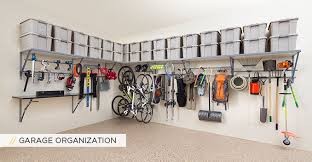 Small garages might have the square footage to park your car, but with all the other stuff that needs to be stored in there, they might not physically have the space. The solution is the Monkey Bar storage system.
You can design your own system using versatile shelves, racks, cabinets, hooks and bars to store your stuff off the garage floor. Everything gets its own place and the system is adjustable so you can change it up if you need to. Plus, it's designed so you can easily grab one item without something else getting in the way! It's efficient, durable, and versatile and even comes with a lifetime warranty.
Proslat Wall Storage
This type of storage system uses individual interlocking panels installed on your garage wall. Each panel can hold up to 75 pounds per linear foot.  You can cover the entire wall, a track around the wall or a section. Hooks, baskets, and accessories are then put in the panels so you can start organizing your stuff on the wall.
The Proslat panels are very easy to install, are made of 90% recycled materials, versatile and affordable.  With some instruction, you could install them yourself and still have a very professional looking finish. You can use Proslat wall storage to organize tools, bikes, camping gear and even heavy cabinets or a workbench.
Getting Started
Going through all of your stuff might be a daunting task, but with a custom-built storage system you can finally have the well-organized garage that simplifies your life and makes using your stored items more enjoyable.  Contact a garage organizing company in Edmonton and start on your garage renovation today!