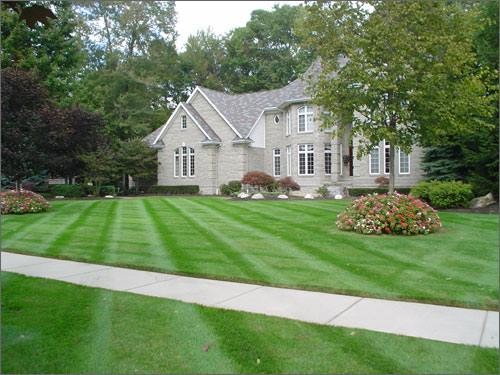 If you want a lush, green lawn all season long, you'll have to commit to a lawn care regime to keep it looking great. This includes aerating and seeding in the spring and fall, regular mowing and watering, occasional fertilizing and weed and pest control. According to industry research, the average person takes 95 minutes, once per week to maintain their lawn during the growing season. That's a lot of time!
If you don't have the time, or would rather spend your evenings and weekends relaxing, consider hiring a professional yard and lawn care contractor. They can set up a lawn care schedule for you and make sure your yard is getting all the attention it needs to stay vibrant and green.
When hiring a lawn care contractor, it's important to ask the right questions to ensure you hire a company that is knowledgeable, experienced and trustworthy. HHS Contracting Inc. in Edmonton shares some tips on how to hire the right lawn care company.
Get recommendations.
If you've noticed your neighbour has a beautifully maintained yard, ask them what company they use. You can also ask your friends and family if they've had a good experience with a lawn care company and if they could recommend one. If you're in the Edmonton area, contact HHS Contracting. They are an experienced company with an A+ Rating with the BBB and with RenovationFind.
Ask lots of questions.
Once you have a lawn care company on the phone, make sure you ask them lots of questions. Here are some examples of questions you can ask:
– How often will they mow your lawn?
– Will it be the same crew or different people each week?
– Do they include edging along the driveway and sidewalks?
– Do they bag clippings or have the mowers on a mulch setting?
– Are you charge per mow or by a flat monthly fee and does that fee include bagging?
The more questions you ask, the better chances there are that the contractor you hire will meet your expectations. Find out exactly what is included in your lawn care package.
What about pest and weed control?
Most lawn care companies offer pest and weed control. If you are concerned about chemical products, because you have small children or pets, be sure to discuss this with the contractor before they start the service. Some can offer organic or non-chemical solutions for weeds and insects where some do not. If this is important to you, be sure to address it right away. Learn how to make organic pesticide.
Find out what other services they provide.
In addition to regular lawn care, most companies will offer a comprehensive spring and fall clean up. These clean ups usually include additional tasks like raking, dethatching, clearing debris, aerating, etc. and are a great way to give your yard a head start in the spring and make sure it's prepared properly for another winter.
Lawn maintenance services with HHS Contracting include:
All inclusive services: That means that your lawn care Service Package comes with all the services that will make your lawn look great including lawn cutting, bagging, fertilizer, power raking and more. Their packages are customizable, so just tell them what you would like when you get your quote.
Flat rate pricing: All their Service Packages offer a flat rate price which will cover your property for the entire spring, summer and fall. You won't have to worry about hidden costs or extra visit charges. Your guaranteed monthly price will never exceed your budget regardless of how fast or tall your grass grows.
Guaranteed service days: Regardless of your chosen Service Package, HHS Contracting prefers to complete your property maintenance on the same day of each week (weather permitting).
Comprehensive contracts: Before any work begins, you will be given a comprehensive contract that ensures you has a property owner are safe, secure and know exactly what to expect from your lawn care contractor.
Included bagging and debris removal: One of the worst kept secrets in the lawn maintenance industry is how other companies run up your seasonal costs by charging you $3.50 to $5.00 per bag of clippings or other lawn debris.  HHS Contracting includes this in all their Service Package.  They bag all debris and leave it for curb side pick-up for their Standard and Priority customers.  For VIP customers, they will also haul away the bags for free!
RenovationFind Certified is a symbol of integrity held by only the most trustworthy companies in home improvement, service, maintenance.  It increases consumer confidence in your business, giving you an edge over your competition while validating you as the best.
More than an online directory, we are Western Canada's fastest growing marketing platform for promoting and connecting the best trades, service, and home improvement companies to homeowners.