Whether you're thinking about selling your home now or in the future, home renovations can boost the value of your property and help attract qualified potential home buyers. D-Trac Construction Inc. in Edmonton offers a full range of home building, construction and home renovation services. They share home renovations that have a good return on investment and that will greatly increase your home's resale value.
Kitchen Renovations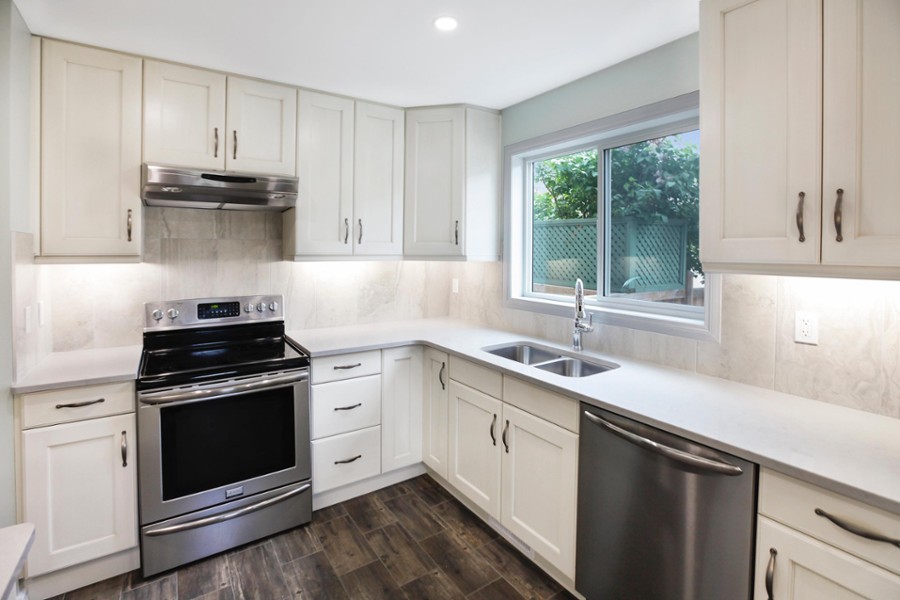 It's all about the kitchen! When a potential buyer checks out your home, either online or at a showing, the first room they'll want to see is the kitchen. A clean, functional and updated kitchen will not only attract buyers, it will also raise your resale value. According to the Remodeling Magazine's Cost vs. Value report for 2018 a minor kitchen renovation will recoup over 81 per cent of it's original cost.
You can save money on your kitchen renovation, increasing your return on investment, by choosing to reface your cabinetry rather than replace it, refresh your countertops with quality laminate that mimics the look of natural stone and installing a mid-price sink and faucet. Repaint the trim, walls and replace your flooring with a durable, long lasting flooring material.
Windows and Doors
Replacing your front entry door with an energy efficient door and installing new vinyl windows will not only improve curb appeal, it will boost property value. Home buyers want to see that this expensive job has already been done before they move in and new windows and doors are very attractive.
Plus, these items have a very high return on investment. If you spend $1471 on a new entry door, you can expect your home's value to jump at least $1340. Combine that with the energy savings you'll accumulate in the meantime and that door will go beyond paying for itself!
Exterior Renovation
What your home looks like on the outside makes a big difference in regards to property value and competing on the real estate market. Any professional realtor will tell you that curb appeal is one of the most important factors to consider when putting your home up for sale. Plus, having a new exterior will make your home more welcoming to you while you're enjoying living there.
Paint or replace your worn out siding and trim. Consider building a deck addition and if your fence is looking worse for wear, consider replacing it entirely. All of these things will increase your property value and personal enjoyment of your home as well.
General Contractors in Edmonton
With over 25 years' experience in the construction industry, D-Trac Construction Inc. is a full-service general contracting firm that specializes in both residential and commercial renovations. Their services include but are not limited to interior design, engineering, bathroom renovations, kitchen renovations, basement development/renovations, decks, interior commercial office renovations and improvements.
D-Trac Construction Inc. is a RenovationFind Approved contractor, Alberta licensed prepaid contractor, accredited with the Better Business Bureau, bonded, insured and holds current WCB coverage.
Increase your property value with a renovation – call D-Trac Construction today!
Renovation

Find

 Certified is a symbol of integrity held by only the most trustworthy companies in home improvement, service, maintenance.  It increases consumer confidence in your business, giving you an edge over your competition while validating you as the best.
More than an online directory, we are Western Canada's fastest growing marketing platform for promoting and connecting the best trades, service, and home improvement companies to homeowners.