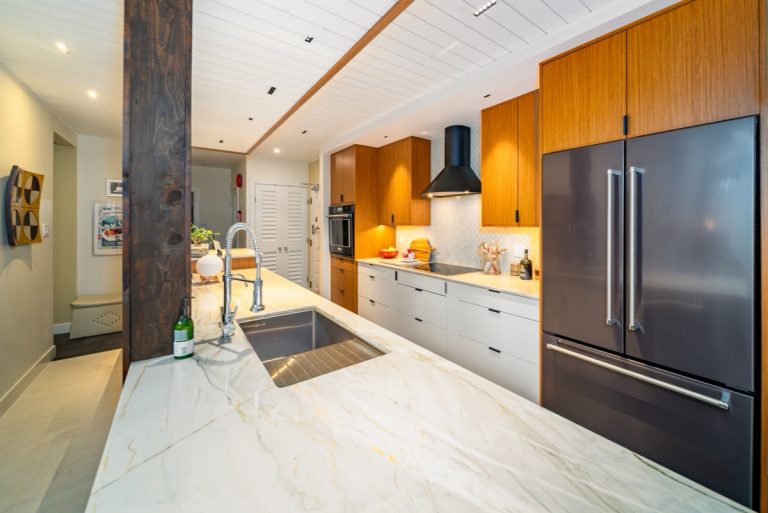 In the early planning stages of the kitchen renovation, one of the first big decisions you have to make is how you want the space to feel, or the style you're going for. An increasingly common look for any kitchen is a modern look. A kitchen that's sleek, with clean lines. From the kitchen contractors at Terrafirma Industries in Vancouver, here are some factors of kitchen renovations to consider in order to give your kitchen a modern look.
Paint
Choosing paint colours may seem like an easy first step, but it can be more challenging than you may think. Paint creates the feel of the space. For a more modern feel, choosing colours that are neutral or muted will achieve just that. Popular colours homeowners go with are grey or white tones, because these colours can match with everything while still being light and inviting.
This isn't to say that you can't include a splash of colour in your kitchen. Accent walls are a great way to liven up a space while still keeping it modern. If you're looking for something to stand out in your kitchen, go for it! Paint is the first stepping stone in order to achieve your perfect modern kitchen.
Cabinets
There are so many kinds of cabinets out there for you to pick and choose from. Depending on how modern you want your kitchen to be, there are several options. For example, white cabinets are timeless, beautiful, and modern. Sticking with more neutral tones can keep a kitchen modern, but there are exceptions. If you're looking to add more colour to your cabinets, you could do some in a neutral colour and others in a bolder colour. Another way to keep cabinets modern is with the hardware. With so many options to choose from, you can find a bold and modern style for your new kitchen hardware.
Countertops
Again, using colours that are neutral can go a long way, and this includes countertops. White countertops made of granite or quartz are common choices for a modern look. They are durable while still keeping the style of your kitchen elevated. If you're looking for something really unique, consider concrete countertops. Concrete countertops have grown in popularity, because they have an uber-modern appeal, smooth finish and they're strong and durable.
Kitchen Renovations in Vancouver
Terrafirma's goal as a company is to provide outstanding service and high-quality workmanship. By doing this, they ensure an easy, hassle-free renovation to your home. From a small handyman job to large additions and full renovations, their team of qualified tradesmen and subcontractors are guaranteed to fulfill all your expectations.
Contact Terrafirma Industries today to turn your house into a home!
RenovationFind Certified is a symbol of integrity held by only the most trustworthy companies in home improvement, service, maintenance.  It increases consumer confidence in your business, giving you an edge over your competition while validating you as the best.
More than an online directory, we are Western Canada's fastest-growing marketing platform for promoting and connecting the best trades, service, and home improvement companies to homeowners.