Changing your home's wall colour and installing new flooring can drastically change the look of your home's interior. Your floors and walls provide the canvas for your home's interior design style and home's functionality, and they're the first thing you'll notice when you walk into the room.
If you're planning to renovate your home, new flooring and a fresh coat of paint is a good place to start and can make a huge difference. Your living space should be a reflection of your style and personality, it should be functional and most importantly, should be a space you find comfortable and relaxing. Here are some options to consider when installing new floors or changing your walls.
Selecting new flooring

There are so many options for flooring on the market these days. When deciding on a floor, consider the use of the space, how much maintenance required and your personal design style. An Edmonton tile installer will guide you through the process from selection to installation and service ensuring your flooring fits your specific needs and budget. They'll also have display racks so you can see and feel the different types of flooring.
Hardwood floors will give your home that warm, elegant and classic look. They will also increase your home's resale value. They do require a bit of maintenance and upkeep and are effected by the climate.  Over the years you might have to refinish your hardwood floors, especially in high-traffic areas.
Ceramic and natural stone tiles are a great option for the bathroom or kitchen. They are strong and resistant to staining, look great and really increase your homes resale value. You can also match the colour or design of your tile floors with your counter's back splash in the bathroom or kitchen.
Vinyl and linoleum are resilient and versatile flooring options.  These types of floors have really advanced over the last several years and come in a wide variety of styles, colours and designs even mimicking wood or stone floors. They can be installed easily and over other floors like concrete, ceramic or wood. Both are water resistant, durable and require minimal maintenance. These options are ideal for homes heavy traffic, children and/or pets.
Other flooring options include cork, laminates and even wall-to-wall carpeting. Be sure to ask about the pros and cons of each before making your final selection.
What to do with the walls?
Painting your walls is the easiest and most affordable way to completely change the look of a room.  It is clean, fresh and gives the feeling of a big remodel without taking a huge amount time and money to complete. The average homeowner can easily tackle a painting project themselves, but hiring a professional will ensure the job is done quickly, stress-free and perfectly the first time.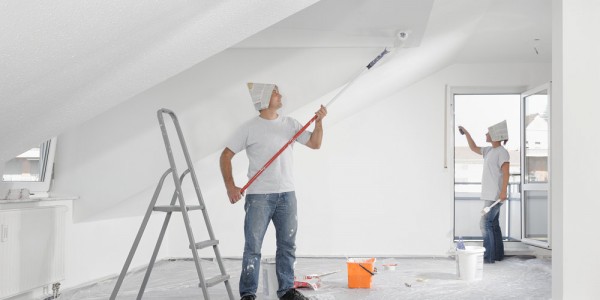 Wall paper is making a huge fashionable come back. Bold colours, versatile textures and chic designs are contributing to wallpapers renewed popularity. Home owners love the selection of colours and patterns and are using wall paper to create feature walls, to revamp a piece of furniture or even to give simple rooms a feeling of depth and space.
Whether you're painting, wall papering or both, a professional will help you choose colours and styles that will fit in to the present and future design style of your home or space. You should consider all interior elements of the room including the floor surface, furniture, art work and other home decor items to ensure the entire room is a harmonized unit. Look through the list of Edmonton's Best Painters for extended knowledge of interior design and they can give advice on interior colours based on the size, functionality and lighting of a room.
Renovation

Find

 Certified is a symbol of integrity held by only the most trustworthy companies in home improvement, service, maintenance.  It increases consumer confidence in your business, giving you an edge over your competition while validating you as the best.
More than an online directory, we are Western Canada's fastest growing marketing platform for promoting and connecting the best trades, service, and home improvement companies to homeowners.