A professional concrete contractor provides concrete services and products for residential and commercial jobs including driveways, patios, sidewalks, garage pads, basement floors, footings and retain walls. Hiring the right company will ensure an exceptional customer experience and beautiful end result.
Here are 5 reasons why you should hire Con-Tile Industries in Edmonton to do your concrete work:
They have the experience and expertise.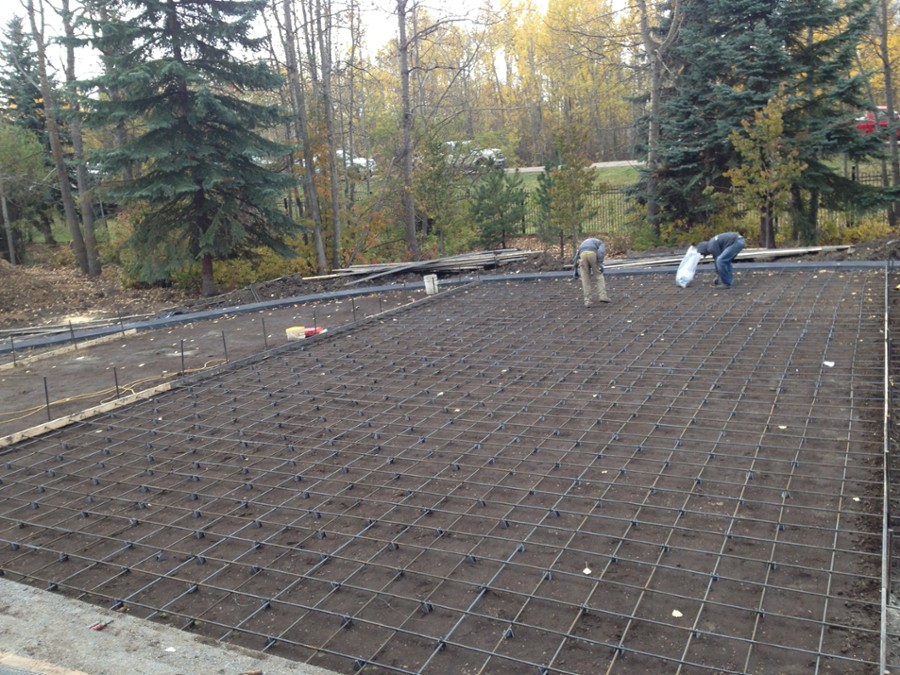 Chances are you don't spend every day working with concrete. A professional concrete contractor like Con-Tile Industries works with concrete day-in and day-out! Years of experience add up to extensive knowledge of design, preparation, installation and finishing of any concrete project, including quickly trouble shooting and finding solutions should anything go wrong. This kind of expertise comes from years of professional experience and can not be learned in a DIY YouTube video. Learning-as-you-go can lead to costly mistakes and a lot of frustration.
They have the proper tools and materials.
Projects like installing a new driveway or garage pad can be a massive task and requires a lot of specialized equipment and materials. These tools are expensive to purchase and rent, but are necessary to get the best out of your concrete project. Con-Tile Industries has the proper equipment and the knowledge of how to operate it safely and efficiently to get the job done right.
They have the skills, training and passion for the industry.
Con-Tile Industries is operated under the leadership of Noah Dodds, who has been in the construction industry since 1998. With a passion for concrete, Noah earned his ticket as a Red Seal Journeyman Concrete Finisher and now ensures his staff are trained and certified. He is a member of the Alberta Apprenticeship and Industry Training Committee and works with other members to encourage dedication and maintain a standard of excellence in concrete and within all trades.
It could save time and energy.
Concrete projects do not make for simple or light work. They require a lot of physical labour and a huge time commitment, especially when you're trying to fit the project in between your full-time job, family and other obligations. Con-Tile Industries will tackle your project head on, with the man-power and equipment required, without having to deal with life's interruptions. That means you can go about your regular life without worrying about it while your concrete project is completed efficiently and to a higher standard by the professionals at Con-Tile.
They can offer creative and unique custom concrete options.
Tackling a DIY concrete project will be difficult enough, let alone trying to get creative with style and finishes. Con-Tile Industries can help design custom concrete that will be as simple or elaborate as your preferences and budget dictate. Custom finishes could include unique stamps and textures, colours, stains and sealers. Try concrete that mimics high-end natural stones like slate or terra cotta, use acid staining for a shiny, marbled effect or choose a simple but durable polished finish. They can help you choose a style of concrete that will boost curb appeal and your property value.
Hiring Con-Tile Industries:
Con-Tile Industries are accredited vendors on RenovationFind.com. That means they've passed our stringent accreditation process ensuring they have proper business licensing, insurance and WCB coverage. We also do legal and financial background checks and monitor consumer complaints. Hiring a professional concrete contractor from RenovationFind.com will put your mind at ease knowing you'll receive exceptional customer service and workmanship.
Looking for an Edmonton Concrete Contractor ? Contact Con-Tile Industries today!
RenovationFind Certified is a symbol of integrity held by only the most trustworthy companies in home improvement, service, maintenance.  It increases consumer confidence in your business, giving you an edge over your competition while validating you as the best.
More than an online directory, we are Western Canada's fastest growing marketing platform for promoting and connecting the best trades, service, and home improvement companies to homeowners.