What if you could have a brand new kitchen? Great! What if you could have a brand new kitchen by the end of the weekend? Even better!
DIY Cabinet Warehouse in Edmonton offers pre-made, pre-assembled kitchen cabinetry that is easy for any do-it-yourselfer to install into their kitchen, bathroom, laundry room or home office. All you have to do is visit their showroom, choose from a great selection of cabinet styles, bring it home, unpack your cabinets and install.
Benefits of DIY Cabinets
Renovating your kitchen is a smart investment. Kitchen renovations have one of the highest return on investments compared to other home renovations. Even a minor kitchen renovation will recoup over 80% of it's cost at resale. Not only will an upgraded kitchen be more enjoyable for you as the homeowner, it will also be attractive to potential buyers and can boost your asking price.
Kitchen renovations can also be very expensive. The majority of that cost will be for the cabinetry. DIY Cabinets are high quality stock cabinets that are available at a fraction of the cost of custom cabinets. Plus, since you are installing them yourself, you won't have to pay expensive labour costs.
Your kitchen renovation will cost you less, but will still increase your home's value giving you a great return on investment, not to mention a new kitchen you're going to love!
The Process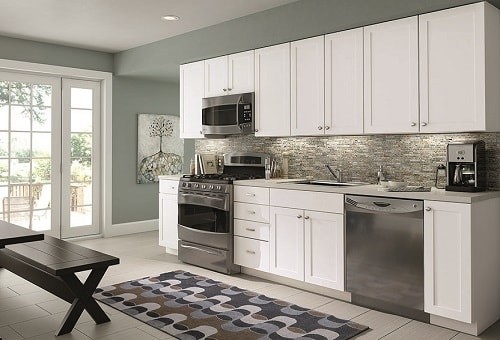 First, measure your kitchen, vanity or laundry room area. Go into DIY Cabinet Warehouse and take advantage of their free in-person and professional design and costing service. Order your cabinets and when they're ready, pick them up pre-assembled, ready for you to install!
These cabinets come pre-assembled so you won't have to worry about trying to put them together.  That means you can start your project as soon as you buy them, won't have to worry about reading complicated instructions or missing parts. Learn how to install kitchen cabinets. 
Edmonton Stock Cabinet Company
DIY Cabinet Warehouse is a division of Kitchen Craft Cabinetry. They are proud to bring whole home storage solutions to fellow Canadians for 45 years. Whether you're looking to update your kitchen, bath, laundry room or home office, DIY IN STOCK Cabinetry let's you get started right away!