Whether you use your garage for parking vehicles or as a workshop, there are many benefits to installing a garage floor coating. Zone Garage in Calgary offers the patented ZG-SHIELD® POLYUREA and polyaspartic garage floor coatings which are different and superior to any product on the market. Here are some reasons you should consider this state-of-the-art garage floor coating for your garage:
Garage floor coatings are durable and long-lasting.
This type of garage floor coating is tough. It is three times more resistant to abrasion than epoxy coatings which means you won't have to worry about dings and scratches while working in your garage. They are also 100% UV resistant so you floor will never yellow or fade in the sun. The ZG-SHIELD® POLYUREA and polyaspartic garage floor coatings will not be affected temperature, so they are the perfect choice for Alberta's ever-changing climate. The floor will also be resistant to hot tire marks and will be protected from harmful chemicals including calcium, salt, oil, gasoline and grease.
Garage floor coatings are versatile in design.
Gone are the days of a plain concrete garage floor! When you install garage floor coatings in Calgary, you can choose from a wide range of colours, styles, granite, stains or a clear sealer. You can get creative with custom colours, specific designs or even have logos of your favourite brand or sports team right in the floor. The glossy finish on these floors is spectacular and will really gleam.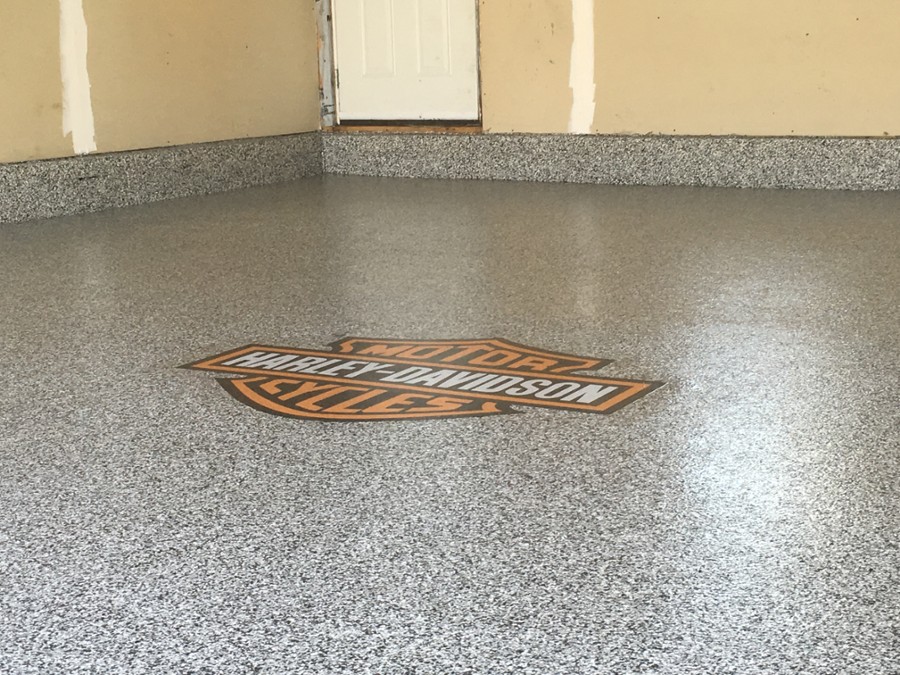 They make the garage easier to clean.
Because a garage floor coating is resistant to moisture, it makes wiping up spills and splatters easy. You can quickly and easily clean up melted snow, road salts or even spilled chemicals like oil and gasoline with a little mild soap and water. The smooth surface makes sweeping up dust and debris a breeze when the floor is dry. Learn how to clean concrete floors. 
The installation process is quick.
ZG-SHIELD® POLYUREA and polyaspartic garage floor coatings only day one day to be installed and be completely dry. That means you can park your car and start using your new garage floor the day after installation.
Garage Floor Coatings in Calgary
Garage Zone is a leader in garage floor finish in North America. With its distribution network across the country, it offers a complete range of products to remake and refurbish your garage. Whether it's a high-strength, easy-care garage floor, Ultra- rugged Contur garage cabinets or storage solutions for your garage items, they can make your garage more functional while adding an elegant style.