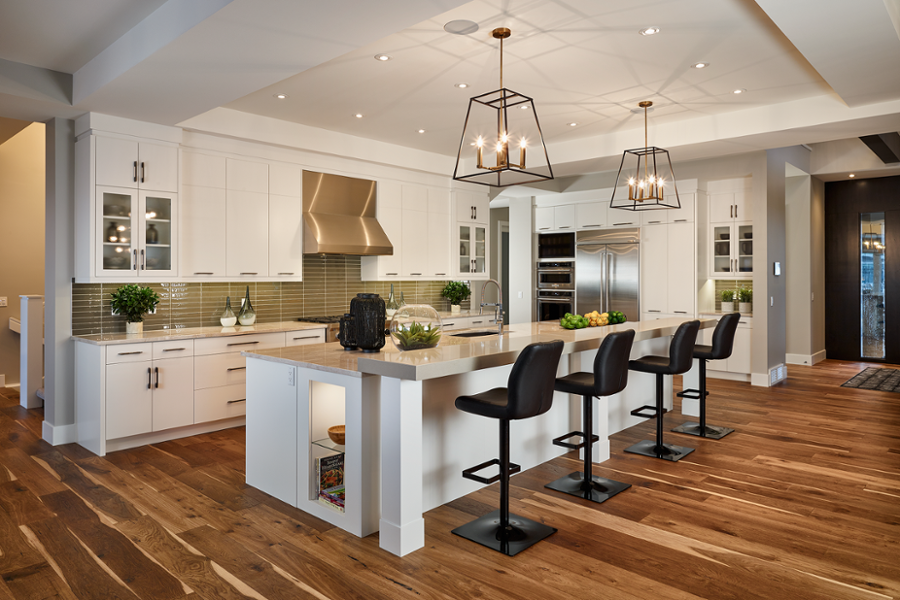 Your kitchen cabinets are the most important component of the kitchen and will be one of the largest items on your kitchen renovation budget. Choosing custom cabinets from Elegant Woodwork in Calgary will ensure you're getting the best value, function and design for your investment. Here is how you can completely customize your cabinetry.
Customize for Function
Being able to completely customize your kitchen cabinetry means that you will get exactly what you want from your kitchen and how you use it. Custom cabinets allow you to get creative with your existing space or completely change the layout of the kitchen. In terms of function, cabinets made specifically for your new kitchen design will have all the options you need including built-in wine or spice rakes, under cabinet lighting, lazy susan's, roll out drawers and more.
You can also decide if you want to add features to your kitchen like a larger working space, a central island, breakfast bar, pantry or additional storage in the kitchen.
Customize for Style
The best benefit of having your cabinets designed by a professional designer, is that you will get beautiful cabinetry that aligns with your specific design tastes. You choose everything. From the materials used, wood species, stain and colour options, door and drawer front styles, hardware to the size of each cabinet and the number cabinets and drawers you want – it will all be designed and built exactly to your specific desires.
Not only are the designers and carpenters at Elegant Woodwork masters of their craft, they have also invested in technology that will give your cabinets the best possible finish ensuring you'll get the cabinets you want with beautiful and flawless results. They achieve this by using the latest, innovative design software to adding top-of-the-line equipment to their shop like the the Ven Smart automated spray line. See how it works:
Why Choose Elegant Woodwork?
Elegant Woodwork specializes in custom cabinets in Calgary, as well as closets and interior finishing carpentry. They offer full customization, innovative design, a wide selection of materials, finishes and hardware and competitive pricing. They also manufacturer all of the cabinets here at home, so you aren't waiting for international shipping.
If you want better quality, better service and beautiful new custom cabinetry, contact Elegant Woodwork!
RenovationFind Certified is a symbol of integrity held by only the most trustworthy companies in home improvement, service, maintenance.  It increases consumer confidence in your business, giving you an edge over your competition while validating you as the best.
More than an online directory, we are Western Canada's fastest growing marketing platform for promoting and connecting the best trades, service, and home improvement companies to homeowners.