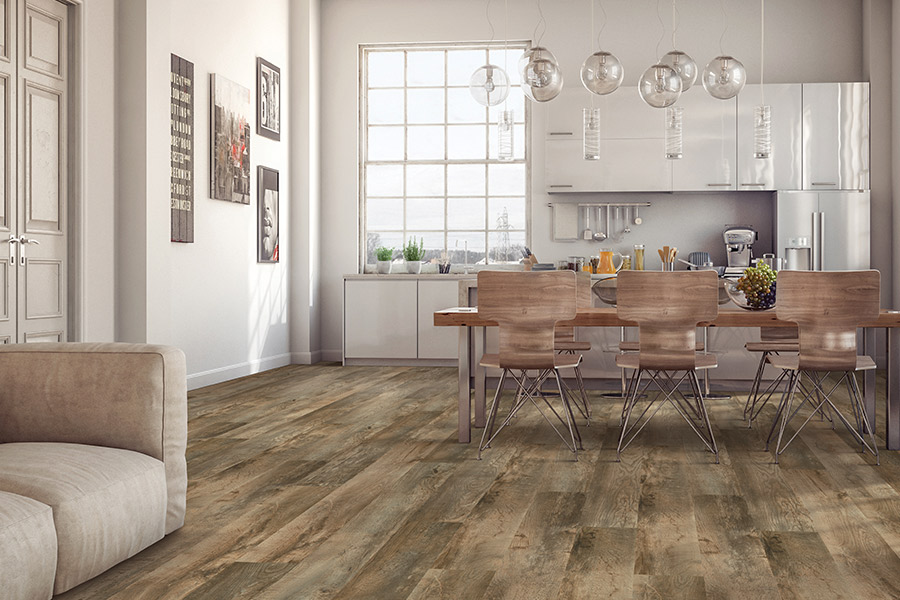 A flooring replacement can be a big investment and you want to make sure it lasts. Taking good care of your flooring will keep it looking great for years. Every type of flooring requires different care and maintenance. If you've installed beautiful new luxury vinyl plank, you've chosen a relatively low-maintenance option but there are still some dos and don'ts. Here are some tips for taking care of your luxury vinyl plank from the flooring contractors at Dannburg Floor Coverings in Calgary.
Do sweep and mop
Like most flooring materials, an easy way to keep them clean is sweeping and mopping on a regular basis. This will keep the plank free of dirt, crumbs, and other debris. It's important to immediately clean any spills with a mop because it will keep your floor from staining. Sweeping and mopping will keep your luxury vinyl plank more durable throughout the years, and maintain its look. A vacuum can also take the place of a broom.
Don't steam clean
Luxury vinyl plank is a strong, waterproof material. However, steam cleaning the plank can cause problems for the flooring. It could wear it down, warp it, or ruin the material. You will have to replace the flooring sooner or pay for repair costs. This is all perfectly avoidable. Instead, stick to sweeping and mopping, as previously mentioned.
Do avoid scratching
Though luxury vinyl plank is durable, in some cases it may scratch. There are many different things that can cause scratching on your floor, but there are also simple solutions. For example, applying felt pads onto the legs of furniture is a cost-effective way to protect your floor. Try to lift heavier furniture or put down some sort of base on top of your plank to keep it from scratching the surface. Area rugs below your furniture are also a creative way to keep the floor safe from your furniture.
Don't clean with harsh bristles or strong chemicals
You can't be too harsh with your luxury vinyl plank. Scrubbing your floor with something that has a bristled texture puts you at risk for scratching the floor. Go for rags or sponges that have a smoother feel. It's also important to avoid strong chemicals. The chemicals may eat away at the finish on your floor and leave it dull or with worn marks. In some instances, it also may cause discolouring. Find a product that's milder, or one more specifically used for luxury vinyl plank.
Flooring Companies in Calgary
Dannburg Floor Coverings have been serving Calgary and area in their floor covering needs since 1984, offering a full range of residential flooring options including carpet, hardwood, tile, laminate, luxury vinyl, and more. They have a large, beautiful showroom with a full range of products from multiple suppliers to meet all your flooring needs.
Interested? Visit Dannburg Floor Coverings today!
RenovationFind Certified is a symbol of integrity held by only the most trustworthy companies in home improvement, service, maintenance.  It increases consumer confidence in your business, giving you an edge over your competition while validating you as the best.
More than an online directory, we are Western Canada's fastest-growing marketing platform for promoting and connecting the best trades, service, and home improvement companies to homeowners.