A metal roof could be the last roof you ever buy. When you purchase and install a metal roof from Interlock Industries (Alberta) Ltd. in Edmonton, you'll get a durable, elegant and environmentally sustainable roof that will last a lifetime. Metal roofing also comes in a wide range of colours, textures and shingle styles. View these metal roof ideas and find inspiration for your home's exterior design.
Want more information about a metal roof? Interlock Industries shares some answers to frequently asked questions:
Will a metal roof make my home hot in the summer?
Your Interlock roof will make your home more energy efficient, keeping it cooler in the summer and reducing the strain on your cooling system. Unlike asphalt shingles, which store and transfer heat, metal quickly absorbs and dissipates the heat. Plus, the good airflow beneath the roof will help prevent cold air from transferring, reducing the freeze and thaw cycles that can damage a roof in the winter, making your home more efficient year-round.
Will bad weather damage my metal roof?
Your Interlock roof will stand up to the harsh weather conditions and natural elements no matter what time of year it is. They have the highest hail resistance rating available among roofing products on the market. This rating could even help reduce your home-owners insurance. While asphalt shingles can blow right off in a wind storm, Interlock roofing systems are tested and can resist wind speeds of up to 193 kilometres per hour.
Is my metal roof susceptible to rust?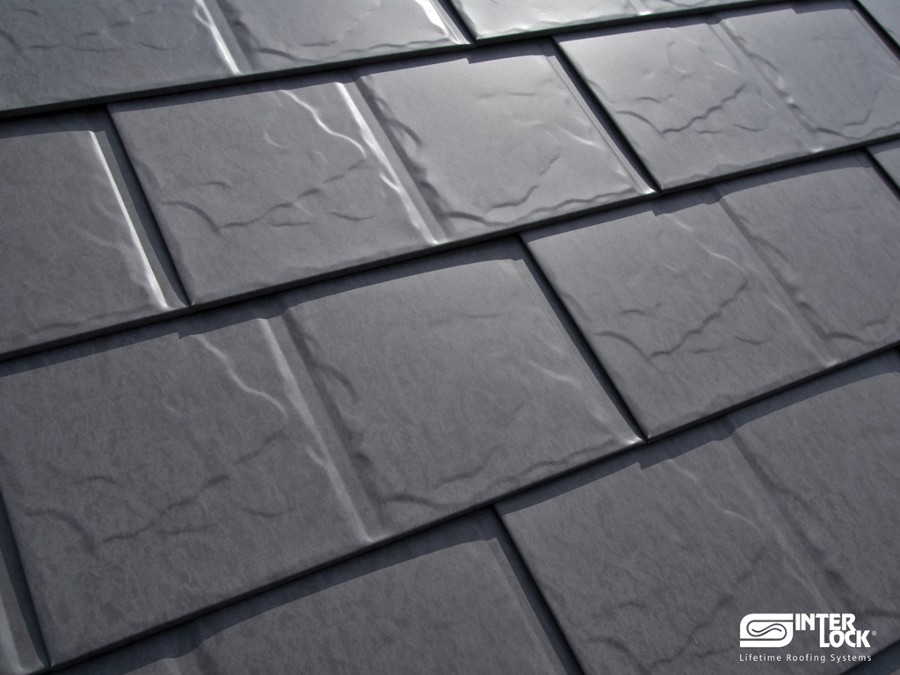 No. Interlock roofs and trims are made from a heavy gauge aluminum that will not rust. For added protection, the roofs are coated with a warranted and quality Alunar® Coating System embedded with Teflon™ Surface Protector.
What other elements is a metal roof resistant to?
A metal roof is naturally resistant to fire, rot, insects, moss, mold and mildew. The smooth surface will allow moss, leaves, dirt and debris to wash off the roof when it rains, making this roofing solution indestructible and virtually maintenance-free.
Will it be noisy when it rains?
No. Your metal roof will be strong, but it has been manufactured to effectively reduce any noise transfer when coupled with quality, high-density attic insulation. If you're imaging an old tin roof that makes a lot of noise when it rains, you won't have to worry about that with an Interlock roofing system.
Metal Roofing in Edmonton
Your home is one of your most valuable investments. Interlock® Metal Roofing Systems will help you protect it for a lifetime. When you choose Interlock, you get the best of everything – the best installation, products, warranty, and on the spot financing.
As a supplier of quality metal roofing solutions, Interlock Industries (Alberta) Ltd. are proud to offer customers their many products and services. When you choose Interlock® Roofing you will have peace of mind for many years to come.
RenovationFind Certified is a symbol of integrity held by only the most trustworthy companies in home improvement, service, maintenance.  It increases consumer confidence in your business, giving you an edge over your competition while validating you as the best.
More than an online directory, we are Western Canada's fastest growing marketing platform for promoting and connecting the best trades, service, and home improvement companies to homeowners.