So you've decided you want to install hardwood flooring. Homes with wood floors have a warmth and welcoming feel that you just don't get with other flooring types. Your new floors will become the focal point and will likely increase your home's resale value as well. Hardwood flooring is a beautiful, long lasting investment that is also eco-friendly; a win on many fronts.
When it comes to hardwood flooring, you have many decisions to make. From wood species, construction type, finishes and styles, Acorn Wood Floors in Surrey can assist with these helpful tips:
Choosing between engineered hardwood and solid hardwood.
Solid wood hardwood is made of a single piece of solid wood. Once it's installed, it can be refinished many times as it gets worn out or you want a colour change. Surprisingly, solid wood floors are often less expensive than the equivalent engineered floor. Solid wood floors are also the easiest to fix.
Engineered hardwood is also real wood, but it's not one solid piece. It is made up of several to many layers of wood bonded together. This gives you a stable and durable floor that can stand up to humidity and temperature changes with limited warping or cracking. Refinishing is often possible with a good wear layer. At Acorn Wood Floors, we don't sell engineered floor brands with top layers that are too thin to resand.
Choose your hardwood floor finish.
There is a wide range of finishing products out there and you should choose one that best suits your needs. Here are some examples:
Wax finish: This type of finish is very traditional, however most people do not like the time and effort required to maintain it. If cared for properly, you will likely never have to sand your floor.
Penetrating finish: This type of finish includes traditional penetrating oils as well as the newer European hard wax oils. They produce a natural, matte look to the floor. Like waxes, they also require regular maintenance, but most are able to be fixed on a spot basis. A floor with an oiled finish can be more easily repaired and touched up, but is less resistant to moisture and staining.
Polyurethane finish: For homes with pets and children, a polyurethane finish is recommended. It can stand up to lots of traffic, spills and stains. If the finish gets scratched, the wood will be protected. If there's a major scratch, you might need to refinish the floor or area of floor.
There are several types of coating finishes. They are as follows:
Oil-modified urethane – This is the typical solvent based finish that most people are familiar with. It is an inexpensive finish that provides a serviceable surface with wax-free maintenance. The resins in these finishes do have a tendency to yellow over time.
Conversion varnishes – This is also a solvent-based product, with a particularly noxious odour. It became popular in the mid-80s and was known as Swedish finish. Glitsa is the brand-name that most people are familiar with. These are more durable than the oil-modified finishes and turn yellow somewhat less.
Hybrid water-based urethanes – These finishes have oil-modified resins but in a water-based format. They are fairly durable and suitable for residential use. They do change colour over time, but less so than solvent based oil-modified finishes.
Two-component water-based urethanes – These finishes are the most durable types of finish. They are clear and non-yellowing, many with very good UV inhibitors. Contrary to popular belief, most good finishes of this type will easily out-wear traditional solvent-based finishes. They dry extremely fast and have little to no odour.
Choose your hardwood floor style and wood type.
The style of your hardwood flooring includes the length and width of planks, species of wood, colour and tone and whether it has a unique pattern in design and installation.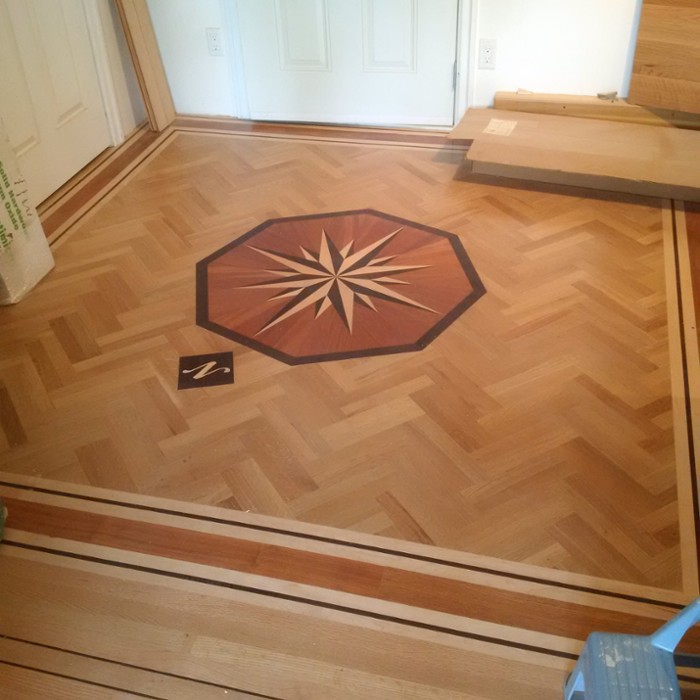 Borders and inlays can give your home a unique and customized look. They include things like using a different width or coloured wood as a border. They can also have a unique pattern in the middle of the floor, using different species of wood to create something truly one-of-a-kind.
Parquet Floors: Any repetitive patterned floor is considered to be a parquet floor. These include herringbone and chevron patterns which are enjoying a resurgence in popularity. They also include finger-block squares and many other very intricate patterns.
Textured Floors: Traditional floors were sanded smooth and that continues to be the dominant type of surface that most people choose. There are, however, many more options available in both prefinished and site finished floors. They range from wire brushed to hand scraped, from sculpted to band and circular saw textures. Each of these imparts a very different impression, appealing to a wide range of tastes. They also help to disguise minor nicks and dents.
Wood Species: The species of wood you choose will play a role in how the floor looks and performs. White and red oak are popular choices. Both are strong and durable as well as aesthetically pleasing. Other options include maple, hickory, walnut, ash and cherry hardwood. Ask Acorn Wood Floors which wood species would work best for your home's style, your lifestyle and your budget.
For more helpful information, please follow this link: https://www.woodfloors.org/top-ten.aspx 
Hardwood Flooring Companies in Vancouver
Acorn Wood Floors has been providing high quality hardwood flooring products and services in Vancouver and surrounding areas since 1992 with a family history back to 1959. Their product line will suit a range of budgets and design preferences and are fully warrantied.
If you want hardwood flooring, give Acorn Wood Floors a call!
RenovationFind Certified is a symbol of integrity held by only the most trustworthy companies in home improvement, service, maintenance.  It increases consumer confidence in your business, giving you an edge over your competition while validating you as the best.
More than an online directory, we are Western Canada's fastest growing marketing platform for promoting and connecting the best trades, service, and home improvement companies to homeowners.