The countertops in your kitchen and bathroom play a major role in the aesthetics of those spaces. Countertops are a focal point in the room, can add style to the space and value to your home overall. Countertops can bring together all the other features of the room including cabinets, wall colour, backsplash and the flooring.
Countertops are also very functional. In the kitchen, they are the primary workspace and must hold up to years of chopping, preparing food and cleaning. They hold your appliances, food items and décor and play a big role in both the function and style of the kitchen. When choosing countertops, you want to pick something that matches your home's design scheme and is compatible with how you use your kitchen.
Signs you need new countertops:
Your countertop is noticeably damaged: Poor quality countertops are not built to pass the test of time. If your laminate countertop looks eroded, is cracked or is peeling up at the seams, it is time for a replacement. Unless you plan on removing it, stripping it and re-laminating it, which is time consuming and not worth the cost, a replacement is your only option.
Your countertops are stained or have burn marks: Over years of use, a countertop can get stained. If you don't have heat resistant countertops, you can burn or scorch the surface with hot pots and pans. If this is the case, it's time to replace it. Learn how to remove a countertop.
Your countertops are painfully dated: A dated countertop can make the entire room look out of style. If you plan on selling your home, you should replace them. New countertops can improve the appearance of the kitchen or bathroom and make your home more marketable to future buyers.
You're changing the layout of the kitchen: If you're doing a major renovation, chances are countertops are on the list for a replacement. It's easier to replace all the countertops with new instead of trying to match new materials to the countertops you already have.
Types of Countertops and Prices
If you've decided to replace your countertops, you have a lot of different types of countertops and prices to choose from. Fortunately, there are quality countertop materials available on the market for almost every style and budget.
Granite Countertops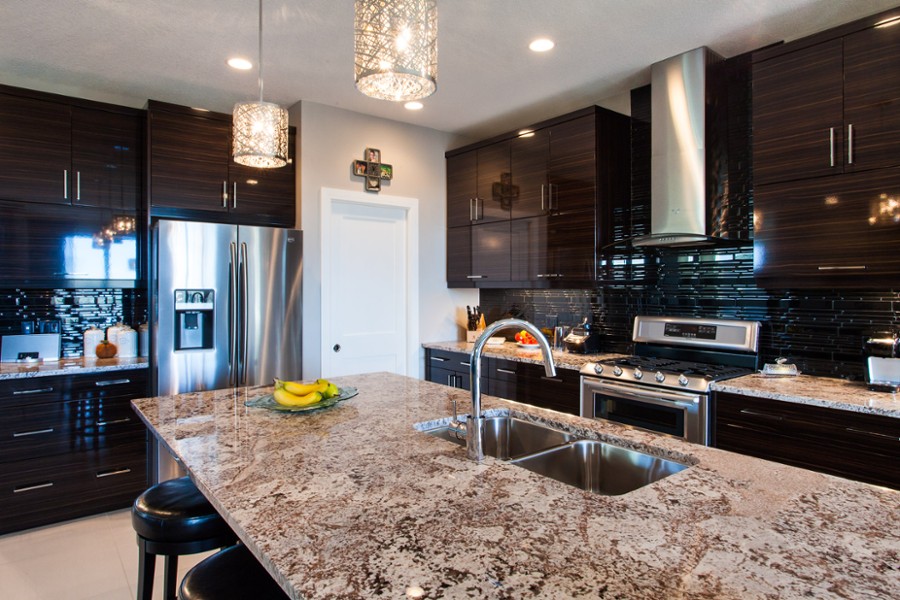 Granite countertops are probably the most popular countertop material among homeowners. The countertops are manufactured from giant slabs of natural granite harvested from the earth. Since each slab of granite is unique, you can be sure your countertop will be one of a kind. Choose from natural tones and textures, rare colours, unique veining and other beautifully natural features in your granite slab.
Granite is also very tough and durable. It is one of the hardest natural materials on the planet and when properly installed, could be the last countertop you ever buy. It is resistant to chipping, cracking and scratches. It is also resistant to heat so you don't have to worry about placing a hot pan right on the countertop. If your granite chips, which is rare but can happen in the corners or edging, it is a relatively easy fix.
Your granite countertop will have to be properly sealed to resist staining and bacteria. You can easily learn how to seal granite countertops yourself. To clean your countertop, simply wipe it down with soap and water. Your granite countertop will sparkle, showing off it's natural design.
Cost of granite countertops: Granite countertops have a bit of a range when it comes to price. Slabs that have more veining and/or unique colours can cost more. It also depends on how thick your countertops are. The average cost of a granite countertop is $50 – $200 per square foot installed. If your kitchen countertop space is an average size of 50 square feet then your granite countertops can cost from $2,500 to $10,000.
Engineered Quartz Countertops
Quartz countertops are made of about 95% natural quartz that is ground up with about 5% of polymer resins. This combination gives a very hard surface that is easy to clean and maintain. Because quartz is not entirely natural, you can add colour to the mixture giving you endless options for bold and vibrant styles and designs. Brightly coloured quartz countertops are becoming popular design trends in kitchen renovations over the last few years. You can also have quartz countertops that mimic the natural design patterns found in granite and marble, but a popular trend is a sparkling white countertop.
Quartz countertops are very durable and are resistant to staining, corrosion, heat and chipping. They do not have to be sealed regularly like granite countertops. Because it is flexible to work with, quart be used on larger vertical surfaces like backsplashes or bathroom enclosures without having seams that come with installing other natural stones.
Find more information in this article: "Learning about engineered quartz countertops".
Cost of quartz countertops: Quartz countertops also have a range when it comes to price, depending on the grade of the quartz and complexity of the install. The average cost of a quartz countertop is $50 – $150 per square foot installed. If your kitchen countertop space is an average size of 50 square feet then your quartz countertops can cost from $2,500 to $7,500.
Marble Countertops
Marble is a stunning stone and can give your kitchen a look of elegance and luxury. Marble is made naturally from sedimentary dolomite or limestone rock and each piece has a unique look and design. There are a range of natural hues and colours, depending on the region the marble is harvested, and offers an attractive and impressive surface that works well with almost every design style.
Marble is the most high-maintenance of the natural stone countertop selections. It isn't resistant to stains, which means reversing a wine or spaghetti sauce spill could be very difficult or impossible. Marble is also much softer than granite, so it is more easily scratched and chipped. Even rubbing up against it with your metal belt buckle can cause minor damage. If you're looking for a low-maintenance countertop that you can just quickly wipe up and go, this might not be the best choice.
Cost of marble countertops: Marble is slightly more expensive than other natural stones and like granite, slabs with more unique textures, veining and colours cost more. The average cost of a marble countertop is between $70 – $250 per square foot. If your kitchen countertop space is an average size of 50 square feet then your marble countertops can cost from $3,500 to $12,500.
If you're sure you want a natural stone countertop, but aren't sure which to choose, you can find more information about choosing natural stone countertops.
Butcher Block Countertops
Butcher block countertops are unique and can give your kitchen a warm look and feel. Butcher block countertops are typically made of hardwood types including cherry, teak, maple, oak and birch. They are stained and finished to give each countertop its own look and homeowners can choose from a range of edging and thicknesses. Wood goes with anything, so butcher block countertops are really a timeless choice that won't go out of style.
Wood countertops are also an environmentally friendly choice. Homeowners can have their countertops made from recycled materials and if an older butcher block countertop needs to be thrown out, it will naturally return to the earth. Manufacturing methods for wood countertops are also less harmful on the environment compared to other countertop options.
Butcher block countertops are generally high maintenance, unfortunately. They will need to be sealed correctly and regularly to remain hygienic. Without proper sealing they become a breeding ground for germs and bacteria. They also must be treated with mineral oil or other type of protectants to protect them from water damage. Wood countertops are also easily scratched not very resistant to dents. Some homeowners like this worn-out look as it can add a rustic character to the kitchen. However, a butcher block countertop can be sanded down and refinished, if it has lots of scratches, wear and tear.
Cost of butcher block countertops: The cost will vary depending on the type of wood you choose. For example, maple and cherry wood costs more than oak. The average cost of a butcher block counter top ranges from $35 – $200 per square foot. If your kitchen countertop space is an average size of 50 square feet then your butcher block countertops can cost from $1,750 to $10,000.
Laminate Countertops
Laminate is the most cost-effective and affordable countertop material on the market. Manufacturers of laminate have stepped up their game, now offering a low-budget alternative that can look just like natural stone or wood countertops. When you visit a countertop showroom, you will be amazed at the almost endless selection of textures, styles, designs and colours available in laminate. You can also choose from a wide array of edging styles, which can make your affordable laminate look like the more expensive stone surface countertops.
Laminate is the best choice for renovators on a budget or for people wanting to give their home a quick upgrade to sell it. It's also great for DIYers because you can bring in your countertop measurements and have your laminate countertops pre-fabricated to perfectly fit in your kitchen and bathroom. DIY installation of laminate is relatively easy, which means you can save even more money on installation labour.
Laminate is durable but is not heat resistant or scratch resistant. You'll want to always use a pot holder and cutting board when working in the kitchen. Light colours of laminate hide scratches better, so if you think your kitchen might see a little wear and tear over the years, keep that in mind. Laminate can be easily cleaned with regular soap and water.  Here's more information on why you should choose laminate countertops.
Cost of laminate countertops: Being the most affordable option, on average laminate countertops cost between $20 – $50 per square foot. If your kitchen countertop space is an average of 50 square feet, your laminate countertop can cost from $1,000 to $2,500.
Solid Surface
Solid surface is a man-made material that is typically composed of Alumina Trihydrate, epoxy, polyester or acrylic resins and pigments. Because it is a man-made product, it can be made to fit any surface application which makes it a great choice for those who don't want any noticeable seams in their countertop.
The main reason why homeowners choose solid surface countertops is because they can look and feel just like the more expensive natural stone countertops. It's a midrange choice, sitting somewhere between expensive, high-end granite and inexpensive laminate. It can look like real stone, like marble and granite, or you can choose from a variety of colours and designs.
It is hygienic and sanitary, but not resistant to impact or scratches so you'll have to be careful when using it. It is also recommended that you use a pot holder on your solid surface countertops. Fortunately, you can sand down and refinish solid surface countertops because it is the same material all the way through.  Check out these solid surface pictures and ideas.
Cost of solid surface countertops: Solid surface countertop installation has a range in price, depending on things like edge styles, colours, patterns and specific manufacturers. The average cost of a solid surface countertop ranges between $40 – $80 per square foot. If your kitchen countertop space is an average of 50 square feet, your solid surface countertops can cost from $2,500 to $4,000.
Stainless Steel Countertops
When you think of stainless steel countertops, you probably think of a commercial kitchen. There's a reason why commercial kitchens and professional chefs have used these durable countertop surfaces for years and now more homeowners see the benefits of having them in their kitchen.
Stainless steel countertops are almost indestructible. They can get dented with strong impacts and will scratch if you cut right on them, but are resistant to water, cold, heat and stains so you can put your hot pot right on the counter with out any worry. A stainless-steel countertop will never stain, even if you leave tomato sauce splatters on it overnight and won't chip or crack.
Stainless steel countertops are very hygienic, which is why they're popular in commercial kitchens. Foods and liquids don't absorb into the surface making it easier to sanitize and clean. Keep it looking great for years by simply wiping it down with a soapy cloth.
Stainless steel can also give your kitchen a contemporary and stylish look. It's sleek, clean and a neutral colour, enabling it to match most design schemes. Stainless steel countertops do easily show finger prints and smudges, so you might have to keep a damp cloth handy to take care of those imperfections.
Cost of stainless steel countertops: The average cost of stainless steel countertops is about $75 – $150 per square foot. If your kitchen countertop space is an average of 50 square feet, your stainless steel countertop can cost from $3,750 to $7,500.
Things to consider when choosing countertops.
Now that you have all the information you need on the most popular countertop options; how can you make a choice? There are three factors you should consider when choosing kitchen countertops:
How they look
Most homeowners have an idea of how they want their countertops to look and how they will fit in with the rest of the kitchen or bathroom's design and style. If your kitchen countertops are white or light, you might want to contrast them with a dark coloured countertop. Neutral coloured countertops can be used to open a space and give a clean and fresh look.
If you love the way the light sparkles off granite and marble countertops, and like all the other features those natural stone surfaces provide, they might be a good choice. If you're satisfied with a natural stone look in a laminate countertop, you can save money and still achieve the same look and feel with that choice.
Surfaces like wood or stainless steel can make a statement in a kitchen's design. The other deciding factors might not matter as much if it's that unique look you are truly after.
How they function
If you're a heavy user of the kitchen, you might not want to choose a high maintenance countertop surface that can be easily scratched, chipped or stained. You should also measure your commitment to maintenance. If you're not interested in refinishing and constantly oiling a butcher block countertop, you might like the easy of maintenance that laminate, or granite offers. Choose a countertop that will look it's best, the longest, depending on how you are going to use it.
You should also consider staining as a deciding factor. If you can't possibly imagine a kitchen where a splash of wine could cause a permanent mark, stay away from marble countertops. You need something you can easily wipe up and forget about.
How much they cost
Obviously, cost is one of the biggest factors when deciding on a countertop material. If you want a natural stone countertop, you might find an affordable granite option that is less expensive than marble or some quartz. If you want granite but are on a budget, some countertop companies can take you to where they get their slabs. Then you can choose a granite that is less expensive than others.
Marble is the most expensive but offers an unmatched elegance. Laminate is the least expensive, and thanks to innovations in manufacturing, design and graphics, you can purchase a laminate countertop that will look just like a natural stone or wood countertop.
Find a RenovationFind Certified countertop company in your city!
RenovationFind Certified is a symbol of integrity held by only the most trustworthy companies in home improvement, service, maintenance.